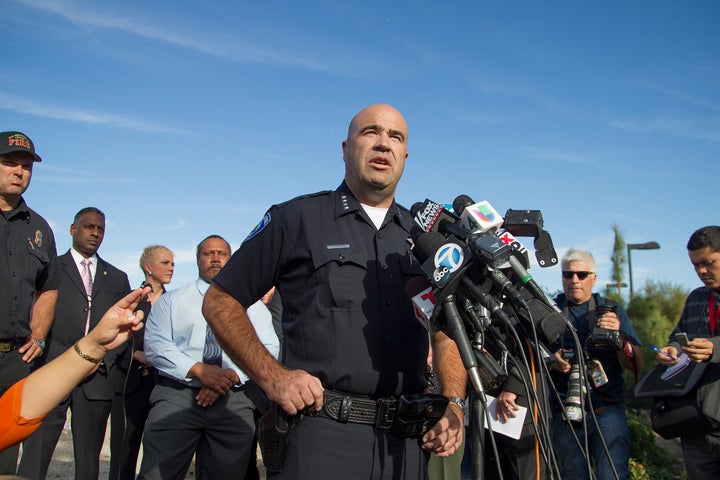 Authorities are working to determine what led a couple to go on a shooting rampage at a social services center in San Bernardino, California, that left 14 dead and 21 others injured, making it the deadliest shooting in America in recent years.
The suspected attackers, Syed Rizwan Farook, 28, and Tashfeen Malik, 27, opened fire on a holiday party that Farook had attended and angrily left earlier Wednesday at the Inland Regional Center, police say. The pair then fled and were fatally shot during a police chase hours later. A third person who fled the scene was detained, but police later determined he was not involved in the incident.
On Thursday evening, the San Bernardino County Coroner's office released the names of the 14 deceased. Victims include 12 fellow county employees and a coffee shop owner who worked at the Inland Regional Center when the shooting took place.
Police estimate about 75 to 80 people were in attendance at the holiday party, which followed a training earlier in the morning. Of the 21 people injured, 18 were county employees, San Bernardino Police Chief Jarrod Burguan said.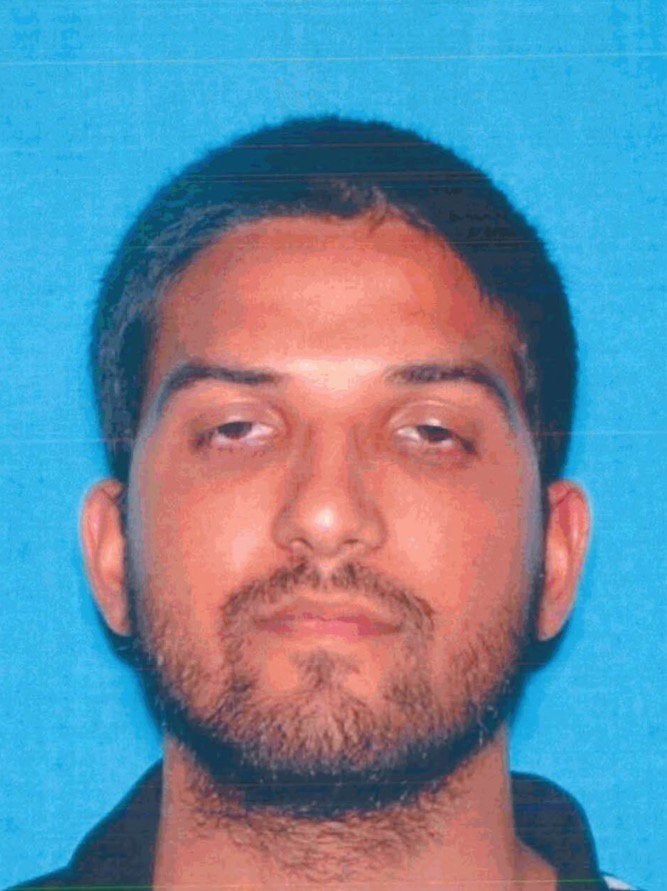 The couple "came prepared to do what they did as if they were on a mission," Burguan said. Police said the pair carried two assault rifles, two handguns and more than 1,600 rounds of ammunition, and wore masks and tactical gear. They also left a set of three pipe bombs attached to a remote-controlled car at the scene of the shooting, though Burguan said Thursday that they were never detonated. He said all four guns were purchased legally.
Lt. Mike Madden, a 24-year veteran of the force, was one of the first responders to the center. "Although we trained for it, it's something you're never actually prepared for," he said in an evening press conference on Thursday.
Madden described entering a chaotic scene in which the fire alarm and sprinkles were going off. He could hear the "moaning and wailing" of those injured. He could see some were "obviously deceased." He could smell fresh gunpowder.
"As we entered into the conference room, the situation was surreal," Madden, who grew up in San Bernardino, said. "It was unspeakable, the carnage that we were seeing."
Later, police found more than 4,500 rounds of 9 mm and .233-caliber ammunition rounds, 12 pipe bombs and "hundreds of tools that could be used to construct [improvised explosive devices] or pipe bombs" at a house the suspects were using in the nearby town of Redlands, Burguan said. It's unclear whether the suspects lived there or were just using the house as a base of operations.
Burguan said security has been increased in the area, but added that there are "no credible threats -- a lot of those facilities are returning to business as usual."
David Bowdich, assistant regional director of the FBI, said Thursday that the couple had made trips to Pakistan and that Malik was in the U.S. on a visa. Although authorities have not yet singled out a motive, a U.S. intelligence official told the Associated Press that Farook had been in touch with extremists on social media accounts, and that the FBI had been monitoring the situation.
"We don't know if this was the intended target or if there is something that triggered him to do this," Bowdich said.
"Is it work? Is it rage-related? Is it mental illness? Is it extreme ideology?" CAIR-Los Angeles executive director Hussam Ayloush said. "We just don't know."
President Barack Obama said he also wouldn't rule out terrorism, but stressed that "we do not know their motivations."
The couple met online and had been married for two years. They had a 6-month-old daughter, whom they left at home with Farook's mother the morning of the attack, CAIR said. They told his mother they were going to the doctor, then returned to the party with military-grade weapons.
Family members were baffled by the shooting.
Farook's father told the New York Daily News that his son "was very religious. He would go to work, come back, go to pray, come back. He's Muslim."
Court documents appear to show Farook grew up in a tumultuous home environment in Riverside. His parents divorced in 2006 when he was 19 years old. In divorce documents, his mother,Rafia Farook, said his father dropped a TV her and struck her daughter. She also accused her husband, also named Syed Farook, of drinking while on medication and of having suicidal tendencies.
Burguan said a San Bernardino officer was shot in the leg by one of the suspects and is expected to be released from the hospital Thursday. A sheriff's deputy sustained cuts on his leg and is expected to recover.
Inland Regional Center is a nonprofit, private community center for people with developmental disabilities. It has nearly 670 staff members and provides services to over 31,000 people, according to the center's website.
The building that houses the center is also used as an event space. On the day of the shooting, the San Bernardino County's public health department was holding an award ceremony there. Co-workers told the LA Times that Farook, a health inspector, left the party just before a group photo was taken.
Police said there was no indication his job was in jeopardy.
Two health department workers who hid in a restroom when the shooting broke out told the LA Times that Farook was a quiet and polite man. They were surprised that he was the attacker.
The shooting was deadliest in America since the 2012 attack on Sandy Hook Elementary School in Newtown, Connecticut.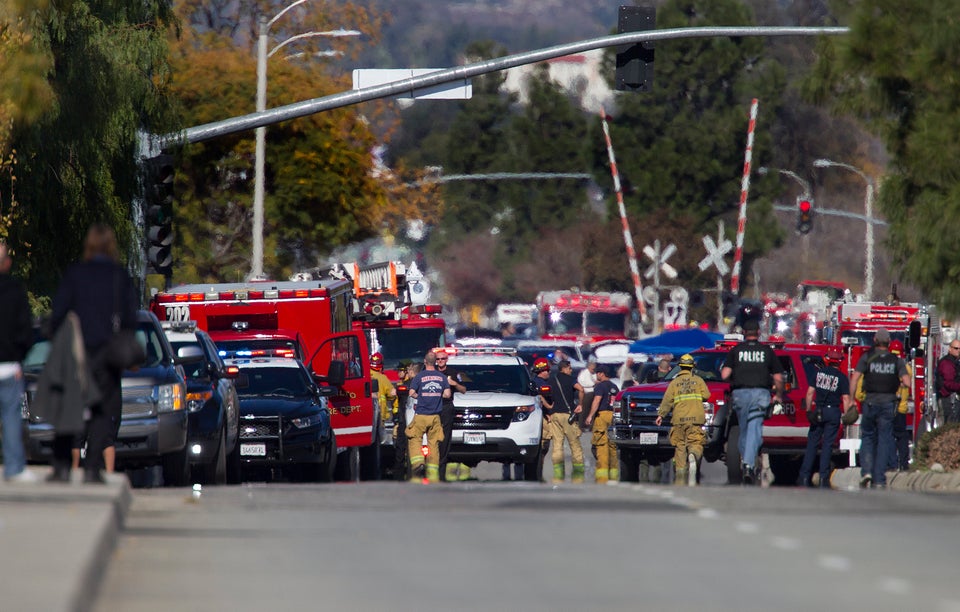 Gina Ferazzi/Los Angeles Times/Getty Images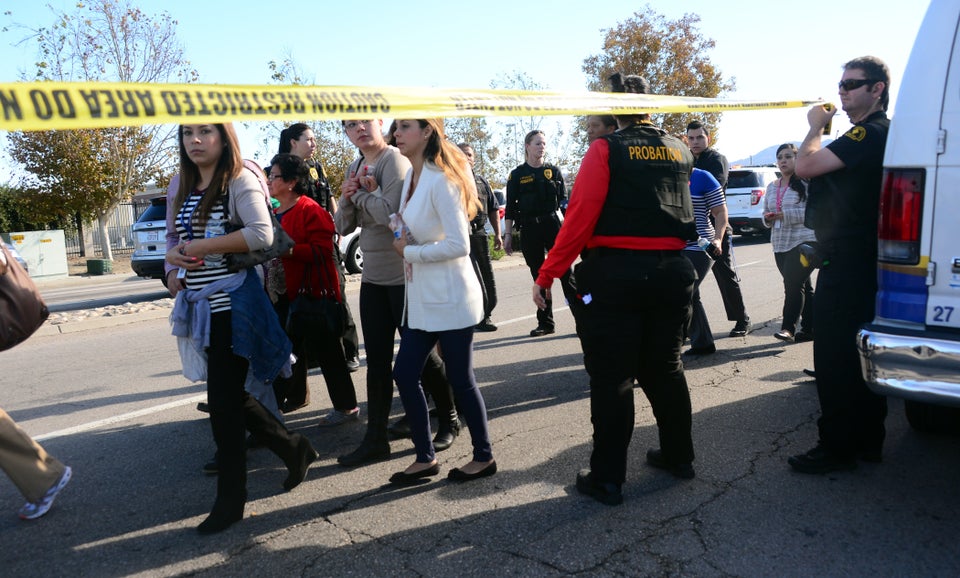 FREDERIC J. BROWN/AFP/Getty Images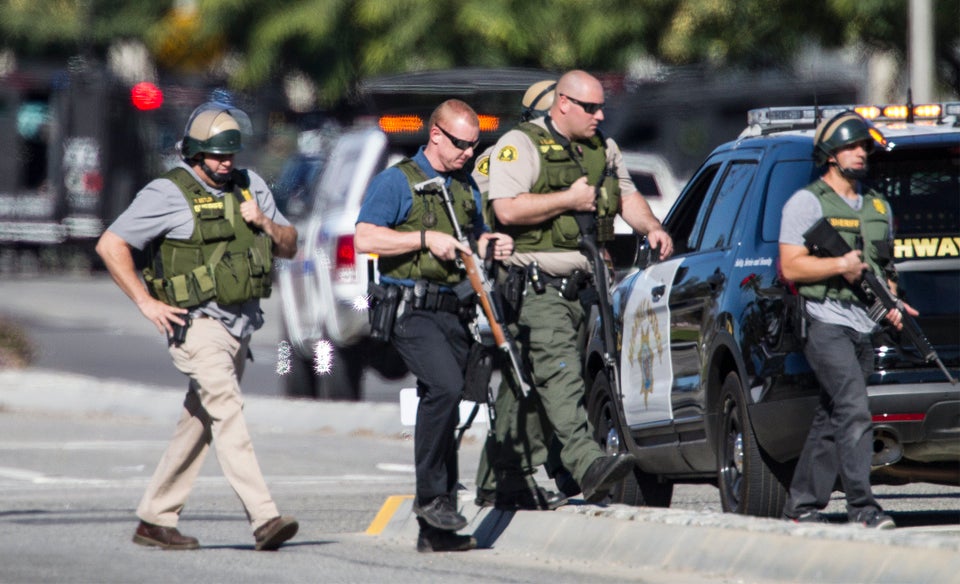 Gina Ferazzi/Los Angeles Times/Getty Images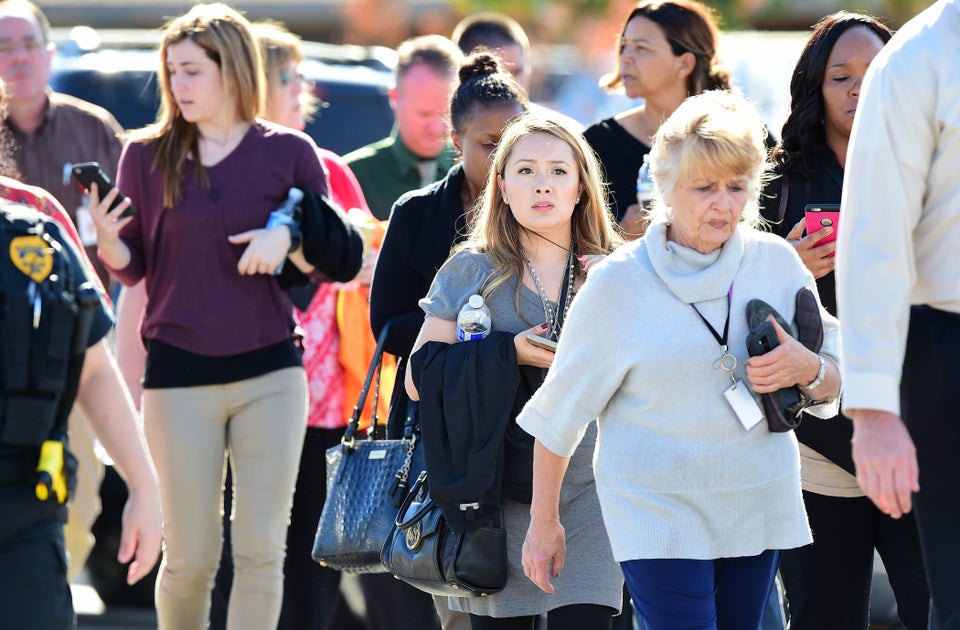 FREDERIC J. BROWN/AFP/Getty Images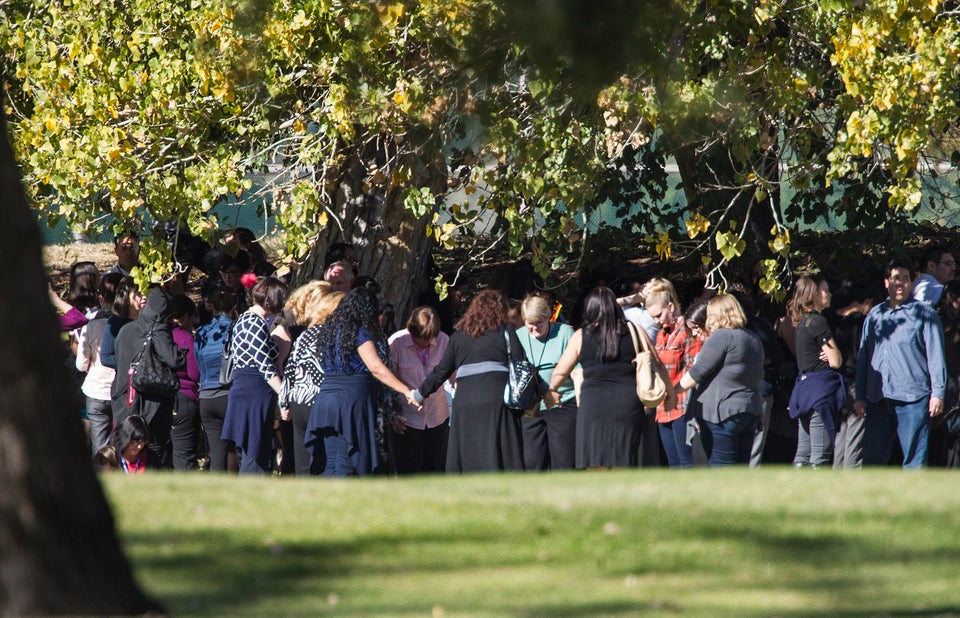 Gina Ferazzi/Los Angeles Times/Getty Images
Popular in the Community