If Cedric Anderson had claimed to be inspired by ISIS before opening fire in a classroom in San Bernardino, California, it would be a different story. Or, at least, it would be covered differently.
The killing of two adults and an eight-year-old boy on Monday afternoon, which led hundreds of children to flee North Park Elementary School, hasn't resulted in wall-to-wall coverage on cable news or front page treatment in leading U.S. newspapers. Journalists and commentators have framed Anderson's shooting of his wife, teacher Karen Elaine Smith, and two children as a domestic tragedy, rather than an act of terror.
By comparison, the national media swarmed San Bernardino in December 2015 after a U.S.-born citizen and his Pakistani-born wife went on a shooting spree that left 14 dead. The higher number of fatalities in 2015 may account for some disparity in coverage, and not every mass shooting in America results in sustained national media attention. Yet a shooting at an elementary school might be expected to receive outsize coverage due to the shocking nature of the act, regardless of the number of fatalities.
The key difference is that the 2015 shooters were said to be motivated by Islamic extremism, which fed into broader debates about immigration and terrorism and kicked the networks into overdrive to cover every facet of the unfolding story.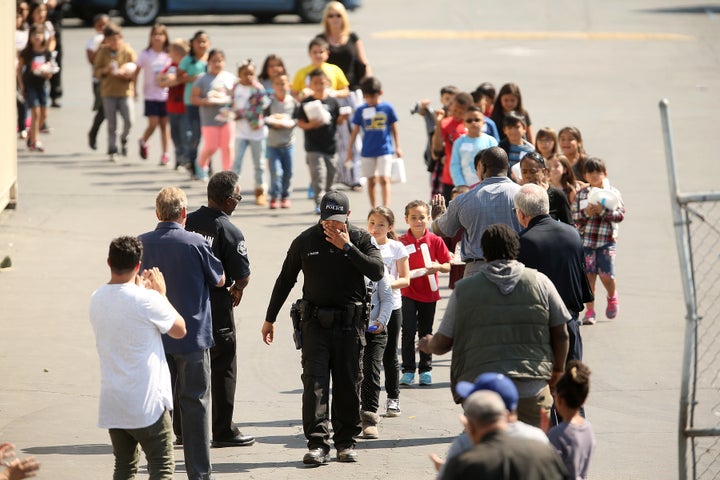 In 2015, "Today" show's Matt Lauer co-anchored the program from San Bernardino the day after the shooting, with CBS's Norah O'Donnell and ABC's Amy Robach appearing on their networks' morning broadcasts. CNN's Chris Cuomo co-anchored "New Day" from the city, too.
"NBC Nightly News" anchor Lester Holt and ABC "World News" anchor David Muir hosted evening newscasts from San Bernardino in 2015, and a flurry of cable news correspondents and hosts, including CNN's Anderson Cooper, also arrived on the scene. Cable news networks were still extensively covering the 2015 attack days after it occurred, including the moment dozens of journalists flooded the suspects' apartment on live television.
On Monday night, the three major broadcast evening newscasts led with the San Bernardino school shooting story, but the anchors remained in New York. By Tuesday, the story was already receding from the headlines. Cable morning shows, like CNN's "New Day" and MSNBC's "Morning Joe," only covered it in passing. And The Washington Post, The New York Times, and Wall Street Journal didn't run front page stories on it.
Television writer Nell Scovell pointed out how the story of United Airlines forcibly removing a passenger on an overbooked flight seemed to be receiving more attention.
The United story did make the front page of the Times and The Wall Street Journal on Tuesday and has been a bigger priority for cable news producers and other media outlets, including The Huffington Post. There were nine mentions of "San Bernardino" across CNN, MSNBC and Fox News between 6 a.m. and noon, according to television monitoring service TVEyes. There were more than three dozen mentions of "United Airlines" during the same period.
David Simon, the creator of "The Wire" and a former Baltimore Sun reporter, criticized the media on Tuesday for putting the death of eight-year-old Jonathan Martinez on the "backburner."
While there are other stories competing for airtime, including the fallout from the U.S. strike on Syria in response to a chemical weapons attack, the comparatively muted response to Monday's shooting also suggests the news media is taking cues from political leaders.
The latest San Bernardino shooting is unlikely to lead to federal gun reform, especially since the killing of 20 children at Sandy Hook Elementary School in 2012 failed to do so. So producers aren't booking talking heads to hash out the issue.
And a murder-suicide tends not to provoke the same type of overheated political rhetoric and fear-mongering as a shooting deemed a terrorist act. Monday's shooting was an incident of domestic violence ― a daily occurrence that receives far less attention and usually occurs away from the public eye.
Then-presidential candidate Donald Trump responded to the 2015 shooting by calling for a temporary ban on Muslims entering the United States, a bigoted policy that prompted considerable coverage and debate. Trump has so far been silent about Monday's violence.
Related
Popular in the Community