The suspects in
Wednesday's

mass shooting in San Bernardino, California, have been identified as Syed Rizwan Farook, 28,  and Tashfeen Malik, 27.
Both were killed in a shootout with police, who tracked them to a home in nearby Redlands. The couple fled the shooting, where 14 people were killed at a holiday party for county employees, in a black SUV before law enforcement intercepted them hours later.
Farook was an environmental specialist who had worked for the county health department for five years, police Chief Jarrod Burguan said at a press conference late Wednesday. 
Farook left the party, then returned with guns and Malik, dressed in "black-style" tactical gear, Burguan said. The couple attached three pipe bombs to a remote control car, but it failed to detonate, Burguan said at a press conference Thursday morning. Twelve other pipe bombs were found in Farook's Redland home, along with 4,500 rounds of ammunition.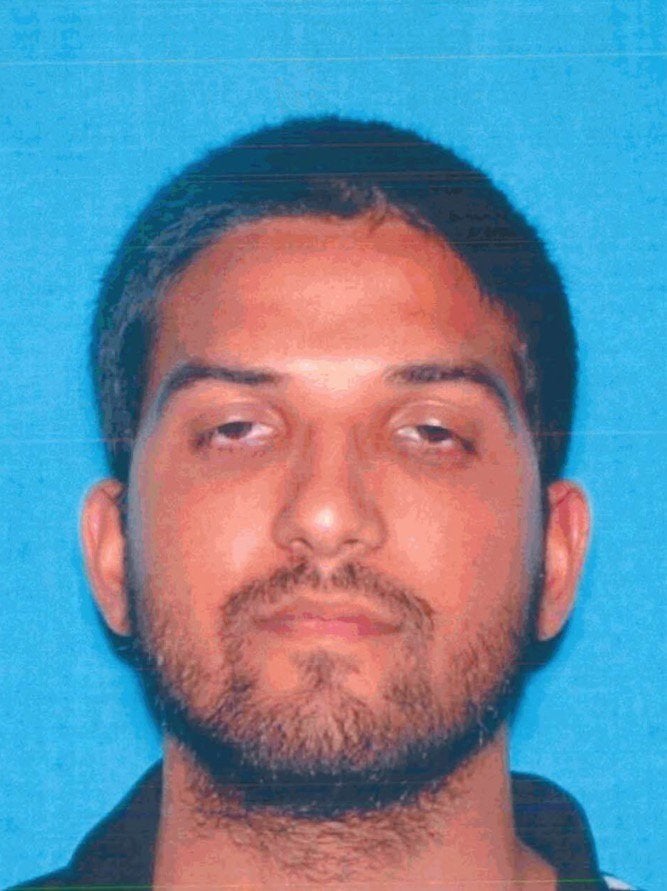 He "left the party early under circumstances that were described as angry," Burguan said.
Police wouldn't comment on a motive, except to say terrorism hadn't been ruled
out.
It appeared Farook and Malik were the only shooters, Burguan said. 
"There had to be some degree of planning that went into this," Burguan said. 
On Thursday, Burguan said when the attackers entered Inland, they didn't target a specific person.
"They sprayed the room with bullets," Burguan said. More than 60 rounds were fired at Inland by the attackers. 
During the vehicle pursuit, 23 officers fired on Farook and Malik, pumping 380 rounds into their black SUV. The attackers fired more than 70 rounds at police before being fatally shot. One officer was shot in the left leg, but is expected to be released from the hospital soon, Burguan said. 
The vehicle had more than 1,500 rounds of ammunition inside.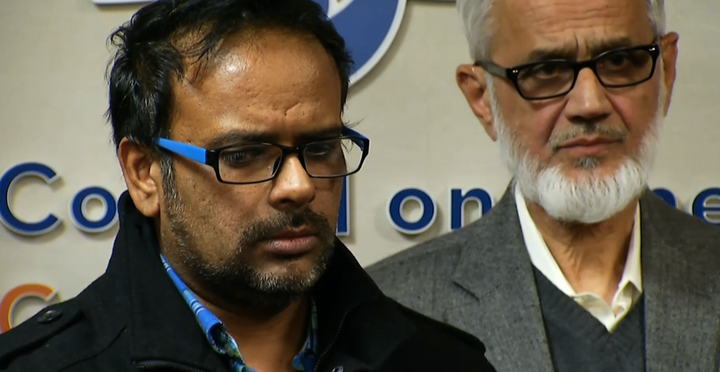 Farook may have grown up in a violent home.
In court documents from the 2006 divorce of Farook's parents, his mother, Rafia Farook, recounts violent incidents in their household.
"My husband is mentally ill and is on medication but also is a alcoholic and drinks along with the medicine and he constantly threatens to kill himself," Farook's mother said of her 24-year marriage to Farook's father, also named Syed Farook. "He does not work and argues with me and our daughters and threatens to kill himself on a daily basis."
Farook was 19 at the time and living in his parents' home in Riverside with two of his siblings, who his mother says got involved during the violent outbursts. In one incident, she describes her husband as dropping a TV on her and trying to hit her before her daughter "came in between" to save her. She says she would find him "shouting at [her] kids for no reason."
In one incident, she describes her husband as getting drunk and fighting with her son, though it's not clear if she's referring to Syed Rizwan Farook or his older brother, Syed Raheel Farook.
Farook's father was served with a temporary restraining order in July 2006 ordering him to stay 100 yards away from his wife, her home, her workplace and her vehicle. 
Berguan said Farook and Malik were married for two years. The Los Angeles Times reported that they had met online.
Farook was born in the U.S., Burguan said. Co-workers described him to The Los Angeles Times as a devout Muslim, but said he rarely discussed religion. Malik was Pakistani, according to the LA Times.
"He was very religious," the elder Syed Farook told the New York Daily News. "He would go to work, come back, go to pray, come back.
He also told Italian newspaper La Stampa that Farook was "obsessed" with Israel and agreed with Islamic State leader Abu Bakr al-Baghdadi's ideas about creating a caliphate.
Burguan said Farook had traveled to Pakistan at least once, Burguan said at Thursday's press conference. He said Malik was in the U.S. under a K1 passport.
Farook was reportedly using social media to communicate with extremists under watch by the FBI, a U.S. intelligence official told the Associated Press on condition of anonymity. Investigators are now trying to determine whether he became radicalized and if he was in touch with any foreign terrorist groups, the official said. 
Farook and Malik both were armed with .223-caliber assault-style rifles and semi-automatic pistols, the chief said.  
Farook and Malik had a 6-month-old daughter.
Farhan Kahn, Farook's brother-in-law, said during a late-night news conference he was stunned by the violence.
 Check Out These Stories:
PHOTO GALLERY
San Bernardino Shooting
Calling all HuffPost superfans!
Sign up for membership to become a founding member and help shape HuffPost's next chapter