During my first six months living in San Diego I was amazed by its beauty, affluence and diversity. It truly was everything I thought America's Finest City should be. Then I began my career in HIV and quickly learned that in the shadows of this affluence lies the truth about San Diego . . . a region lacking the resources to address the dire health needs of our most vulnerable residents - like Maria.
Maria was HIV+ for over ten years and hadn't been to the doctor for the last five years. Despite many health challenges, Maria is raising seven children. Maria became guardian for four of the children when her sister's drug addiction was likely to result in losing the children to the foster care system--a system Maria knew well. Contending with abuse since she was a child, Maria found the strength to leave the abusive father of her biological children and was struggling to support her family as a single parent. As mothers know all too well, caring for herself was last on Maria's list of competing priorities.
But last year life changed for Maria when a peer navigator from Christie's Place connected with her. The peer navigator helped Maria move from isolation and into care - care that is saving her life and strengthening her family. The CHANGE for Women program provides childcare while Maria attends medical appointments, food to feed her family and the support she needs to successfully manage her health. Maria recently married and is looking forward to becoming a grandmother in the future . . . a future she did not think was possible just a year ago.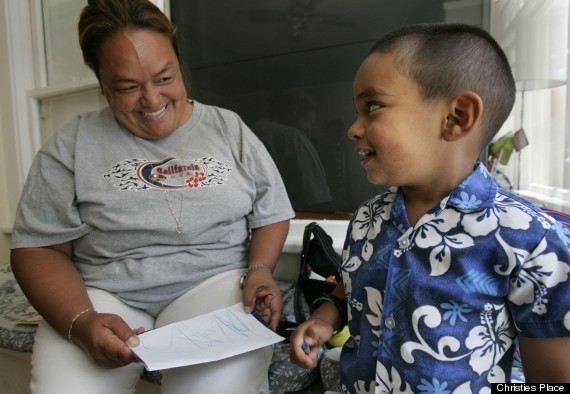 Each year Christie's Place serves hundreds of Marias. We believe that no woman or child should live in fear. Sadly, many HIV+ women and their children are living in fear, isolation, and poverty. Christie's Place is dedicated to the memory of Christie Milton-Torres a 30 year old woman who passed away from AIDS-related complications in 1994. Christie and her mother Irene became tireless advocates with a vision to have a women-led, women-focused agency that delivers coordinated and comprehensive social services to women, children and families impacted by HIV in San Diego County. April 8th will mark seventeen years since Christie's Place started as a small grass-roots organization and has since grown into a full-scale social service organization serving women and families.
In 2010 San Diego County estimated that a stunning 69% of HIV+ women were not in care. These are real women, in real pain, terrified about their future and the futures of their children. Women who can't get health insurance, women who can no longer work, women who need access to healthcare to continue to live, and women who need help caring for their children. Each year, while the number of women living with HIV grows, the funding doesn't. And each year, they beg for services - beg for hope. We have to do better than this. This is not the world I want our children to inherit.
There was a time when I wondered, "How could I, and how could Christie's Place, truly make the systems-level changes needed to address this public health crisis?" Then I had the privilege of attending the Johnson & Johnson/UCLA Healthcare Executive Program. The experience was transformational for me as a leader and for Christie's Place. I finally had the space, tools and resources to think strategically about how to improve my community's health. As a result, the CHANGE for Women program was born.
Thanks to support from funders like AIDS United, Johnson & Johnson, and MAC AIDS Fund, CHANGE for Women is a community-wide initiative that has increased access to care. The investment in building the capacity of a small, women-led organization has been transformative on many levels. We set a goal of improving access to care by 15% and we are almost there! Today, 57% of HIV+ women in San Diego are not in care - down from 69% just two years ago.
On this National Women and Girls HIV/AIDS Awareness Day, I think of what Christie and her mother fought for. I wonder if I am personally doing right by her legacy and if she would think we are doing enough. One of my favorite quotes from Nelson Mandela is - "It always seems impossible until it's done." When we started CHANGE for Women, it was my hope that we could accomplish great things, even if they seemed impossible. While we are far from done, today I know that Christie would be proud of our achievements . . . achievements that once seemed impossible.
We are determined to make San Diego live up to its namesake - to make it "America's Finest City" for women living with HIV/AIDS.