It's that time of year again for the biggest event of the year for geeks and pop culture enthusiasts, San Diego Comic Con. Five days of celebrities, artists, exclusive merchandise, parties, screenings, and all things Comic Books. It's the Woodstock for nerds and truly a one of a kind event and experience. It's impossible to do and see all the amazing events in store at SDCC. One of the highlights of the convention is all the amazing panels.
I've been lucky enough to be on panels at SDCC to promote the documentary I directed, 'Drew: The Man Behind The Poster' as well as the documentary, 'Floyd Norman: An Animated Life' which I co directed along with filmmaker Michael Fiore. Every year SDCC has a wide variety of panels including movie blockbusters from the DC and Marvel universe as well as panels on Comic Books, graphic novels, sci-fi and horror, animation, illustration, cartooning, podcasting and everything you can imagine in geek culture. Every year you have must see panels for huge anticipated studio films like 'Blade Runner' and 'Ready Player One'. Steven Spielberg and Harrison Ford will both be appearing this year! I'm sure Warner Bros and Disney will be bringing out their super hero superstars for the DC and Marvel film panels.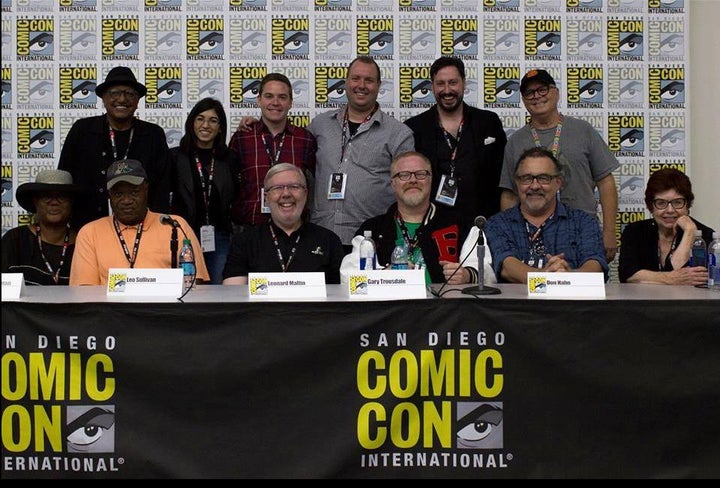 But, what about all the fantastic smaller panels that are also informative and exciting that you might be overlooking. For example, 'The Genius of Animation: Cartoon Legends and Game Changers Speak' panel moderated by Leslie Combemale and featuring animation all stars like, Tom Sito and Disney legend, Floyd Norman. Or, the panel celebrating the late iconic master of illustration, Bernie Wrightson. The panels being put on by the major film studios and comic book companies get a lot of much press and are highly publicized. Meanwhile so many incredible and informative panels featuring highly talented people will often get overlooked in all the mania of hit franchises. I've decided to focus on all the great smaller panels I think you should check out. A lot of times it's the smaller panels that have the biggest punch! For every panel that features A-list actors and movie franchises there are also panels by incredible comic book artists and writers, animators, cartoonists, low budget genre films, about diversity in media, boutique video labels and illustrators that are definitely worth checking out!
Below are all the cool panels that have caught my eye that I would like to recommend to you.
Dinosaurs, Monsters, Movies and the Blues Worlds of William Stout
Comic-Con veteran (he's been to every single one) William Stout (Wizards, Conan the Barbarian, Pan's Labyrinth, Walt Disney's Dinosaur) delivers an exciting story and picture filled lecture on a varied career that includes comics, movie design, book illustration, movie posters, LP and CD covers, prehistoric life murals, theme park designs, Antarctica, and his passion for the blues. Thursday, July20/2017 10:00-11:00 a.m., Room 32AB
Why Will Eisner Still Matters at 100
Born 100 years ago, Will Eisner not only recognized the future potential of comics at an early age but also worked his whole life to help achieve those goals. But how could Will Eisner still be relevant to us today? Join Paul Levitz (former president of DC Comics, author of Will Eisner: Champion of the Graphic Novel, educator, comics historian), Jackie Estrada (administrator, Will Eisner Comic Industry Awards), Paul Dini (Harley Quinn co-creator, writer, producer), Maggie Thompson (writer, editor, comics historian) and, maybe a surprise special guest. Thursday, July20/2017 3:00- 4:00 pm, Room 9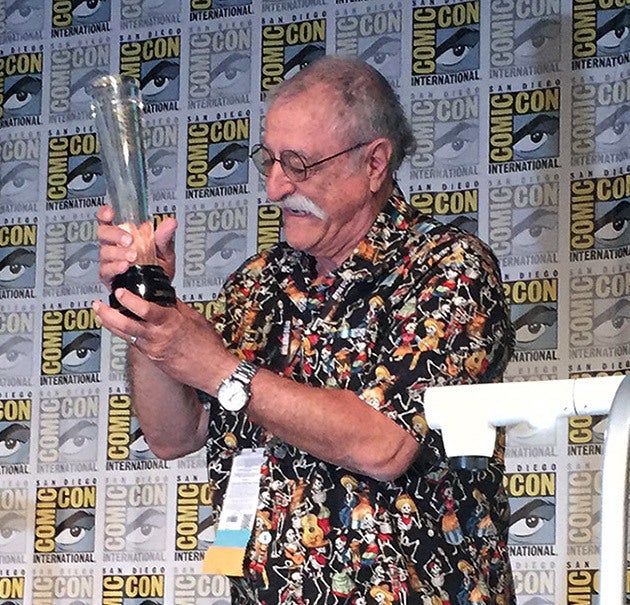 The Mark, Sergio, Stan and Tom Show
The old Sergio and Mark Show has a new name, but what it doesn't have is new panelists. It's still the crew who brings you the bumbling adventures of Groo the Wanderer, talking about what they do and why they do it. See the award-winning team of Sergio Aragonés and Mark Evanier along with Stan Sakai (the creator of Usagi Yojimbo) and the hardest-working man in comics, colorist Tom Luth. They'll be discussing the latest Groo miniseries, many upcoming projects, and why Mark doesn't get paid for the work he does on their comic. Then again, he's not getting paid for writing this panel description either. Thursday, July20/2017 3:30- 4:30pm, Room 8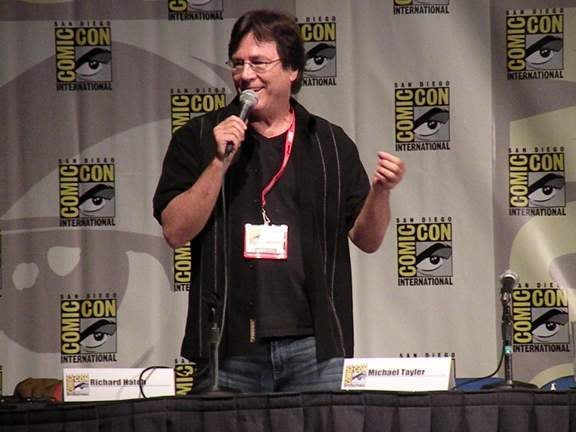 Richard Hatch's Final Film Stories from the Set with Diminuendo Cast and Crew
Chloe Dykstra (Heroes of Cosplay), Walter Koenig (Star Trek, Gigi Edgley (Farscape), writer/director Bryn Pryor (Cowboys & Engines), and writer/producer Sarah Goldberger (Cowboys & Engines) will tell stories about working with Comic Con fixture Richard Hatch (Battlestar Galactica) on his final film Diminuendo, and screen footage from the film. Moderated by Taliesin Jaffe (Critical Role). Thursday, July20/2017 5:30pm - 6:30pm, Room 24ABC
LGBTQ Geek Year in Review
The past year has been filled with key moments in comics, TV, movies, animation, and games that every queer geek should know about. The panel will discuss the significance of these events to the greater LGBTQ community. Hosted by Prism Comics and moderated by P. Kristen Enos (Prism Comics, Active Voice the Comic Collection), the panel includes Diane Anderson-Minshall (editorial director The Advocate, Plus Magazine, and Tiny Living Chic), Nick Adams (director of programs GLAAD's Transgender Media), Mike Ciriaco (LA Weekly, WeHoTV News), Amber Garza (director of international licensing Sequential Rights; West Coast coordinator Geeks OUT!), Chelsea Steiner (AfterEllen.com, Autostraddle.com), and Amelia Vaughn (Huffington Post, Riptide Publishing). Thursday, July20/2017 6:00pm - 7:00pm, Room 28DE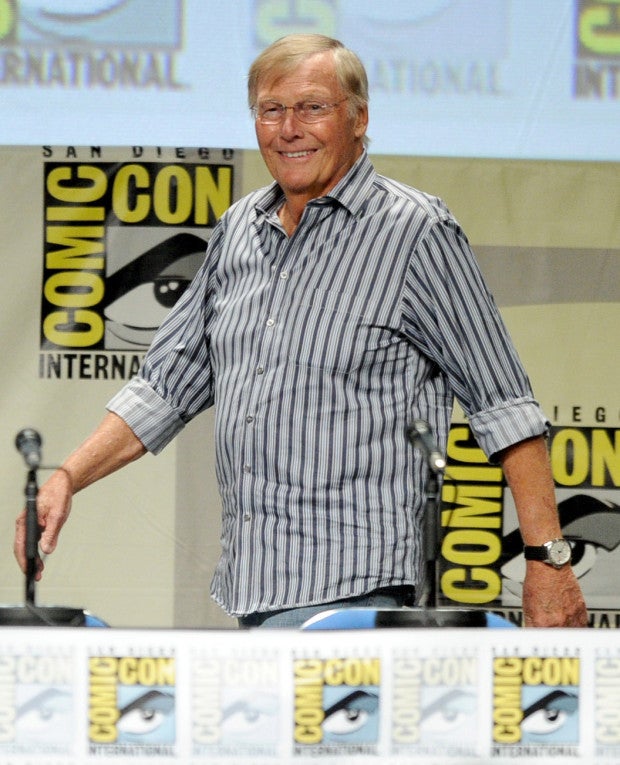 For many, Adam West provided the initial gateway to Batman through the glorious televised tales of the late '60s. Tonight, fans will come together to celebrate his beloved performance and the 50+ years that followed with video footage and personal anecdotes. Please join director/writer/actor Kevin Smith (Clerks, Comic Book Men), actor/radio personality Ralph Garman (Family Guy, Starring Adam West), producer James Tucker (Batman: Return of the Caped Crusaders), moderator Gary Miereanu and an ever-growing list of special guests in this salute to the legendary "Bright Knight." Thursday, July20/2017 7:00pm - 8:00pm, Room 6DE
Cartoon Creatives: Woman Power in Animation
Panelists examine the history and trajectory of women working inside feature and TV animation to bring to light some great hidden figures in our past. These inspiring women have shown invention and creativity and are expanding the industry. Scheduled to appear are Marge Dean (co-president WIA; supervising producer, SuperMansion), Mindy Johnson (film historian; authorInk & Paint: The Women of Disney Animation), Victoria Ying (visual development Wreck-It Ralph, Frozen, Moana), Shadi Petosky (writer/producer Danger & Eggs; founder Puny Studios), Julia Vickerman (writer The Powerpuff Girls; director RAD Lands, Twelve Forever), and Elaine Bogan (director Trollhunters, Dragons: Race to the Edge). Moderated by Leslie Combemale (CinemaSiren.com). Friday July 21, 2017 10:00am - 11:00am Room 23ABC
Brian Buccellato (Detective Comics, The Flash), Elena Salcedo (editor-in-chief Top Cow Productions), Joe Illidge (senior editorial manager Lion Forge), Ani-Mia (international cosplayer), Blake Northcott (Michael Turner's Fathom), Hannibal Tabu (CBR's The Buy Pile), Marcus To (Joyride, Red Robin), and Khary Randolph (Mosaic, The Amazing Spider-Man) discuss the shifting landscape of diversity in modern comics. Moderated by Vince Hernandez (VP/editor-in-chief Aspen Comics). Friday July 21, 2017 11:00am - 12:00pm Room 9
CBLDF: The Trials of Underground Comix!
Underground comix revolutionized the format by shedding the restrictions of the Comics Code and exploring new ground in what comics could say and do. Authorities were less than impressed, and a generation of prosecutions arose from Berkeley to New York City and everywhere in between. Join Ron Turner, publisher of Last Gasp; Joyce Farmer, iconic underground cartoonist and editor; and Mary Fleener, alternative cartoonist and minicomics pioneer, for a freewheeling discussion with CBLDF executive director Charles Brownstein on the trials of underground comix. Friday July 21, 2017 1:00pm - 2:00pm Room 11

The Genius of Animation: Cartoon Legends and Game Changers Speak
Experimentation, inspiration, fearlessness, and a little genius has led to this moment in the history of animation. This panel features influential figures and talented artists who have played or continue to play important roles in that history as they share their wisdom, experience, artistic influences, and memories of their famous mentors. Scheduled to appear: Dale Baer (Annie Award-winning artist for Yzma from The Emperor's New Groove), Floyd Norman (Disney Legend, troublemaker, Floyderer), Tom Sito (June Foray Award-winner, animation director, professor, author), Randy Haycock (Aladdin, The Lion King, Moana), Ricardo Delgado (The Incredibles, How to Train Your Dragon, Men in Black), Mike Royer (Inkpot Award-winner, comic book legend, Disney artist), Victoria Ying (Wreck-It Ralph, Frozen, Moana), and Mindy Johnson (film historian, author of the upcoming Ink & Paint: The Women of Disney Animation), moderated by Leslie Combemale (Cinema Siren, ASIFA-Hollywood). Friday July 21, 2017 2:00pm - 3:00pm Room 23ABC
Bernie Wrightson: Art and Designs for the Gang of Seven Animation Studio
This panel will kick off the premiere (at Comic-Con) of Hermes Press' new book, Bernie Wrightson: Art and Designs for the Gang of Seven Animation Studio. The panel will begin with a video presentation about the late Bernie Wright son's career and will include examples of his animation drawings and concepts together with never-before-seen animation using Wrightstown's work for feature animated film promotional. Tom Tataranowicz (producer/director of Gang of Seven Animation, Biker Mice from Mars) will lead the discussion of Wrightson's career and enduring legacy with Marv Wolfman (The Tomb of Dracula, Blade), Daniel Herman (publisher of Hermes Press, Silver Age: The Second Generation of Comic Artists), and Mitch Itkowitz(owner of Graphic Collectibles, Jack Kirby Masterworks). Friday July 21, 2017 4:00pm - 5:00pm Room 32AB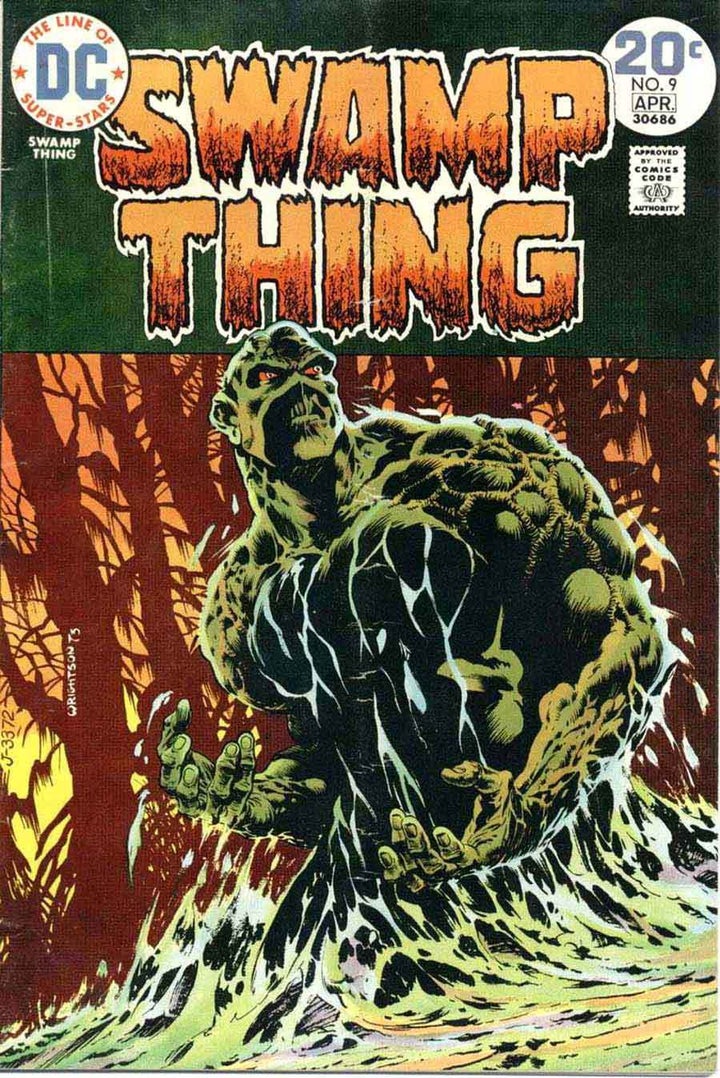 ASIFA-Hollywood: The State of the Animation Industry
What do the pros think of the animation scene today? Are hand-drawn and VFX gone for good? What will be the impact of VR? How do you get a job? This panel will explore how animators fit into current business models of animation studios and the ever-changing landscape of motion pictures, television, and new media. Moderator Tom Sito (Beauty and the Beast) engages in a lively discussion with John Van Vliet (The Empire Strikes Back, Raiders of the Lost Ark), Samantha Vilfort (Disney Television Animation), Danny Young (FuseFX), and Brooke Keesling (recruiter Nickelodeon, Disney). Friday July 21, 2017 5:00pm - 6:00pm Room 28DE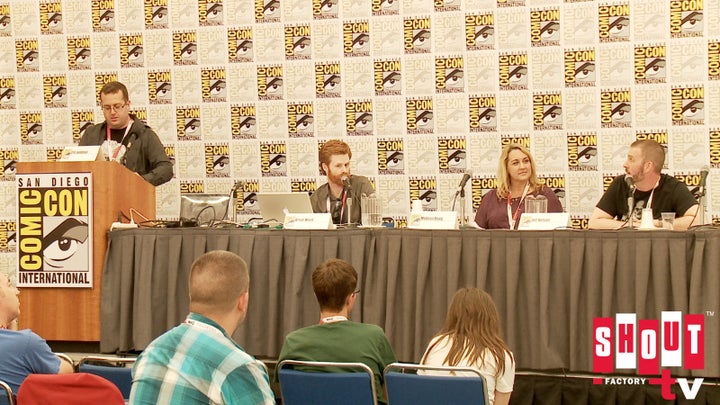 Breaking News: Scream and Shout! Factory
Shout! Factory's Brian Ward (producer), Jeff Nelson (senior marketing director), and moderator Bill Hunt (DigitalBits.com) take you behind the scenes at Shout! Factory and Scream Factory. They'll have exclusive announcements, sneak peeks from upcoming Blu-ray and DVD releases, and more. Find out what they have in store before anyone outside the Con does! Friday July 21, 2017 8:00pm - 9:00pm Room 4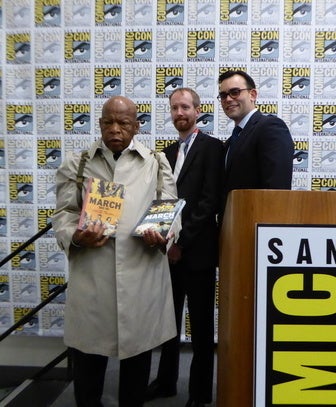 Spotlight on March Creators Congressman John Lewis, Andrew Aydin, and Nate Powell
The record-breaking success of the March trilogy by Civil Rights icon John Lewis, Andrew Aydin, and Nate Powell has pushed the comics medium to incredible new heights. March is the first graphic novel to win the National Book Award, Coretta Scott King Book Award, or Robert F. Kennedy Book Award, the first graphic novel since Maus to reach the New York Times Nonfiction Best Seller list, and the first book in history to receive four simultaneous awards from the American Library Association. Now, join the authors for an emotional look back at their stunning accomplishment-and the way it's inspiring new generations to speak up, speak out, and move their feet. Saturday July 22, 2017 10:00am - 11:00am Room 23ABC
Women Rocking Hollywood: Female Directors Changing the Faces of Film and Television
UPDATED: Sat, Jul 08, 06:56PM Wonder Woman broke all records in Hollywood for a film helmed by a female director. Now What? While there's still a long way to go to equal the number of women behind the camera with women, who make up 51% of the population, shows like Jessica Jones, Queen Sugar, and The Leftovers are making a huge difference by committing to the inclusion of female directors. This 2nd annual panel at SDCC focuses on the incredibly talented, successful women expanding opportunities for women in film who have made noise and winning awards with their work on both the big and small screens. Scheduled to appear: Kirsten Schaffer (exec director, Women in Film: LA), TinaMabry (writer/producer/director: Queen of the South, director: Dear White People), Rosemary Rodriguez (writer/director: Silver Skies, director: Jessica Jones, The Walking Dead), Victoria Mahoney (director: Queen Sugar, Gypsy, American Crime), Aurora Guerrero (writer/director: Mosquita y Mari, director: Queen Sugar), Angela Robinson (writer/director: Professor Marston and the Wonder Women, True Blood), and Gina Prince-Bythewood (writer/director: Love & Basketball, Beyond the Lights), the first woman of color hired to helm a superhero film for the upcoming Silver & Black. Moderated by Leslie Combemale (Cinema Siren). Saturday July 22, 2017 1:00pm - 2:00pm Room 23ABC
Animation Magazine Turns 30!
Launched in 1987, Animation Magazine has been the definitive voice of the art, business, and technology of animation and VFX as those industries have grown from tiny niches into global phenomenon. Join editor-in-chief Tom McLean, publisher/president/co-founder Jean Thoren, and some surprise special guests in this look at how much the magazine and the art forms it covers have changed over the past three decades. Saturday July 22, 2017 4:30pm - 5:30pm Room 24ABC
It was a time of change in comics, with a new generation intermingling with the old and taking command. Hear what the comics industry was like in the 1970s from Mike Grell (The Warlord; Jon Sable, Freelance), Paul Levitz (Legion of Super-Heroes, Stalker), Keith Pollard (Fantastic Four, Thor), Ron Wilson (The Thing, Super Boxers), Marv Wolfman (Tomb of Dracula, New Teen Titans), Joe Staton (E-Man, Dick Tracy), and moderator Mark Evanier (Groo the Wanderer, Blackhawk). Saturday July 22, 2017 4:30pm - 6:00pm Room 5AB
Bold Voice of Contemporary Horror
Love The Witch? The Invitation? The Babadook? It Follows? You're Next? The Greasy Strangler? The Autopsy of Jane Doe? Some of the most knowledgeable and influential voices in horror today discuss the state of indie horror film and give a sneak peek at the best to come this year, with exclusive footage from Sundance, SXSW, and Tribeca standouts. This is the place to come to find out which upcoming horror flicks should be on your must-see list. Panelists include Elijah Wood (Spectrevision), Mette Marie Kongsved (XYZ Films), Aaron Moorhead and Justin Benson (The Endless—Tribeca 2017 premiere, Spring), Mickey Keataing (Psychopaths—Tribeca 2017 premiere, Darling), Marianna Palka (Bitch—Sundance 2017 premiere), and more. Moderated by Jen Yamato of the LA Times. Saturday July 22, 2017 6:00pm - 7:00pm Room 23ABC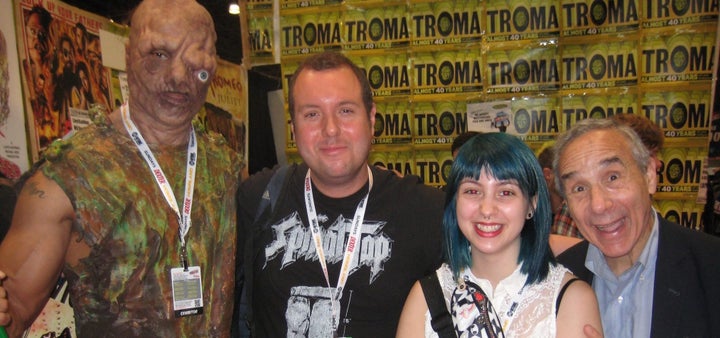 Lloyd Kaufman and special guests discuss topics including the premiere of Return to Return to Nuke 'Em High at the Cannes Film Festival and Troma's upcoming motion picture adaptation of William Shakespeare's The Tempest. Saturday July 22, 2017 9:00pm - 10:00pm Room 23ABC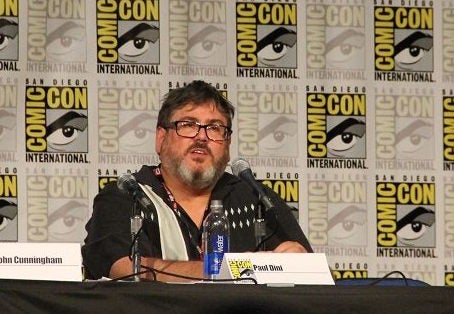 Comic-Con special guest Paul Dini (Batman: The Animated Series, Dark Night: A True Batman Story) is joined by his good friend David Mandel (writer/executive producer, Veep, Seinfeld; co-author, Star Wars Art: Ralph McQuarrie) for a lively discussion on the many facets of Paul's career, ranging from comics to Star Wars to Harley Quinn and maybe even to their short time working together on the Clerks animated series. Bring your questions about cartoons, comedy or whatever-these guys will rattle on about pretty much anything. Sunday July 23, 2017 10:00am - 11:00am Room7AB
Cover Story: The Art of the Cover
What does it take to make a great cover for a comic book? Let's ask five of the top artists, all folks who've created some of the best. Come hear the "shop talk" of Arthur Adams (Longshot, Monkeyman and O'Brien), Mike Grell (The Warlord; Jon Sable, Freelance), Joyce Chin (America, Deadpool the Duck), Joe Staton (E-Man, Dick Tracy), and Erica Henderson (The Unbeatable Squirrel Girl, Jughead). Moderated by Mark Evanier. Sunday July 23, 2017 2:00pm - 3:00pm Room 25ABC
The Business of Cartoon Voices
Interested in a career doing voices for animation and videogames? There are plenty of people around who'll take your money and tell you how to go about it, but here's 90 minutes of free advice from folks who work actively in the field. Hear from cartoon voice actors Gregg Berger, Julie Nathanson, and Debra Wilson, talent agent Sandie Schnarr (AVO Talent) and your moderator, voice director Mark Evanier (The Garfield Show). Sunday July 23, 2017 3:00pm - 4:30pm Room 25ABC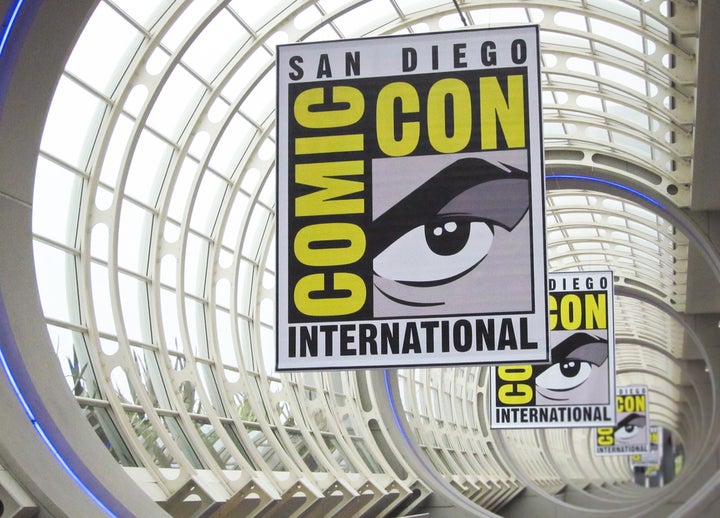 I hope these suggestions of fantastic panels that you may have overlooked is helpful in planning your experience at SDCC this year. Make sure to get to these panels early to ensure getting a seat and have a great time at the biggest convention of the year!
Related
Popular in the Community