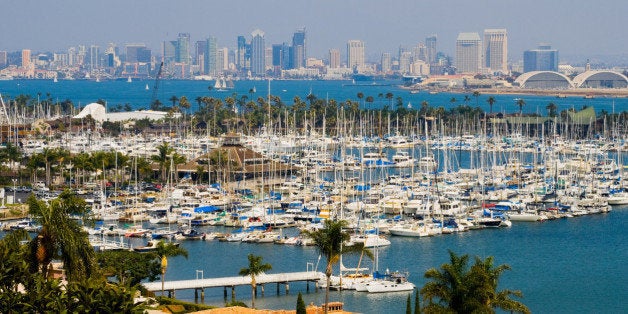 In a move gaining support among city officials and homeless advocates alike, San Diego could soon be planning one-way travel arrangements for its most vulnerable residents.
A plan considered last Tuesday by the Port of San Diego -- a public benefit corporation that manages San Diego Bay and the surrounding waterfront land -- would pay for one-way bus tickets out of the area for residents without stable shelter to reunite with loved ones, according to Fox 5 News.
The proposal, which would be executed in conjunction with the Downtown San Diego Partnership -- a nonprofit dedicated to the revitalization of the city that already has a similar program in place -- has been put on temporary hold, as the Port of San Diego considers all of its options.
While the number of homeless individuals in San Diego increased from 2011 to 2012, as the Voice of San Diego reported in April, the city has since experienced modest improvements. A point-in-time survey in January 2014 revealed a 4 percent decline in homelessness from last year, with 8,520 residents without permanent, stable housing. Gains made getting homeless people off the streets, however, showed more significant improvements, with a 13 percent drop in unsheltered residents in 2014 from the year before.
Not everyone applauds the one-way ticket strategy to curb homelessness. As Think Progress pointed out, there are numerous reasons why the one-way ticket approach fails to address the problem, claiming most homeless people in San Diego are, in fact, from San Diego, and therefore unable to leave to reunite with family members -- a requirement of the program.
The outlet also noted that similar programs across the country aren't typically implemented how they should be, and homeless individuals suffer the consequences:
If it's homeless people who themselves want to move elsewhere, but simply lack the funds to get there, such a program would be quite helpful. But that's not usually how these programs operate. More often, they're thinly veiled efforts to decrease the homeless population by sending them elsewhere.
But the one-way bus ticket program through the Port of San Diego has gotten a thumbs up from Bob McElroy, president of the Alpha Project, which provides a variety of services to San Diego's homeless population. The Alpha Project has been busing homeless individuals away from the city since the mid-1990s, according to Fox 5 News.
"It's a win-win for everybody," McElroy told the outlet, noting homeless people interested in the opportunity must complete community service to earn their ticket. "The community's better off, and these guys get to go home."
Providing one-way travel arrangements for the homeless has been a strategy implemented or considered by numerous cities, including Fort Lauderdale and New York City. Hawaii even passed a measure that offers paid flights off the state to homeless people who can reunite with family elsewhere, the Civil Beat reported last year.
Calling all HuffPost superfans!
Sign up for membership to become a founding member and help shape HuffPost's next chapter
BEFORE YOU GO