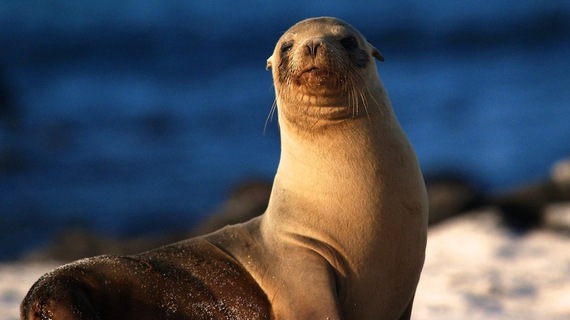 San Diego's La Jolla Cove is smelly. Like, super stinky. And it's all because of cute, lovable sea lions, that are pooping everywhere! Last week La Valencia Hotel and George's at the Cove filed a lawsuit against the city claiming "the stink is driving away customers and poses a health risk."
The lawsuit states that the city of San Diego has effectively ignored the problem.
Restaurant owner George Hauer told U-T San Diego that the city has assured him for two years that it was going to deal with the problem but hasn't come up with any solid plan.

We consider this to be a potential health hazard and a serious public nuisance, and we have faced the resulting financial hardships for too long," he said. "We've run out of patience."
Alex Roth, a spokesman for interim Mayor Todd Gloria:
"We are well aware this is a problem impacting businesses and quality of life in La Jolla," Roth said. "We are actively working toward a solution. No options are off the table."
This isn't the first time poo has impacted local businesses in the area. Last year it was "guano from pelicans, gulls and other birds." The city solved their excrement problem by hiring a company "to spray a bacterial solution to dissolve the waste." However, federal and state laws prohibit the harassment, capture and killing of sea lions. My response to these anti-defecation naysayers is this: He who smelt it, dealt it.
Use Roadtrippers to find the best beaches that aren't begin overrun with poo. Follow us on Facebook.