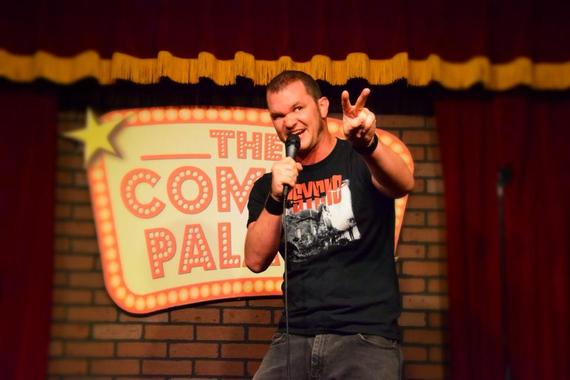 Photo Courtesy of Ashley Deanna
I recently decided I love to laugh. To be honest, I didn't really know how a hearty laugh could improve my mood and increase the general level of excitement in my life until I finally had the chance to experience what it means to be on stage, surrounded by people who know nothing about me and who grant me five minutes of their time for me fill with amusement and good feelings. I decided to pursue stand-up comedy. Apparently, I'm not the only one.
I moved to San Diego in February and the city welcomed my desire to laugh and create laughs with a fresh and steady lineup of new and old talent that, on a daily basis, floods the town with humor. I was never disappointed, so I got curious. What attracts young souls to embark on a path of open mics? What pushed the more experienced comics to always come back? I spoke to some of San Diego's entertainers, to get answers that could help you understand what it means to be a stand-up comedian and how, if you want, you could do be one too.
You have probably been thinking about stand-up for a while, but an overcoming stage fright prevents you from doing it. Rest assured, everybody went through that. According to Ryan Shores, one of San Diego's best and most prolific comics, "NO ONE is good when they first start! People think you either have the ability or you don't, which isn't true. Comedy is like an instrument, no one is born with the ability to play one. The faster you try it, the faster you will begin to learn. I started doing stand-up at 23. My biggest regret is not starting at 21." Shake your fright and follow your ambitions, tomorrow might be too late. Ryan ended up performing with artists of the caliber of Sarah Silverman and Jim Florentine.
There are chances even your small town hosts an open mic. Emily Allyn, Michigan native but San Diegan by adoption, let her job in a nursing home guide her instinct to follow her dreams. "I started working with a theater as part of an 'improv' group. At the same time, a new weekly open mic started in the city where I worked. So I attended to see if I should have tried it myself. In my hubris, at the time, I decided I could be at least as funny as the least funny of the other people on the mic, so I signed up for the next week. I tried it and was instantly hooked."
Attending local comedy shows is another way to gain that confidence you are looking for. This is what gave Jaleesa Johnson the courage to go on stage, "We went to this show every week for 3 months. One day, I was standing in line to buy a coffee. The guy in front of me was chatting with the barista. He stood out because he was so charismatic and so confident. Whatever that guy was doing with his life seemed to make him really happy. When he turned out to be a headliner for the show, I wasn't surprised at all. His set was the best set I had ever seen there. If watching comedy was making me this happy, performing would have felt a million times better. And it does."
Alternatively, you could take a comedy class, like brand new talent Richard Provencio did, "I thought you had to be in L.A in order to make it, but then I took a class and realized how accessible comedy was. The first time I set foot on stage was at an open mic, to try to gain the confidence I needed in order to perform at the booked show my comedy school had organized. Being the 'new guy' can be sometimes hard, but it gets easier once I have an audience that I'm probably never going to see again. Comedy made me more outgoing and affected my self-esteem positively."
Saving some of the greatest advice for the end, I asked comedy veteran Andrew Deans, who started in 1998 in Austin, TX, but moved to San Diego in 2002, becoming one of the best comics the city has to offer, how he firsthand experienced the changing of the comedy scene in the aftermath of the media revolution that has affected us in the past few years. "Not only do new people come all the time, but the new trend seems to be 'total immediacy.' This, obviously, has to do with the social media and the way jokes are constantly put online for everybody to see and, why not, even steal. At some point, you will notice twenty people are telling the same joke. For that reason, It's important you really connect with yourself, with your thoughts and, above all, you should think twice before you tweet your material. Practice, say the same thing over and over, try to really understand how people are reacting to your jokes."
Last, but definitely not least, San Diego's awarded funniest person and incredible show writer, Dallas McLaughlin, (Yo! Gabba, Gabba, The Aquabats! Super Show!) feels that comedy is like a drug. "That's why when you kill on stage there is no greater feeling, but when you bomb you want to die, but you have to come back for more! My goal with stand-up and anything I do in general is to make the audience feel like we're at a party. Like we are old friends come together to have a laugh and drink and eat. A lot of comics just want to be the best joke writers or to push the limits on what can be funny. I love trying to do those things too, but my first goal is making the crowd that came happy, and then my ego."
So, have fun, be bold and don't be afraid to risk. Your personal happiness might be just around the corner.
Related
Popular in the Community