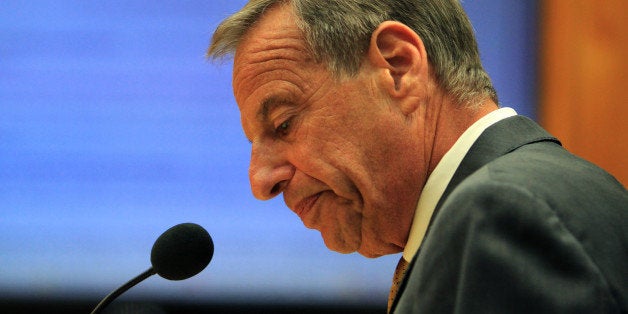 (Recasts with Republican lead)
SAN DIEGO, Nov 19 (Reuters) - A Republican city councilman opened a strong lead in a special election to replace disgraced former San Diego Mayor Bob Filner on Tuesday, while two Democrats battled for a place in a likely run-off.
Eleven candidates were competing to succeed Filner, who was the first Democrat elected mayor of California's second-largest city in two decades but was forced to resign in August in the face of a sexual harassment lawsuit.
With none of the candidates likely to clinch the majority vote needed to win outright, the race was expected to set the stage for a run-off in February between the leading Republican contender, City Councilman Kevin Faulconer, and one of two Democrats trailing him Tuesday night in a neck-and-neck contest for second place.
Faulconer, as anticipated, broke way ahead of the pack to garner 44 percent of the vote, according to returns posted online with 68 percent of ballots tabulated.
Democrats Nathan Fletcher and David Alvarez each had a fraction over 24 percent of the vote.
San Diego has long voted conservative, in part because of its large military and retired military presence.
But the final outcome of the special election will be shaped by the growing clout of Hispanic voters, particularly in southern San Diego, an area that was largely overlooked by the political mainstream until it played a key role in putting Filner in office, experts say.
"The race for mayor will come down to who comes in second," said Carl Luna, a political science professor at San Diego Mesa College.
Fletcher, a former U.S. Marine and onetime state assemblyman, was a Republican until switching parties after finishing third in his 2012 bid for mayor. With the backing of several key labor unions and the high-tech industry, he had been seen as the presumptive Democratic nominee.
But since starting the campaign with nearly 40 percent popular support in public opinion polls, Fletcher has steadily lost ground to Alvarez, a city councilman who won the endorsement of the San Diego Democratic Party.
Alvarez, whose platform most resembles Filner's, was elected to the council in 2010 by the largely working-class and Hispanic neighborhoods, including Barrio Logan, where he grew up.
Filner, who served in Congress for 20 years before he was elected mayor in 2012, resigned at the end of August as part of a settlement with the city over how to handle a sexual harassment suit filed by his former press secretary, Irene McCormack Jackson.
She was one of 19 women who came forward to accuse the 70-year-old politician of making unwanted advances toward them.
The scandal that ended Filner's political career has scarcely been mentioned in the recent campaign, though the candidates do make frequent references to integrity, character and openness in city government, Luna said.
Steven Erie, a political science professor at the University of California, San Diego, said he sees Fletcher as the Democrat with the widest appeal, "and that scares the heck out of the downtown crowd because he's the candidate who can beat Faulconer".
"David Alvarez may not be ready for prime time this election, but he is the face of the future of San Diego politics," Erie said.
In a bit of political gamesmanship, Alvarez has received unsolicited support from the largely white Republican Lincoln Club, which paid for a series of mailers favorably comparing Alvarez to Fletcher.
"Their game is to force a runoff between Faulconer and Alvarez because they're scared that Fletcher can actually beat Faulconer and they believe Alvarez can't," Erie said of the Lincoln Club's political stance. (Editing by Steve Gorman, Eric Walsh and Jackie Frank)
REAL LIFE. REAL NEWS. REAL VOICES.
Help us tell more of the stories that matter from voices that too often remain unheard.
BEFORE YOU GO
PHOTO GALLERY
Political Sex Scandals