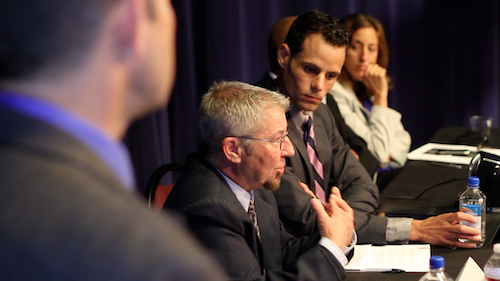 Late last month, another bit of LGBT history was made, albeit on a more modest level than the overturning of DOMA and Prop. 8 as the San Diego Press Club and the Society of Professional Journalists presented their first-ever LGBT media event.

I invited and moderated a panel of four experts and activists to speak about LGBT civil rights and LGBT media issues.
The panel was composed of Monica Trasandes, director of Spanish-language media at GLAAD in Los Angeles; Stampp Corbin, a former Obama campaign official and publisher of LGBT Weekly; civil rights activist Will Walters; and San Diego LGBT Community Center official and transgender rights activist Connor Maddocks.
The intent of the panel was to educate San Diego area journalists about the ins and outs of covering news about lesbians, gays and bisexual and transgender individuals and the LGBT community, moreover.
Panelists discussed issues such as "reparative (or conversion) therapy," which claims to "cure" homosexuality and is banned in California and New Jersey because, as the American Psychiatric Association and even the recently shuttered leading purveyor of the practice now both warn, can cause severe psychological damage and even lead to suicide.
The conclusion of the panel was that journalists should always include the phrase "so-called" before mentioning the terms "reparative therapy" or "conversion therapy" in news reports about the practice -- and also consider adding quote marks around those terms.
Perhaps the most moving moment came when Will Walters told his story of intra-LGBT community discrimination, i.e., unfair treatment or negative singling out of members of the community by peers who want to avoid presentation of LGBTs as "too gay."
Walters has been called an "accidental activist" because of his outspoken stance against unequal enforcement of laws between straight v. LGBT people, as he allegedly experienced during a the San Diego LGBT Pride festival two years ago.
Walters appeared to barely stave off tears as he related the events of June 2011, when he was arrested (though never charged by the city attorney) for public nudity -- allegedly at the behest of San Diego LGBT Pride security. Walters was far from nude, however, having worn a leather kilt at the time of his arrest that was more ample in its coverage of his buttocks and frontal area than an average woman's bikini bottom.
A handful of the seasoned journalists among the audience were moved to tears as Walters talked about how his ordeal, which he says not only included the humiliation of being arrested for his attire at the Pride festival, but also allegedly included officers' pointing and laughing at him, as well as using homophobic epithets and encouraging inmates to do likewise.
There were chuckles as Walters added some levity to his story by noting that instead of having a couple of photos taken of himself "...showing some abs" at the San Diego LGBT Pride festival as had been his plan, he ended up with "...a mugshot that actually wasn't that good."
As evidenced during the audience Q&A period, another issue of great interest to reporters and others who came to the hear and participate in the panel discussion was the "T-word."
According to panelist Connor Maddock, a female-to-male transgender person, journalists and people in general should know that the word "tranny" is akin to the "N-word" in terms of its offensiveness. Maddocks as well as the rest of the panelists agreed, the "T-word" is best kept out of stories, except when used for special emphasis inside of a quote (or when automotive journalists use it as slang for transmissions).
Other points about covering the "T" in LGBT establsihed during the discussion were:
It is always acceptable and advisible to ask an interview subject or source what their gender identity is when its relevant to the story, or when avoiding prepostions would be awkward.
"Trans people -- and that's a perfectly acceptable term -- will almost always appreciate you asking them how they gender-identify," says Maddocks.
Regardless of appearance or perceived gender, what the individual says goes.
"I get to decide who I am, according to the State of California and a growing number of other states," Maddocks told the audience. "But even in those states where self-identification is not yet the law, as journalists, don't you want to respect the identity of the individual as they perceive themselves?"
San Diego ABC affiliate, KGTV Channel 10 hosted the panel, which was titled "LGBTs in the News: How to cover a diverse community and its emerging issues with sensitivity and respect." J.W. August, president of the San Diego Chapter of the Society of Professional Journalists, and 10News senior investigative producer helped introduce the panel and welcomed the attendees to his home station.
Among the questions audience members had was one asking what the abbreviation "GLAAD" stands for.
"Originally, it stood for Gay and Lesbian Alliance Against Defamation," explained GLAAD's Monica Trasandes. "But, for inclusiveness, we now just use GLAAD."
Transandes shared a video that was also played earlier in the year at the GLAAD awards, where Bill Clinton was the keynote speaker and honoree.
"GLAAD was founded 27 years ago, because things were terrible," Transandes said. "The media were using terms like 'AIDS victim' and homosexual, which is still used by enemies of equality in the media to dehumanize LGBT people and paint us as 'the other."
Trasandes said GLAAD works to ensure that LGBTs "...are represented in the media and represented fairly." Her organization publishes an annual report called "Where We Are on TV," which is a comprehensive survey of the quality and quantity of portrayals of the LGBT community on broadcast and cable television.
Former Obama for America 2008 LGBT Leadership Council co-chair, Stampp Corbin implored members of the media to use the term "same-sex marriage" instead of gay marriage, noting that people same-sex couples are not looking to get "gay married," just married.
"We still have folks who are dominant in the mainstream media calling it 'gay marriage,'" said Corbin, who is also publisher of San Diego LGBT Weekly newsmagazine. "That's in spite of GLAAD and others in our community asking them to please call it what it is, same-sex marriage."
(Video produced by Dave Macintosh/Photo: Dave Macintosh)
Related
Popular in the Community