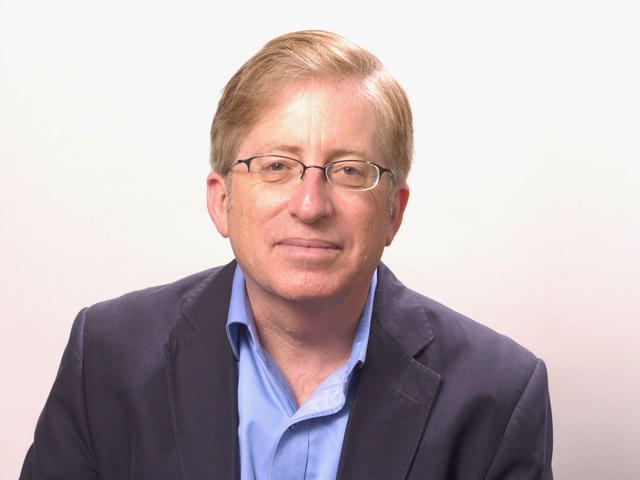 After the news got out last week that Robert L. Pincus, the books editor and art critic at the San Diego Union Tribune, had been laid off, his Facebook wall was jammed with dozens of postings that both vented outrage and paid tribute.
"If there was an Art Flag in San Diego it's been lowered down today by the Union-Tribune letting go of our highly cherished and needed visual art voice -- Robert Pincus!"

- Nilly Gill

"If the public wanted intellectual depth and analysis, we just lost about 3/4 of it with your departure. It'll take decades to recover it."

- Roger Showley
The outpouring of respect meant a lot to Pincus, one of more than 30 staffers let go in a restructuring intended to give the Union-Tribune a "greater business focus." Of course, there were probably some people in San Diego who were quietly pleased: strong critics like Pincus have their enemies as well. After Pincus made a few choice remarks about artist Thomas Kinkade in a 2004 review some very sharp letters to the editor appeared to rebuke him:
"Obviously (art critic) Robert L. Pincus is one of the elite critics that doesn't have a clue."

- Norman L. Steiner.

"I take issue with Pincus' article. His choice of words illustrates a bias and disregard for facts. As owners of Thomas Kinkade Signature Galleries here in San Diego County, my wife and I have been proud to be associated with Kinkade and his artwork for more than 10 years."

- Mike and Linda Koligman
Pincus, who probably didn't actually mind being called "elite," has more than 30 years of experience in writing about art. His first reviews appeared in Art Week in 1979. By 1981, while he worked towards a dual PhD in English and Art History, he was writing art reviews for the Los Angeles Times. In March of 1985 he became the staff art critic for the San Diego Union, which became the Union-Tribune after a merger in 1992. On the side, he has contributed to national art publications including Art in America and Artforum, and for 12 years he has taught a course titled "Thinking Critically About Art" at the University of San Diego.
All told, Pincus has been the senior art critic for the San Diego region for 25 years, fulfilling the task the the Union entrusted him with when he was hired: to raise the bar on the written coverage of San Diego's art scene. When I asked Pincus what he had attempted to accomplish over the years, he put it this way:
"My ambition was to write criticism that was informed and accessible, to cover the scene from struggling galleries to the major museums. One of the things that lured me away from the academy was the pleasure of discovering emerging artists and championing their work in my writing, both locally and beyond. I also felt it was important to write about the institutions: their collecting activities, the quality of their curating and their history. I think this connects art to readers. Nor did I ignore public art: chastising bad projects and praising the great works that were created for UCSD's Stuart Collection."
Playing that role, over 25 years, Pincus brought constant recognition to the burgeoning art scene in San Diego. Ironically, just a few days before he was laid off, Pincus concluded his review of "Here Not There: San Diego Art now" by writing "It would seem that the era of San Diego artists as under-recognized is about to end."
It is tragic to realize that if Pincus is correct, his position was eliminated after he played a key role in bringing that very recognition to worthy artists and institutions.
In response to a flood of complaints he received after Pincus' layoff was announced, Jeff Light, the beleaguered editor of the Union-Tribune tried to reassure the community that arts coverage would indeed continue. In an email response to the concerns that came his way he stated:
" ...you should know that we have no plans to eliminate coverage of either the visual arts or of books. We will increase the presence of visual arts coverage in our Sunday Arts section. You should see, over time, more of what is happening at our museums and galleries, and hear more from the artists and curators themselves."
In other words, Robert Pincus won't be there to interpret, add context and screen out the hype.
To be fair to Jeff Light, the deciding factor in taking the UT through its seventh round of staff reductions was declining revenues. Just ten years ago, a job at the Union-Tribune was a prize that offered a future of steady employment: some longtime columnists used to joke that a job there was the equivalent of a "velvet coffin."
The internet and the Great Recession have changed that. After letting go of Pincus and other veteran staff members, the Union-Tribune announced that new positions for Junior Staff Writers, to be paid $36k per year, would be created. These low level staffers, "Under supervision, will research and write news and straight forward short stories with low level of complexity."
Other newspapers under financial pressure are also making tough calls, and Pincus isn't the first art critic to go. Sheila Farr of the Seattle Times took a buyout in late 2008, Alan Artner of the Chicago Tribune was let go in April 2009, and David Bonetti, art critic for the St. Louis Post Dispatch took a "voluntary layoff" last September.
In some respects, bloggers are taking up where critics have left off, but their qualifications are varied, and the pay ranges from nothing to next to nothing. In San Diego, at least one website, VoiceofSanDiego.com, is looking to hire an arts blogger. The job description for the position makes it clear that enthusiasm and familiarity with technology are desired, but that "previous arts experience is NOT a prerequisite."
San Diego, a city of 1.3 million people, home to more than 20 galleries and museums now has no senior art critic. Some would argue that it no longer has a real newspaper. Hugh Davies, whose position -- The David C. Copley Director and CEO of the Museum of Contemporary Art San Diego -- carries the name of the man who sold the Union-Tribune last year after 8 decades of ownership, offered this tribute to Robert Pincus:
"For over 20 years, Robert Pincus has been a first-rate critic -- fair, intelligent and well-informed -- and he deserves great credit for the maturation of the art and museum world in San Diego. His departure from the paper is a huge loss to the visual arts community here. Support from our city's newspaper in the form of information but, more importantly, informed criticism is vital to San Diego's future growth and improvement as a vibrant cultural destination."
Davies' comments offer people who care about the arts something sobering to reflect on. What is being lost in San Diego, and in other cities, is the authority, erudition, and experience of local critics. Of course, with his credentials, Robert Pincus will likely find another job somewhere else, in teaching, writing or editing. He also has a few book ideas.
In the meantime, the Union-Tribune will have to work hard to convince its remaining readers that it cares about the arts. Gwen Gomez, who posted her thoughts on Robert Pincus' Facebook page, won't be holding her breath: "Our subscription to the UT is canceled."
Author's Note: In a recent "tweet" James Rainey of the LA times reports that Book agent Sandra Dijkstra has called for a boycott of San Diego Union Tribune if it does not reverse the termination of arts/book writer Robert Pincus.
A community forum addressing the Union Tribune's future coverage of books, arts and culture will be held at Warwick's Books, 7812 Girard Ave., La Jolla, on Friday July 9th from 7 to 9 PM. Panel members will include Jeff Light of the Union-Tribune, Robert Pincus, MCASD Director Hugh Davies, and Sandra Dijkstra representing the literary community. For more information, please contact Susan McBeth: warwicksevents@yahoo.com
Popular in the Community