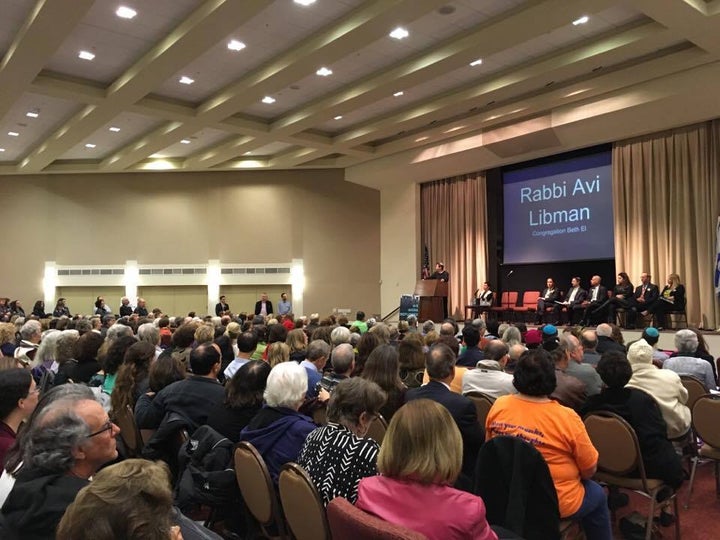 In the weeks after Nov. 8, Lou Pechi, an 83 year old San Diego resident, was so traumatized and distressed by the presidential election — and the rhetoric against refugees, immigrants and minorities propagated by President Donald Trump and his supporters — that he couldn't bring himself to watch the news on television. Pechi is a Holocaust survivor, one whose childhood was upended when Nazi Germany invaded his home in Yugoslavia (now Croatia) in 1941. Although he was seven at the time, Pechi vividly remembers what it felt like being a Jew in World War II — being forced to move between countries to escape Nazi persecution, to conceal his identity and survive. "I was very traumatized after the election because suddenly, I was seven years old again in Nazi Croatia, I remembered what it was like to be a refugee," he said. "I thought we were progressing, but instead I was seeing history repeat itself."
The history that Pechi is invoking refers to the thousands of Jewish refugees during World War II who were turned away at American shores because they were feared of being "Nazi spies" sent in to steal American secrets. It was Pechi's personal history, along with this history of Jewish refugees, which brought him on the night of Feb. 2 to attend a community-wide forum called "Immigrants and Refugees: a Jewish Call-To-Action," hosted and organized by a coalition of local Jewish organizations, including the Anti-Defamation League of San Diego county, the Jewish Family Service of San Diego, the Jewish Federation of San Diego and the Leichtag Foundation. "Jewish history and tradition puts us at the forefront of 'welcoming the stranger,'" the organizers declared in the Facebook event's description. "Let's fill the room and show that the Jewish community and its allies care about immigrants and refugees."
In the past two decades, established Jewish organizations have risen to be one of the largest and, perhaps, most reliable forces for pro-refugee organizing. In the 2000s, the Hebrew Immigrant Aid Society, an organization founded in 1881 to help Russian Jews fleeing pogroms, expanded its operations to help aid refugees and asylum seekers from Afghanistan, Kenya, Bosnia, Ethiopia, Haiti and, recently, Syria. Other established Jewish organizations — such as the World Jewish Relief — have made similar shifts, focusing on refugees across the globe who, like Jews, were fleeing religious or political persecution. As Michael Hopkins, the CEO of Jewish Family Service of San Diego, said at the forum last Thursday night, the community must help refugees "not because they are Jewish, but because we are Jewish."
The forum, organized in the days after President Donald Trump signed an executive order suspending the admission of refugees and immigrants from seven Muslim-majority countries, saw an attendance of over 800 community members packed into the community hall of La Jolla's conservative synagogue, Congregation Beth El. Participants, including Pechi, filled the room, exceeding the expected attendance of 300. While cramped, participants leaned in, clapped and sighed as speakers — which included San Diego City Councilmember, Barbara Bry, California State Assemblymember, Todd Gloria, rabbis from four congregations and leaders from JFS, ADL and the Leichtag Foundation — called for the audience to show solidarity with refugees and immigrants fleeing persecution and hardship.
"May our actions tonight make a difference, may they inspire us to further become the clarion call to welcome the stranger, protect the refugee and to never stand idly by in the face of injustice."
It is no coincidence that the Syrian refugee crisis, and President Donald Trump's subsequent ban of them, is something that troubles San Diego residents, and particularly San Diego's Jewish community. In 2015, it was reported that in the past seven years, San Diego has taken more refugees in than any other area in California. However, for those who know about San Diego's long history of accepting refugees — from countries like Vietnam, Laos, Sudan, Ethiopia, Eritrea — this isn't anything surprising. For decades, San Diego has been a destination for refugees because of its diversity and pre-existing population of refugees. Zara Marselian, the CEO and president of La Maestra Community Health Centers in San Diego, told the San Diego Union Tribune in 2015, "Where [refugees are] going to belong faster is San Diego because there are other refugees from their country that have experienced similar things."
Joshua Sherman, the communications and creative manager for Leichtag Foundation, said that the forum was organized in three days, a concentrated coalition effort between the Leichtag Foundation, ADL, JFS, and Jewish Federation of San Diego. "We saw the images of the demonstrations occurring at airports across the country and felt a real need to guide the community to civil action," he said. "We had a conference that Monday and we were able to get fifteen organizations to support our effort. After we released the Facebook event, we saw that the community wanted to take action."
The response, Sherman said, was overwhelming. Through word of mouth and community organizing, the event spread quickly throughout social media. The community saw their struggle mirrored in the Syrian humanitarian crisis and responded aptly.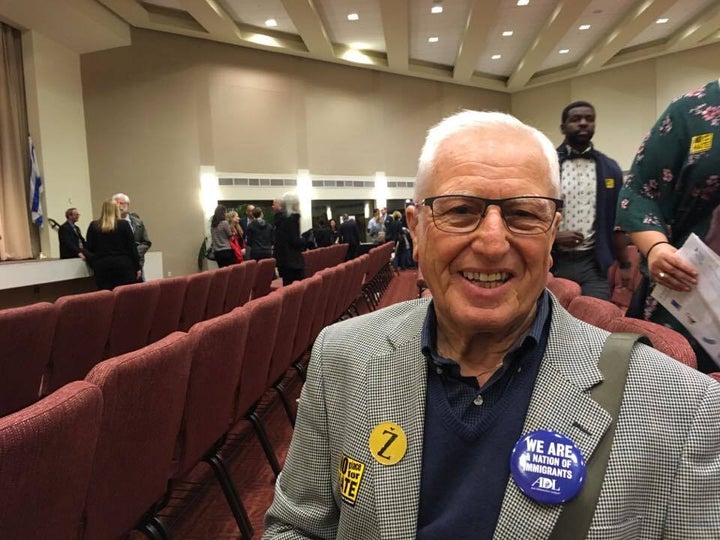 In the crowd was Tammy Schwartz, 27, and her husband, Jon Schwartz, 31, who saw the event on Facebook and was compelled to act after the executive order was issued. Tammy's parents and grandparents were once immigrants to the United States. "We are having a baby in August and we want our child to grow up in a nation where everyone is welcome, regardless of religion or nationality," Schwartz said. Anthony Sacks, 62, also shared deep concern for President Donald Trump's executive order and the social and political implications of the ban. "I'm concerned with the direction our country is going. Hopefully they'll hear the voices of the people and perhaps we can make changes to laws. Immigrants are what make this country great."
Rabbi Yael B. Ridberg opened the forum singing the words of Jewish-American poet, Emma Lazarus' famous sonnet "The New Colossus" — a sonnet famously associated with the Statue of Liberty. "Give me your tired, your poor, your huddle masses, yearning to breath free," she sang. After her song, she addressed the crowd, "Jewish history bears witness to the critical choice that once again faces our country: whether to rescue those in need, or to construct barriers to keep them out...We have now been here long enough to risk our comfort...We are responsible to remember, 'to welcome the stranger,' and to protect the refugee. These are not ordinary times and as Rabbi Abraham Heschel taught, 'this is not time for neutrality.'" San Diego City Councilmember, Barbara Bry echoed Rabbi Ridberg's call to justice, stating to the crowd, "it is our moral duty to offer a safe haven to those fleeing for their lives."
Rabbi Avi Libman spoke to the few children in the audience, asking them to understand "the importance of what this moment is about." He said, "What I want our children to know...your voices matter...Don't ever be afraid to use your voices. We are counting on it." Michael Hopkins, the CEO of Jewish Family Service of San Diego, one of the four local organizations federally sanctioned to resettle refugees, brought into perspective the heartbreaking reality of the executive order.
"Now the door is shut," he said. "It is hard to believe as of February 3, we will not be meeting anyone at Lindbergh Field for the next 120 days because our refugee borders are closed. To us this means 129 people who were already positioned to be resettled by JFS, who have had their immigration process halted...Can you imagine you have fled terror, you have been in a refugee camp for eight years in Jordan, gone through the most intense vetting process in the world...and now the door is shut on them." In response to President Trump's statements regarding the prioritizing of Christian refugees, Hopkins said, "favoring one group over the another group is just wrong."
State Assemblymember, Todd Gloria rebuked President Donald Trump's threats to cut off federal funding to California, should the state move forward to be a "sanctuary" for immigrants. "Our values are not for sale," he said, while listing off the different legislative measures (SB54, SB6 and AB3) that are being taken to resist President Trump's recent executive orders.
Rabbi Scott Meltzer asked, "Are you ready to stand up? Are you ready to take seriously the charge of who we are as a people. The power that we as American Jews have to help those that are in need, because perhaps, it is exactly for this moment that we have the power that we have."
Tammy Gillies, the Executive Director of the ADL in San Diego, recalled growing up in New York, watching the Statue of Liberty and Emma Lazarus' call to "give us your poor, your tired, your huddled masses." The sonnet, she said, is a core of American identity and history, one that remains even more relevant in today's political climate. "These are not just words. They are who we are and that's who we have to be," she said. "We cannot run, we cannot hide, we need to stand up together." Giles then motioned to the audience, "This is what democracy looks like."
Rabbi Yael B. Ridberg ended the event on a note of hope — a reminder that the Jewish people's story was not one defined by pessimism, but by the hope spurred on by action.
"Tonight, we have been reminded that hope is and must be a defiant triumph over pessimism and fear. From our liberation from bondage, we have spent much of our time wandering from country to country. We wandered because people didn't accept us, we wandered because we were different...and because they just didn't like us because we were Jews. Substitute Jews with 'refugee,' with 'immigrant,' with 'Muslim.' Our Judaism didn't only get us chased...Our Judaism got us rejected on our very shores. But the Prophet Isaiah insisted that in times of crisis we must cry aloud, we shall not be silent. We shall make ourselves into a shofar and be the clarion call for every value that we uphold...We the people must form the more perfect union...May our actions tonight make a difference, may they inspire us to further become the clarion call to welcome the stranger, protect the refugee and to never stand idly by in the face of injustice."
After the event — after the speeches were made, as letters were signed and as action packets were read — Pechi seemed hopeful, energized and ready to fight.
"I have come out of my shell. Coming here gives me the hope that history is not going to repeat itself," he said. "We are going to make sure that the past is never going to happen again."
Popular in the Community