SAN FRANCISCO -- A series of pro-choice banners posted on city-operated utility poles running up and down San Francisco's Market Street have drawn the ire of an anti-abortion group.
Life Legal Defense Foundation has demanded that the city remove the offending signage or face the possibility of legal action.
Since the new year began, dozens of banners trumpeting reproductive rights have been flying above the iconic San Francisco boulevard. Part of the Center for Policy Analysis' Silver Ribbon Campaign to Trust Women, the advertisements carry slogans like "U.S. Out of My Uterus," "Catholics for Choice," and "Reproductive Rights Are Human Rights."
Traditionally, this space has been used for less controversial topics, such as ads for upcoming exhibits at deYoung Museum or a special event at the zoo.
While San Francisco is about as solidly pro-choice a town as exists anywhere in the nation, some -- especially Life Legal Defense Foundation -- find the messaging offensive. "If they believe in choice, they should talk about all of the choices available, not just abortion," Dana Cody, the organization's executive director, told The Huffington Post.
What's more, Cody's Napa-based group argues the banners themselves flagrantly violate city law because they advertise a political issue instead of a specific event. Article 5.6, Section 184.78 of San Francisco's Public Works Code states:
The Board [of Supervisors] does not intend to create a public forum on the upper portion of city-owned utility poles, it has decided to make the upper portion of city-owned utility poles available for the installation of banners that announce city-sponsored events, city-funded events, city-wide special events.
Department of Public Works Spokeswoman Gloria Chan defended her agency's decision to allow the Center for Policy Analysis to buy space on the poles, saying that the banners are running in conjunction with two events: the Walk for Trust Women scheduled to take place on Market Street on January 20th and the The Bay Area Coalition For Reproductive Rights' West Coast Rally For Reproductive Justice slated for Justin Herman Plaza the following day. Chan noted that any event expected to draw over 500 people, which DPW officials expect both of these to do easily, qualifies as a "city-wide special event" and is permitted to have its ads posted.
The Center for Policy Analysis' events are part of a campaign designed to combat what its founders see as a systemic rollback of abortion rights nationwide. "We saw a pro-choice president sign laws restricting access to abortion in at least three different ways. In health care reform law, an executive order and a regulation on state health plans," wrote the organization's director Ellen Shaffer in a blog on The Huffington Post. "This year, we learned it is not enough to appoint and elect smart, progressive women and pro-choice men to government. They and we need to mobilize visibly and vocally to advocate for reproductive rights and justice."
Yet Cody points out that none of the banners currently flapping in the wind over Market Street make any overt mention of upcoming events.
"The city minions who 'approved' these illegal banners might have thought that the public would ignore the challenge, but they are in error," said Cody. "We also believe this puts a stick in the eye of pro-life advocates who will be marching down Market Street on January 21 for the annual March for Life."
That event, in which participants will march in support of restricted abortion rights, will occur mere blocks from the Center For Policy Analysis' rally at Justin Herman Plaza. Cody argues that pro-life activists will already encounter enough resistance during their march without seemingly government-approved pro-choice messages flanking the intended parade route. "I went to the Walk for Life once and it's not a particularly hospitable atmosphere for the marchers there," said Cody. "The city isn't exactly 'life-affirming.'"
Cody's organization sent a letter to Department of Public Works chief Mohammed Nuru demanding the removal of the banners by the day of the March for Life. She claims she has yet to receive a response. If the department doesn't concede to the Life Legal Foundation's request, Cody says the group is strongly considering taking legal action.
This fight over the banners is the second high-profile conflict between the city of San Francisco and pro-life groups in recent months.
Late last year, the Board of Supervisors gave its near-unanimous approval to a measure that would penalize the city's two crisis pregnancy centers for engaging in what they deemed purposely misleading advertising.
At issue is the perception that the centers, both of which have staunchly pro-life agendas, implied in their advertising that they offered a full range of pregnancy options, including abortion. In reality, the organizations operate with the express purpose of counseling women out of terminating their pregnancies.
The crisis centers claimed they were being unfairly targeted because of pro-life beliefs.
Update: Read Ellen Shaffer's new Huffington Post blog entry on the banners and Trust Women Week here.
Check out the slideshow below of Market Street's pro-choice banners: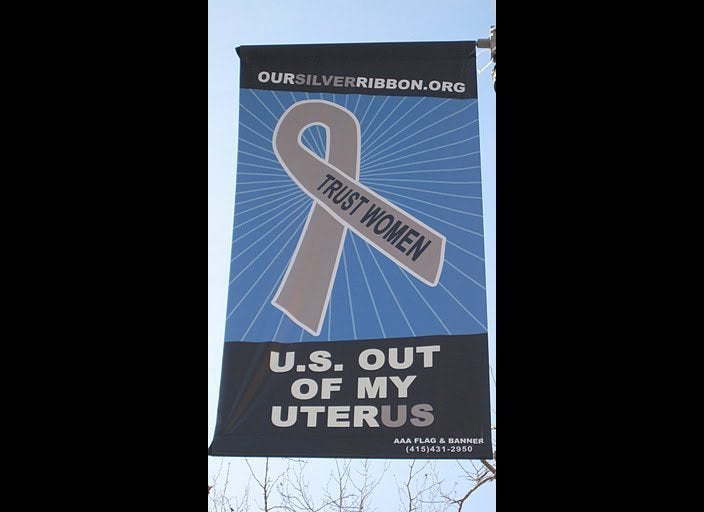 Gallery
Correction: The article originally misidentified the West Coast Rally For Reproductive Rights as the "Celebration to Trust Women."
Popular in the Community