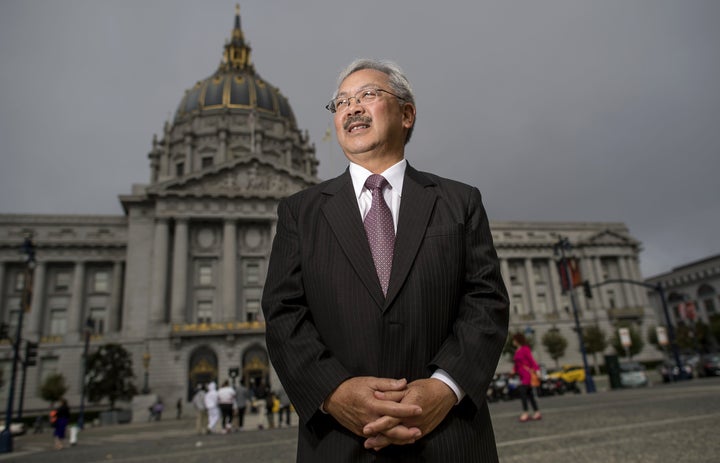 San Francisco Mayor Ed Lee (D) vetoed a bill Thursday that would have restricted short-term rentals in the city to 60 days a year, notching another win for Airbnb and other home-sharing companies.
The bill, introduced by San Francisco city supervisor London Breed and approved by the board of supervisors in a 7-3 vote last month, would have significantly reduced the number of nights residents can rent out units for short-term use per year. Under existing law, residents can rent short-term units an unlimited number of nights if they plan to live in the home during the rental period. Unhosted rentals, meanwhile, are capped at 90 days a year.
Breed's bill would have capped all short-term rentals at 60 days annually. If passed, the regulations would have been among the toughest in the country.
In a veto message, Lee expressed concern over the lack of distinction in the bill between hosted and unhosted units.
"Most San Franciscans agree that there is a difference," he said. "I have concluded that this legislation will make registration and enforcement of our short-term rental regulations more difficult and less effective, and risks driving even more people to illegal rent units."
The bill marked a shift for Breed, who opposed a 2015 ballot initiative to restrict unhosted short-term rentals to 75 days a year, among other regulations. (Voters rejected the measure.) At the time, Breed said she wanted to give existing home-sharing regulations time to work before imposing new ones. One year later, after deciding those regulations weren't working, she introduced the new bill.
Breed told the San Francisco Chronicle she was disappointed with the veto, but would continue to work with Lee to improve regulations. Another supervisor, John Avalos, was far more critical of Lee, hinting at the mayor's reputation for putting the priorities of tech companies ahead of the city.
"I'm sure Ed Lee is smart enough to understand how devastating short-term rentals have been to our housing stock, so it's safe to say the mayor cares more about Airbnb's bottom line than preventing homelessness," Avalos said.
San Francisco and the wider Bay Area is in the throes of a years-long housing crisis, thanks in large part to Silicon Valley's tech renaissance over the last decade. Housing prices have skyrocketed in the region, pushing out long-term residents who simply can't compete with Google executives and venture capitalists. And while there are projects underway to build more affordable housing, it's not enough to keep up with demand or match the rate of units being taken off the rental market.
Housing advocates point to short-term rentals, such as those offered by Airbnb, as part of the problem. Landlords can benefit from evicting tenants and renting vacant units on a short-term basis at a much higher rate than they could charge for a long-term rental. Caps like the one proposed in San Francisco would make such ventures much less profitable, and in theory would put units back on the rental market.
An Airbnb spokesman didn't return a request for comment on the latest bill, but the $30 billion San Francisco-based company has fought hard against previous efforts to curb its effect on the housing market. Airbnb has rejected the idea that it removes units from the market, and has argued that its business actually helps individuals afford expensive mortgages by allowing them to rent a spare room.
Cities and states across the country are considering legislation similar to the bill in San Francisco. Most notably, New York Gov. Andrew Cuomo (D) signed a bill in October making it illegal to rent apartments on a short-term basis. Airbnb is challenging the law in court, arguing the regulation does "irreparable harm" to its business.
Popular in the Community