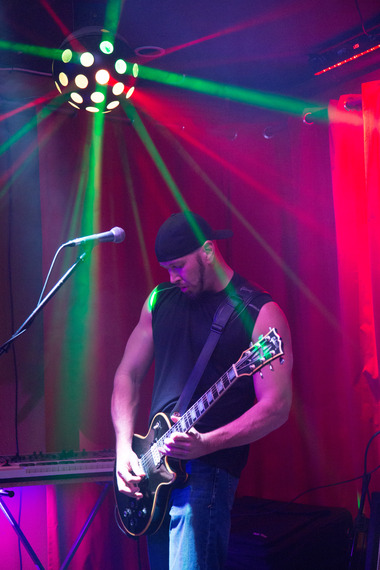 Every now and then a band comes along whose music real moves you and The Institution is one of those bands. The four piece, led by singer/guitarist songwriter Jason Scott, play a melodic, yet heavy brand of alt/metal that brings to mind the Deftness, Tool and Soundgarden. But with a more up to date and modern vibe.
Bass player Johnny Dunlap and drummer Pete Markovina hold down the rhythm section for the band and fourth member Joel Gimbel who is the bands auxiliary man, doing a number of things to enhance the songs from running the sound board to playing keyboards. The bands first album, The Hegemony is a hard driving debut but The Institution has a lot more in the works.
"We are about to put two new albums out and the one we just recorded it is a completely different animal." Scott tells me. "Its a whole new sound. We are now developing our own sound. We do sound like the Deftones and Soundgarden and Tool. We are progressive and we play guitar solos, so probably a lot of Rush in there as well, but now we are developing our own sound which is actually quite exciting for us as musicians.
"We are recording our second and third album and realizing we do have our own sound. We always used to questions ourselves who do we sound like? But past all that, the live playing has become very comfortable. Being reunited with Johnny Smooth is exciting he was the missing element. We were a watered down version of ourselves without him."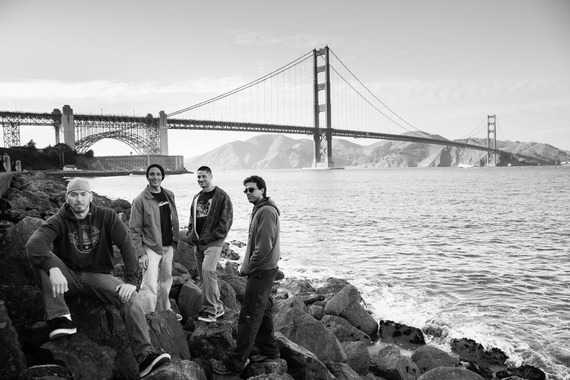 The band, which formed in the belly of the beast as Scott, Dunlap and Markovina did time in federal prison, has recently been reunited with their original bass player, Johnny "Smooth" Dunlap. One of the founding members of the band.
"He finally came back into the fold. Its been almost 5 years since we've all been home." Markovina tells me. "We've gone through three different bass players and now John the original is back. John kind of got hit with the responsibilities of the world and it kind of twisted him up, but he never lost sight of what he loved and we finally asked him do you want to come back in. And he did and its really a better fit. Its nice to have him back.
"He's had to work through stuff. Really we all have. Over the years, luckily, me and Jay have always kept the music on top. This is my brother and my best friends and we've been able to build our lives around what we love and try to support that. We've kept that focus and now that John is able to come back through its been nice. Without John it was hard because we were always trying to groom the new bass player to learn the material so we stuck with the older stuff. With John its not someone trying to learn a part its his part. With him that bass line essence is there."
And the band has had a lot success in San Francisco playing over 300 shows and headlining Slim's and The Great American Music Hall. They are currently touring in Hawaii and have done several West Coast tours. They are planning to do a Mid-West tour this spring to support their new albums.
"The new stuff is old songs but we added a new twist." Scott says. "We got a fourth member our sound guy, Joel. He plays keys so now our sound is going to be a lot different. I got a song on there called Disconnect which is about everyone being so connected they are disconnected. It's my view on how we are such a technology driven world."
Pete, the drummer, thinks that the new acoustic flavored album, which isn't as heavy, will make them more accessible and get them into more places to play.
"The acoustic stuff will let us play the cafes and slide into there." He tells me. "Its about rounding out our sound and being accessible. I'm really excited about it. We love that stuff. We haven't been able to share that because we've been so heavy, heavy, heavy. But now we are getting this acoustic body of work complete and out in the ether."
Asked to further elaborate on The Institution's sound, front man and songwriter Jason Scott expounds.
"I'd say heavy progressive, melodic rock." He says. "The phrasing and dynamics are there. My influences come from the things that I love. Naturally I emulate parts of that and incorporate it into my own sound. That's what makes us unique because we play what we love and it covers a really wide range of tastes."
Check out The Institution's music at https://www.reverbnation.com/theinstitution and look out for their new albums. Also watch out for their Mid-West tour.
Calling all HuffPost superfans!
Sign up for membership to become a founding member and help shape HuffPost's next chapter