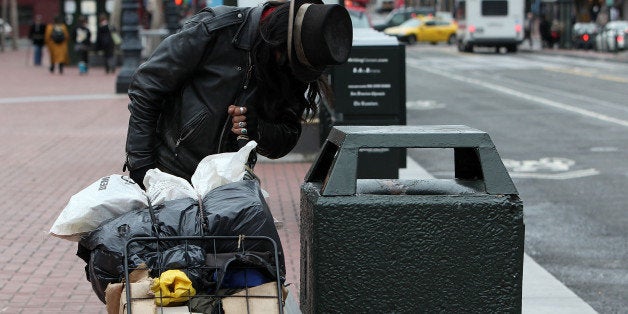 San Francisco continues to clamp down on its anti-homelessness policies, an approach that has proven callous, ineffective and costly, a recent study concluded.
A new report released by the Coalition on Homelessness found that San Francisco has passed more bans on homeless people's activities than any other city in California and pours money into resources that only perpetuate the homelessness cycle.
That's despite the fact that over the past decade, the city has spent about $1.5 billion on homeless services and has six times more supportive housing units per capita than such major cities as New York and Los Angeles, according to the report.
Still, there's only one shelter bed for every five homeless people in the city, and on any given night more than 500 people find themselves on shelter waitlists.
While the dearth in housing is a major contributing factor to the city's homelessness cycle, authorities have continued to ramp up its efforts to punish people on the streets simply because they have nowhere else to go.
The Golden Gate city currently has 23 laws that target homeless people. Those include bans on sitting on sidewalks, sleeping in parks or vehicles and begging.
The San Francisco Police Department launched "Operation Outreach" in 2004, a program that was billed as a way to help people on the streets, hoping to improve homeless people's opportunities. But the officers don't have the resources they need to support homeless people, and it's devolved into a system where cops aggressively hand out citations.
Since 2011, the number of citations doled out to homeless people for sitting, sleeping and begging has nearly tripled.
That year, the SFPD handed out 1,231 tickets. In 2013, it gave out 3,350.
The fines average about $150, and 90 percent of them go unpaid.
Homeless people are typically too poor to fork over that kind of money, and the consequences are "devastating," the report noted.
After a month, the tickets increase by $300 and 30 days after that, they're sent to a collection agency. That continues to preclude a homeless person from climbing out of poverty since it can result in a suspended driver's license, a tarnished credit score and disqualification from housing and job opportunities.
While the officers sent to address these cases would prefer to focus on more serious crimes, they often feel they have no choice but to strictly implement these laws because of repeated complaints from residents, SFPD Lieutenant Michael Nevin told the researchers.
"If Mrs. Smith continues to call 911 because some guy's sleeping on her door step, we are duty-bound to respond," Nevin said.
But he also noted that the only true effective solution is providing housing for homeless people since: "because a) that's humane, b) that would be more productive for society and c) I don't think police departments can solve homeless issues on their own."
Numerous studies, even those conducted in places as expensive as Silicon Valley, have proven Nevin's theory to be true.
Some of those reductions related to a drop in emergency room visits, justice system encounters and drug and alcohol treatment.
To its credit, however, San Francisco has made some efforts recently to focus on providing stable housing for those who need it most.
Mayor Ed Lee announced in April that the city was on track to end chronic veteran homelessness this year. Since 2013, San Francisco has successful housed 500 homeless veterans, according to the San Francisco Chronicle.
Some advocates are recognizing that what homeless people need more than harsh treatment is compassion, understanding and effective resources.
A new homeless shelter, called the Navigation Center, is experimenting with easing up on strict rules, a method that has worked well in a number of cities, including Honolulu.
The Mission-based center can accommodate 75 clients who have ample room to move about, can come and go as they please, don't have to adhere to a curfew and can bring their dogs with them, KQED reported.
"We're trying to lower the barriers to access shelter," Julie Leadbetter, the center's director, told the news outlet. "What is really innovative here is that guests can bring what are called the "three Ps"– pets, possessions and partners. It's about addressing people with their lives intact."
Calling all HuffPost superfans!
Sign up for membership to become a founding member and help shape HuffPost's next chapter