"Beauty is a complicated thing." No sentence could better sum up the work of Berkeley-based photographer Richard Misrach. His large-scale photographs are unambiguously beautiful. In his works depicting lovers entwined on a beach, or the sunset behind the Golden Gate Bridge, this beauty manifests itself in comfortable and easy to digest forms. The rich colors, fine details, and serene settings are in sync with common notions of beauty -- especially in nature. But much of Misrach's work diverges from this romantic view of beauty and nature. Series such as those documenting the 1991 Oakland Hills fire, military bombing ranges, and industrial pollution present uneasy views of destruction that are simultaneously beautiful and beastly.
It was during my recent visit to his Emeryville, Calif., studio that Misrach offered the above insight on the nature of beauty. This tension between destruction and beauty is masterfully portrayed in Petrochemical America, an upcoming book project by Misrach and landscape architect Kate Orff. In 1998, the High Museum of Art in Atlanta commissioned Misrach to contribute works to its Picturing the South series. During his resulting travels, Misrach discovered "Cancer Alley," a toxic stretch of the Mississippi River between New Orleans and Baton Rouge. Due to petrochemical and other heavy industry in the region, the water, air, and ground are abnormally polluted, resulting in increased rates of cancer and other disorders. The book's cover photograph, "Swamp and Pipeline, Geismar, Louisiana" (1998), also featured in the High Museum's upcoming Revisiting the South: Richard Misrach's Cancer Alley, possesses the classic uncomfortable beauty of Misrach's photographs. At a glance, the photograph pictures a neon green swamp with dead or defoliated trees stretching out of the water. The captivating colors and melancholic setting are disrupted by the sight of a rusty pipe, presumably part of an oil pipeline, running the length of the waterway. The pipeline makes clear that the color of the water isn't the result of an algae bloom, and the leaves haven't fallen from the trees with the changing season. Something more ominous has happened to this swamp; it has been destroyed. What is unsettling is that the destruction itself is so beautiful.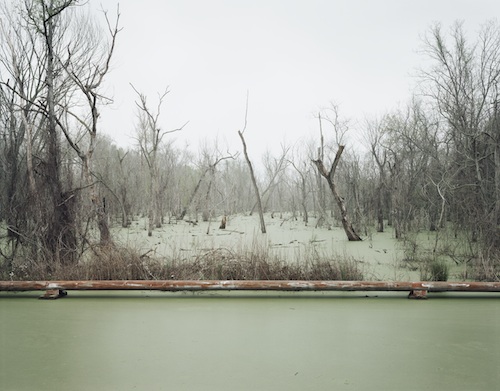 Swamp and Pipeline, Geismar, Louisiana, 1998. Courtesy of Richard Misrach.
Discussing this image, Misrach admitted that, in a sense, his work aestheticizes horror, but he expressed a hope that he wasn't simply making "pretty pictures of ugly things." He quizzed me about why I found this photograph beautiful, but I had trouble giving him a direct answer. I know it is not a result of vulgar voyeurism; train wrecks may be compelling to look at, but they're not beautiful. I know it is not a result of nature fetishism; vacation photos are often rather bland and pedestrian. This image occupies different terrain.
The answer may reside in another photograph from Petrochemical America. "Norco Cumulus Cloud, Shell Oil Refinery, Norco, Louisiana" (1998) is at first quite unassuming. It documents a green field, a blue sky, and an oil refinery in the distance. The photograph exhibits technical quality, but the subject is not very provocative. That is, until the viewer notices that the single large cloud in the sky is no mere cumulus. A barely perceptible contrail of flue gas extends from the refinery's stack in the distance all the way to this massive and artificial cloud. It is a broken expectation that transforms this commonplace scene into something awesome (and awful). Misrach's photographs are neither train wrecks nor vacation photos; they are defiant amalgamations of the two.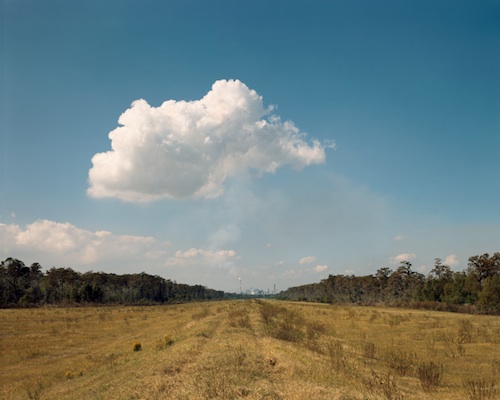 Norco Cumulus Cloud, Shell Oil Refinery, Norco, Louisiana, 1998. Courtesy of Richard Misrach.
A haunting image from Misrach's Oakland Hills fire series makes a compelling case for this ostensible paradox. The photograph profiles a colorful, plastic children's bicycle that had melted all over itself in the conflagration. The dripping pedals and wheel wells are in a state more suited for surrealist clocks. Misrach thinks of the bicycle as a sculpture, stating, "It symbolizes something horrible, but is beautiful to look at." This photograph challenges the viewer to find beauty in a disaster that killed dozens and destroyed thousands of homes. But to what end? What do viewers gain from such an exercise?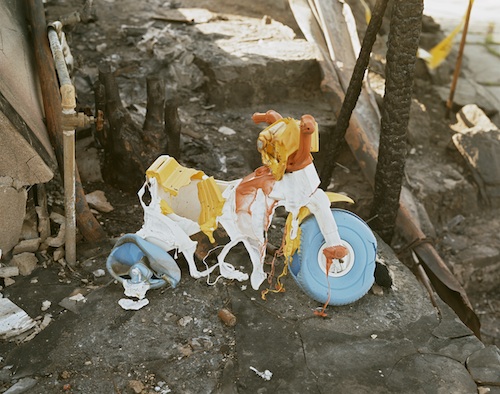 Oakland Fire # 107-91[Melted Tricycle], 1991. Courtesy of Richard Misrach.
Misrach acknowledged that he goes through great lengths to make beautiful pictures of "dead animals or a bombing range." These images, he says, are meant to be symbolic stand-ins for historical moments. When these coerced juxtapositions work, he believes, they make viewers stop and pay attention to the things they see every day and say, "Oh, that's kind of weird." Misrach wants viewers to think about fires and swamps and refineries more deeply. He contrasts himself to a photojournalist. Their photographs generally carry less emotional force. Taken at a distance in a standard style, these images are often predictable. Misrach believes that by making images formally beautiful they will linger in the minds of viewers longer, opening up the possibility for continued interpretation and reflection.
We live in a world full of horror and destruction. We spend most of our lives avoiding this fact (either actively or luckily). But when all the cards are played, the beauty of a sunset is no less real than a cancerous swamp. In a way, Misrach's photographs attempt to correct the lies we tell with photography. Tragedies, everyday experiences, and canonically beautiful experiences are often portrayed as separate types of reality, when in actuality they exist side by side, and often in tandem. Misrach's photography allows viewers to experience the beauty in a non-hierarchical manner. "A mushroom cloud is both horrific and beautiful," Misrach explained. "There's no mistaking the beauty of an atomic cloud for something good -- beauty is a complicated thing."
REAL LIFE. REAL NEWS. REAL VOICES.
Help us tell more of the stories that matter from voices that too often remain unheard.