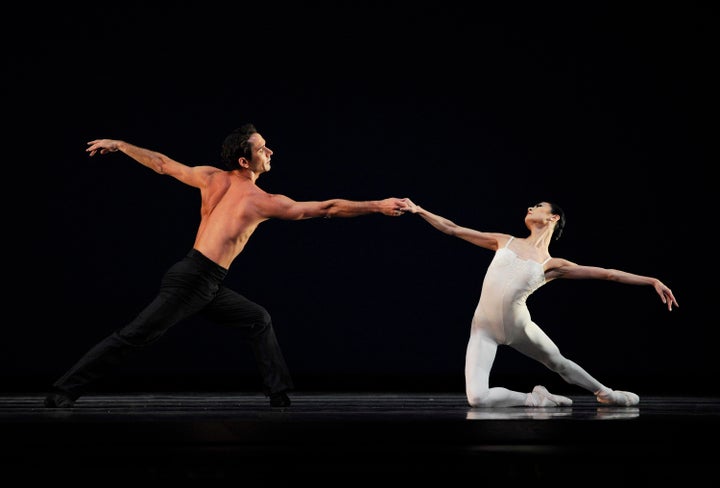 On Thursday, the San Francisco Ballet celebrates the opening of its 78th season, making it the oldest professional ballet company in the country.
The season will launch with an Opening Night Gala featuring a socialite-studded dinner at City Hall, followed by a performance of "Bella Notte," choreographed by the famed San Francisco Ballet Artistic Director and Principal Choreographer Helgi Tomasson.
In 2010, Tomasson celebrated his 25th year with the company with an extravagant silver celebration. Tomasson, a native of Iceland, was called "one of the spectacular success stories stories of the arts in America" by the New York Times, and has led the San Francisco Ballet through more than 100 world premiere works.
This year, the 2012 season will feature a variety of classic performances, including "Onegin," "Romeo and Juliet" and "Don Quixote."
The Huffington Post caught up with Principal Dancer Damian Smith to talk about the Ballet, his workout routine and the city he loves most.
Who: Damian Smith, principal dancer with the San Francisco Ballet
Describe the roles you have in the ballet's upcoming season. Any favorites? I'm looking forward to performing Jerome Robbins' "Glass Pieces" which I've never danced before. I like it because it gives you an opportunity to go to another place -- the Philip Glass music is just so hypnotic. And I've seen so many great dancers perform it in the past that it's an honor to be cast. I also really enjoy Yuri Possokhov's "RAkU" because it's such an exceptional collaboration of all the elements that it takes to put on a production, from the dancing, costumes and lighting, to the choreography and the score. It's really a team effort. I've also really enjoyed rehearsing the new Mark Morris work, "Beaux." The creative process is always fun with Mark because he's so entertaining.

What was the first thing you noticed about living in San Francisco? How has that changed? The rents are expensive and they've gotten more so since I moved here, but the food is always fantastic and you can go to a different restaurant every night of the week -- that hasn't changed.

Where do you like to rehearse in the city when not in the studio? I don't rehearse outside of the Ballet's facilities but I do enjoy sailing on the Bay, and I spend a good amount of time seeing Hilot massage therapist Jeff Cohen.

Where is your favorite place to bring out of town friends? Backstage at the Opera House during a performance is always exciting. And I love to hike to Cavallo Point, ending with oysters and wine on the terrace.

How has the city's ballet and dance scene evolved since you first arrived? I think there's more athleticism in dance now. But otherwise, I've always thought that the Bay Area provided a lot of opportunities to witness great dance -- that really hasn't changed.

Do you like to watch other local performance art? Where are some of your favorite places? I really enjoy seeing ODC, Joe Goode and Berkeley Repertory Theatre.

Favorite workout spots in the city? The Lyon Street steps, walking in the Presidio and biking Crissy Field.

When a season ends, where is your favorite place to celebrate? I go with the flow -- wherever the party happens to be, I'll be there.
REAL LIFE. REAL NEWS. REAL VOICES.
Help us tell more of the stories that matter from voices that too often remain unheard.