 San Francisco supervisors voted Tuesday afternoon to officially ban public nudity, marking the end of an era for a "city where anything goes."
Supervisor Scott Wiener's ordinance was approved in a 6-5 vote, with the moderates on the board generally supporting it and the progressives voting in opposition.
More from the Associated Press:
SAN FRANCISCO (AP) -- San Francisco lawmakers on Tuesday narrowly approved a proposal to ban public nakedness, rejecting arguments that the measure would eat away at a reputation for tolerance enjoyed by a city known for flouting convention and flaunting its counter-culture image.
The 6-5 Board of Supervisors vote means that exposed genitals will be prohibited in most public places, including streets, sidewalks and public transit.
Supervisor Scott Wiener introduced the measure in response to escalating complaints about a group of men whose lack of clothing was an almost daily occurrence in the city's predominantly gay Castro District.
"The Castro and San Francisco in general, is a place of freedom, expression and acceptance. But freedom, expression and acceptance does not mean anything goes under any circumstances," Wiener said Tuesday. "Our public spaces are for everyone and as a result it's appropriate to have some minimal standards of behavior."
Weiner's opponents on the board said a citywide ban would draw police officers' attention away from more critical problems and eat away at city's reputation for tolerance.
"I'm concerned about civil liberties, about free speech, about changing San Francisco's style and how we are as a city," Supervisor John Avalos said.
Under Weiner's proposal, a first offense would carry a maximum penalty of a $100 fine, but prosecutors would have authority to charge a third violation as a misdemeanor punishable by up to a $500 fine and a year in jail.
Exemptions would be made for participants at permitted street fairs and parades, such as the city's annual gay pride event and the Folsom Street Fair, which celebrates sadomasochism and other sexual subcultures.
A federal lawsuit claiming the ban would violate the free speech rights of people who prefer to make a statement by going au naturel was filed last week in case the ordinance passes.
Support HuffPost
The Stakes Have Never Been Higher
Related
Before You Go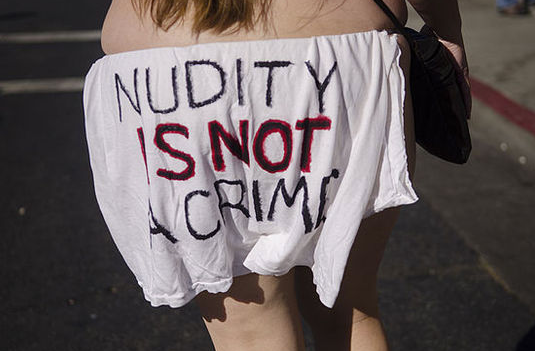 SF Nudity Protest
Popular in the Community