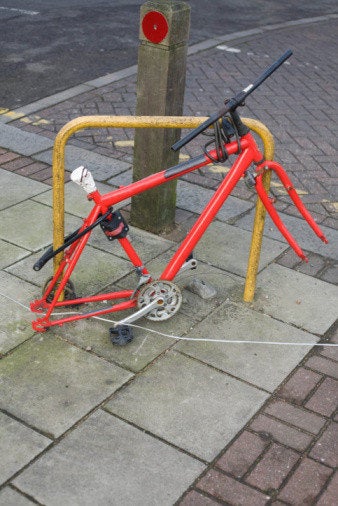 It's been said that you're not a real San Franciscan until you've had your bike stolen.
Bike theft is a sad reality in San Francisco, and most local bikers are well acquainted with the feeling of coming outside to nothing but an empty bike rack and a broken U-lock where their beloved two-wheeler used to be.
Supervisor and mayoral candidate, John Avalos knows first-hand what it's like to have some rapscallion abscond with his Schwinn. "I've had about four different bikes in my lifetime," he said, "three of them were stolen."
Avalos is in the early process of drafting legislation that would require businesses in San Francisco either offer bike parking or allow their employees to bring their bikes into the office.
"It's the last major gap in solving the commuter bike parking problem," said Dave Snyder, executive director of the California Bicycle Coalition. Many office buildings, he noted, have room for bike parking but don't allow access.

"If you've got a car parking garage, it's easy to convert enough space to provide secure bicycle parking," he said, "and a lot of people already work in situations where their company doesn't mind if they bring their bikes in as long as they stash it out of the way."
"This is a serious problem in the city," said San Francisco Bike Coalition Executive Director Leah Shahum, "so we're happy that the problem is being addressed legislatively."
Avalos said his legislation would be largely modeled off a similar New York City law that took effect early last year; however there are still a number of details to be ironed out. For example, the New York law is restricted only to buildings with freight elevators, whereas significantly fewer San Francisco have those—so some adjustments have to be made.
Avalos Legislative Aide Raquel Redondiez said the Supervisor was still in the process of fine-tuning the legislation such that it wouldn't prove prohibitively onerous for many of the city's business owners to abide by.
While the city's planning code requires bike parking in all city-owned buildings, city-owned and privately-owned parking garages and new/recently renovated commercial and industrial facilities, it excludes older office buildings—which are precisely the ones this legislation attempts to address.
Avalos, for his part, says that, even though he's lost three bikes to theft, he's had his current one, "one for about 10 years." A fact that he, at least partially, attests to being able to park his bike inside City Hall.