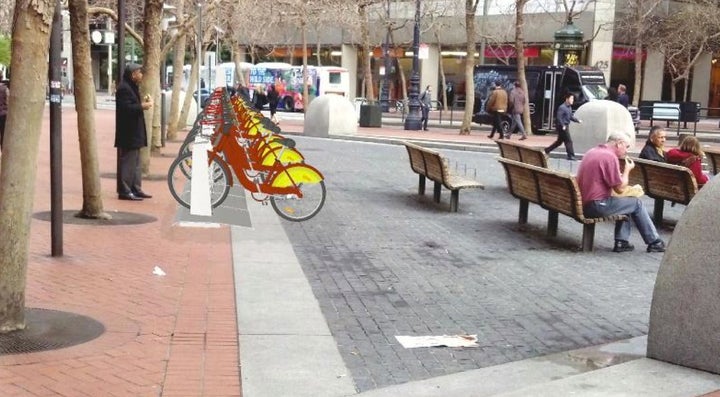 Good news, everyone! Bike sharing may become a reality in San Francisco as soon as this summer.
In concert with the Bay Area Air Quality Management District, the San Francisco Municipal Transportation Agency is working to implement a bike-sharing pilot program that would allow perspective peddlers to hop on any one of the 500 bikes at 50 stations in the city's downtown core as part of a larger network of bike-sharing programs in three other Bay Areas cities.
"The most important thing is to have a density of coverage that works," SFMTA Senior Planner Heath Maddox told Streetsblog following a presentation on the program at the San Francisco Planning and Urban Research Association last week. "The regional system is really set up--and it makes sense--to be the first and last mile for regional transit, but the nature of what we're doing in San Francisco is very different. It'll be [for] anybody and everybody who wants to make a short trip via bicycle."
The proposed stations will cover a service area of 1.75 square miles with a density of one station every two to three and a half blocks. In contrast to many standard bike rental services, bikes rented in the city's program could be picked at one kiosk and then dropped off at another.
Check out this Google Map showing the proposed locations of the bike sharing kiosks:
"This area is notably flat, has the densest bikeway network coverage in San Francisco and enjoys the highest levels of cycling," wrote SFTMA officials in a fact sheet available on the bike sharing program's website, "yet those who commute by transit from cities to the east and south encounter difficulties bringing a bicycle with them on BART or Caltrain. Much of San Francisco's densely urbanized northeastern quadrant is similarly well-suited to bicycle sharing."
Not only will the bikes be equipped with GPS, which could be used in their recovery in the event of theft, but they will be comprised of non-standard parts so stealing a bike to disassemble it and sell the pieces on the black market would hopefully prove impractical. In a city as notorious for bike theft as San Francisco, the efficacy of those anti-theft measures will be tested the moment the bikes hit the streets.
The program is one of the major elements in San Francisco Mayor Ed Lee's "People Plan," designed to move the hundreds of thousands of spectators drawn to the city for the America's Cup yacht race while minimizing the type of private automobile traffic that would doubtlessly snarl citywide traffic into a maddening gridlock.
The exact details of the plan, such as the cost structure for rentals, remain up in the air until SFMTA selects a private vendor to implement the program, which is expected to happen sometime this spring.
While the San Francisco program will likely receive the most attention, the city's efforts are only one piece in a larger bike-sharing puzzle being simultaneously rolled out in various municipalities throughout the South Bay. In addition to San Francisco's 500 bikes, 200 will be placed in San Jose, 100 in Mountain View and another 100 in Redwood City.
Although the region-wide nature of the program is seen as crucial by many of its advocates, there are some concerns that the geography of many of the participating Silicon Valley cities could prove problematic. Streetsblog reports:
While Corinne Winter at the Silicon Valley Bicycle Coalition touted the project's benefits, Andy Thornley at the San Francisco Bicycle Coalition was more skeptical. "Unlike Paris or Copenhagen or Montreal, most Peninsula workplace destinations are sprawled out at some distance from rail stations, as are workers' residences, so bike-sharing pods would likewise need to be sprawled out, negating much of the advantage of a sharing system."

He added: "As a short-haul, urban-trip, frequent-turnover element of VTA's overall system, bike sharing may make sense, and we're eager to see what VTA learns from this trial, but we're dubious of its utility as a first- and last-mile element for daily Caltrain commutes."
San Francisco first attempted to get a bike sharing program off the ground during former Mayor Gavin Newsom's tenure, but the plan fell though after the intended sponsor, radio giant Clear Channel, pulled out of the project.
Even without a bike sharing program in place, the popularity of biking in San Francisco has skyrocketed. According to an SFMTA study, bicycle ridership in the city has increased by 71 percent over the past five years.
"These counts back up what is apparent on our streets everyday--that San Franciscans love bicycling, and that bicycling has never been more popular," San Francisco Bike Coalition Executive Director Leah Shahum told the San Francisco Chronicle.
Check out this video detailing the implementation of a similar bike-sharing program in New York City: