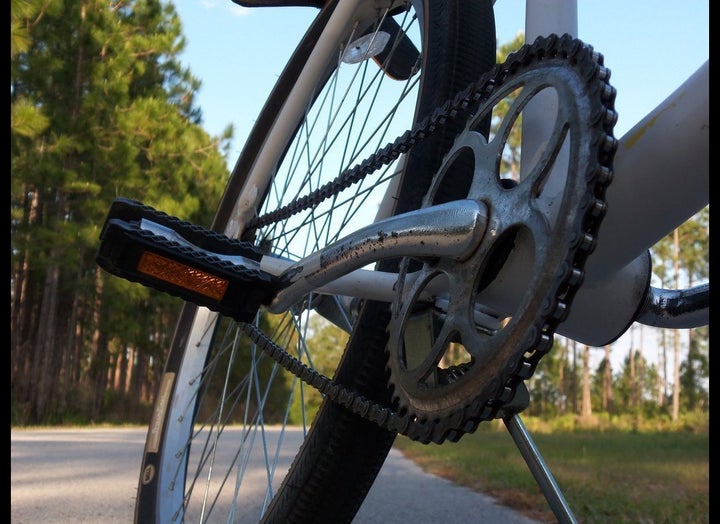 One of the most dangerous ideas infecting the United States today -- both for Americans and the rest of the world -- is the myth of American exceptionalism. At its core, this means that Americans have nothing to learn from anywhere else. Hooey! Balderdash! Horsefeathers! Human progress from the very beginning has evolved out of a constant process of people in one place taking advantage of what others have figured out. That is the essence of the commons -- sharing what we know and incorporating the best of what others know.
Fortunately, many people coast-to-coast are keeping an eye out for bright ideas they can bring home to improve life in their own communities. Transportation is one field where forward-looking Americans are examining what European, Asian and some Latin American nations have accomplished to increase mobility, reduce pollution, strengthen the sense of community, diminish dependence on fossil fuels and restore the streets as commons belonging to all.
From a bicyclist's perspective, the San Francisco Bay Area and the Randstad -- a part of the Netherlands encompassing Amsterdam, Rotterdam and Utrecht -- seem to have little in common. There's hardly a hill anywhere in this Dutch region, while a trip around the Bay Area feels like a roller coaster ride. But a closer look shows plenty of similarities. The places are almost identical in population (seven million), and both stand as creative, forward-looking places dedicated to making bicycles an integral part of their transportation systems -- although the Dutch have a 30-year head start.
That's why a dozen Bay Area transportation leaders journeyed to the Netherlands to investigate innovations they could bring home to make bicycling more safe, convenient and prevalent in their hometowns. They were seeking the 27 percent solution -- the social, health and environmental benefits (as well as significant cost savings) found in a country where more than a quarter of all trips are made by bike.
The week-long tour, sponsored by the Bikes Belong Foundation, focused on improvements the Dutch have implemented on city streets since the 1980s, a period in which the rate of biking has more than doubled throughout the Netherlands. The delegation -- elected officials, transportation engineers and community leaders from San Francisco, San Jose and Marin County -- pedaled many kilometers each day getting an in-depth look at world-class bicycling policies and best practices.
They visited an elementary school in suburban Utrecht where the principle said 95 percent of students aged 10-12 arrive by bike. The delegation also toured Java Island, a newly built community in Amsterdam where bike and pedestrian trails wind past houses while cars park on the periphery. The area has become very popular with families, because kids can run free through the neighborhood.
Even more than Amsterdam or Utrecht, the Bay Area visitors were excited by what they saw in Rotterdam, which has recently boosted biking to 22 percent of all trips in a city that is reminiscent of the U.S. with wide roads crowded with speeding traffic. "This is what we're up against back home," explained Bob Ravasio, a realtor and council member in Corte Madera.
The single biggest reason for Dutch success in making biking safe and popular is their policy of separating bike lanes from moving vehicles on busy streets, either by physical barriers such as curbs or bright painted markings on the pavement. These measures provide bicyclists with a greater sense of safety and ease, expanding their ranks to include more women, children, immigrants and older citizens. Indeed, women account for 55 percent of all riders in the Netherlands, compared to less than a third in the U.S.
At the end of the fact-finding mission, David Chiu, president of the San Francisco city council summed up the general consensus this way: "It's one thing to read statistics about the Dutch biking at ten times the rate we do in the U.S. It's another thing to see it... There is actually a road map of do-able public policies we can adopt to get us where the Dutch are today."
Ed Reiskin, who was appointed last year to run all transportation services in the city as director of the Municipal Transportation Agency, says, "There's nothing happening in the Netherlands that could not be done here, at least in theory. Seeing it can be done is a big step toward getting it done here."
In a little more than year since the trip, things are starting to change in the streets of San Francisco. Last year Chiu led efforts for the city to adopt an official policy goal of boosting bike traffic to 20 percent of all trips by 2020. Reiskin reports that "bicycling in the city is growing at a double-digit rate."
Since returning from the Netherlands, San Francisco officials have installed 2.5 miles of protected bike lanes similar to separated Dutch bikeways on stretches of four streets. Another 2.6 miles are in the works right now, and separated bike lanes on Market Street, San Francisco's main commercial thoroughfare, have been expanded. This adds up to a good start on a 21st Century bicycle system.
"A number of bicyclists told me that the new lanes make them feel legitimized," comments Bridget Smith, Director of the city's Livable Streets Program. "For the first time they feel they belong in the streets."
Leah Shahum, executive director of the San Francisco Bicycle Coalition, remarks, "They [local officials who studied Dutch biking] understand that bike improvements are not just about transportation, but about improved cities in general. It's a whole different conversation here because of the experiences they had."
Popular in the Community