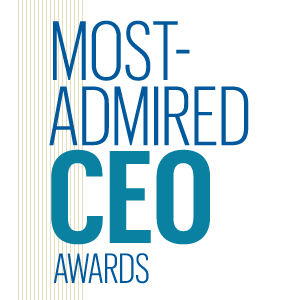 Every fall the San Francisco Business Times issues their Most Admired CEO Awards to 10 leading CEOs in the Bay Area. The group is always an unusual and diverse group of leaders who are in their own way re-defining leadership both inside their companies as well as in the local and global community. This week those CEOs received their awards and shared what leadership means to them at a gathering hosted by Mary Huss, Publisher of the SF Business Times. After listening to each of the speeches several common threads emerged that speak to the unique business ecosystem that San Francisco and the Bay Area have become known for: Empowerment of Employees, Service to a Broader Mission, and Fearlessness.
A Girl Scout, Healthcare Exec, Chocolate Maker and Warrior Share the Stage
There were several poignant moments at the gathering where different leadership styles emerged and left enduring impressions, giving no doubt as to why they were being honored in the first place. Beginning with Marina Park, CEO of the Girls Scouts of Northern California who spoke briefly and then gave the stage to a leading local girl scout, a high schooler no less who is leading extraordinary efforts to support schools in rural India. She was so well spoken the entire audience was mesmerized and encouraged that the next generation of leadership is well underway.
Then Bernard Tyson, CEO of healthcare giant Kaiser Permanente spoke passionately about how his company is a part of people's lives where in every 24 hour period his employees are part of saving lives, bringing new life into the world, and helping families cope when loved ones pass on. "That is an honor and an incredible responsibility," Tyson shared, "and our employees do this each and every day with incredible care and attention." As someone who has Kaiser insurance I have felt this care and attention first hand from everyone I've interacted with at Kaiser from Emergency Care to admin to Pediatrics. Tyson's style is a unique mix of candor and soft-spoken eloquence that comes from a deep reservoir of humility that is palpable. I couldn't help but think as I was listening to him, I hope this man runs for elected office some day. He is the kind of leader who is the quiet visionary and KP is lucky to have him at the helm.
And then the chocolate maker, Gary Guittard, took the stage representing a family business, Guittard Chocolate, which is oldest continuously family owned chocolate company in the country and was founded in San Francisco in 1868. "It's easy to be admired when you're selling chocolate," Gary opened his remarks to widespread laughter throughout the crowd. "Admiration, like our business is alchemistic and I strive for the admiration of my family and our customers, that's the gold in our business. It's not easy maintaining a five generation family legacy and doing it in a way where honesty, integrity, and quality are central to everything you do. And while I have a vision for where I want the company to go, I value our people and am always open to their input. I treat every employee as an individual. These are the values we strive for every day in our business. It's an honor to do something every day that you love doing surrounded by people who love doing it with you."
And finally, last but not least Joe Lacob, CEO of the Golden State Warriors basketball team who won the National Championship for the first time in 40 years took the stage to close out the evening. Joe shared that when he and his management team took over they set the national championship as a goal they planned to achieve in five years which everyone at the time thought was a crazy, unattainable goal. "We put it out there anyway and had to make tough choices along the way," Joe shared, "firing and hiring until we got the right mix of people and talent to get us to our goal. Next week is our five year anniversary and it's pretty cool that in the same month we celebrate five years, I'm handing out championship rings to our players, employees, and fans. "
People -- It's All About The People You Hire & Empower
Though the CEOs are the ones who receive all the credit, their employees are their secret weapons which are key to innovation, ground breaking creativity, and game-changing growth here in the Bay Area. Nearly every CEO honored and profusely thanked their employees, giving them credit for their companies' success and focused on how finding and empowering the right people makes all the difference in the long run. It's no surprise then that employees who attended from the honored companies at nearly every turn expressed fierce loyalty for their companies and their senior leadership. You could also tell they, the CEOs and their employees, are all genuinely passionate about what they do and have fun doing it, serving a mission larger than themselves. This sentiment underscores the broader phenomenon here where people who work in SF and the Bay Area are often cited as some of the happiest workers nationally and the business climate here is #1 on Forbes annual ranking when it comes to finding a great job. San Francisco does indeed breed, nurture and honor a different kind of leadership and these 10 CEOs are just a fraction of this incredible reservoir of diverse, impassioned and bold leaders who dare to dream big dreams and deliver on the impossible. May they never stop.
REAL LIFE. REAL NEWS. REAL VOICES.
Help us tell more of the stories that matter from voices that too often remain unheard.