What do you get when continents collide?
Durian truffles and curried caramel corn.
Chocolate is native to the New World. Sugar was born in New Guinea. Just a few decades ago, the very idea of Reese's Peanut Butter Cups was considered outrageous.
Five artisan candymakers discussed their use -- successful and otherwise -- of Asian ingredients in a panel discussion last Sunday at the San Francisco International Chocolate Salon.
"I get a lot of ideas when I eat out in restaurants," said I-Li Chang Brice, owner of Vice Chocolates. "I'll be having Thai coconut soup and I'll think: Hey, maybe I can infuse chocolates with kaffir lime or lemongrass."
The result of that brainstorm was her M. Butterfly truffles, which shimmer with silver and lime-luster dust.
Wendy Lieu, who co-owns Socola Chocolatier with her sister Susan, revealed that her personal favorite Asian ingredient is guava, but that she also likes making chocolates with jasmine tea and Japanese matcha tea.
"Whenever I go to Vietnam, I'll see durian and I'll think about putting it into truffles," said Lieu, who uses fresh durian to do exactly that. She describes its flavor as "creamy and sweet as custard, with notes of cantaloupe and wildflowers." Your mileage may vary.
Other Socola truffles incorporate passionfruit, mango, Vietnamese coffee, and Sriracha sauce. The Lieu sisters decorate the tops of truffles with chili-pepper shards and chili-pepper seeds.
"Whatever my aunties are making at their houses inspires me. That might be preserved kumquats or it might be black sesame."
Brice professed a soft spot for lychee.
"When I was growing up, my father had a Chinese restaurant where lychee was served as a dessert. I always hated it then, but who knew?"
For Shanghai-born Cassandra Chen, who left a career in banking to found the CC Made caramel company, the instant answer was "chili and salt. In Shanghai, it's really common to melt down salt, chili and sugar to achieve rich, dark flavors." Her caramels, caramel sauces and caramel corns incorporate Himalayan pink salt and bitter sea salt.
Mindy Fong, who founded Jade Chocolates after working as an architect, vouched for for green mangoes and the highly acidic Southeast Asian citrus fruit known as calamansi, as well as for tea -- which she grinds directly into her chocolate "so you're eating the leaves." (By contrast, Brice steeps chai in cream, which she then uses in chocolate after straining out the leaves.)
Fong makes chocolate bars with roasted brown rice, tamari almonds, ylang ylang, black pepper, lemongrass, and more. She also makes chocolate-covered mangoes and edamame.
Noting that comfort food has been named one of 2012's "flavor trends to watch," moderator Lynn Wong, who owns the Viva Cocolat shop in Petaluma, California, asked the candymakers how they would define the intersections of comfort food, Asian ingredients and chocolate -- in reality or fantasy.
"Does Top Ramen count as a popcorn or caramel flavor? Because that's what I would want," Chen laughed.
Lieu said that she finds comfort in the sweet-sour tang of tamarind, "which goes really well with dark chocolate."
"I consider myself really American," said Fong, a San Francisco native whose Chinese grandfather owned -- and cooked for -- two restaurants. "I grew up eating meatloaf and hamburgers as comfort food, and I can't see making chocolates out of those."
(Maybe she can't, but elsewhere at the salon, Christopher Michael was showcasing his scrumptious, smoky, sea-salty Sizzling Bacon Bar. Chuao Chocolatier offered an unbelievably yummy milk-chocolate bar packed with crunchy kettle-cooked potato chips.)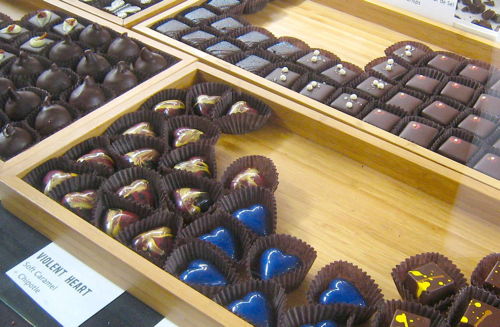 Brice -- whose chocolates are depicted above -- said that when she was asked to create a custom truffle for the Broadway premiere of Chinglish, David Henry Hwang's play about an American businessman in China, she used comfort-food elements from both cultures:
"I used a layer of peanut butter. That was the American side."
For the Chinese side, she used maotai, the strong sorghum liquor that premier Zhou Enlai largely credited with fueling the Long March. Dark chocolate ganache brought these two disparate flavors together.
Brice also announced plans to develop a truffle involving the traditional Chinese cotton candy known as "dragon's beard."
"You hardly ever see it anywhere anymore. It's one of my dad's favorites, and this is the Year of the Dragon."
What hasn't worked?
Chen's curried and ginger-cumin caramel corns did not sell well.
"But they're coming back," she promised.
Lieu summed up her major disaster in five words:
"Wasabi and raspberry Pop Rocks."
Images courtesy of Kristan Lawson.
Calling all HuffPost superfans!
Sign up for membership to become a founding member and help shape HuffPost's next chapter