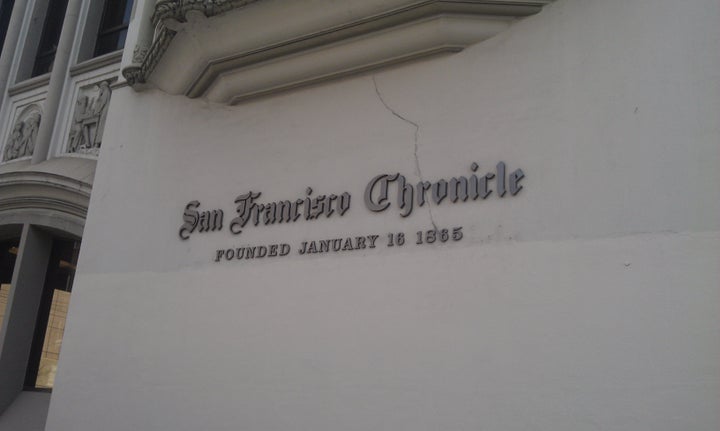 SAN FRANCISCO -- The San Francisco Chronicle announced over the weekend that the paper would begin charging for a large portion of its online content by imposing a paywall.
Since it became one of the first major newspapers to stake a claim online in 1994, the Hearst-owned Chronicle has posted its content for free at the ad-supported SFGate.com. On Saturday, the paper launched the significantly less confusingly-named SFChronicle.com and has begun diverting much of its "premium" content to this new subscription-based site.
"Subscribers to the new website will find the newspaper's unrivaled content with brilliant photos, an uncluttered format and the familiar design of the Chronicle," wrote Chronicle President Marc Adkins in an article explaining the change. "Premium stories and columns will update and change with the news throughout the day. Subscribers also will have full access to the Chronicle's most enduring legacy--its columnists."
In addition to having to pay to read the latest musings of C.W. Nevius and Willie Brown, the paper will be migrating its sports, entertainment and political coverage to the new site. SFGate will still exist in its current free format, but shift more toward breaking news and clicky photo slideshows that, as one Chronicle staffers explained on Reddit, account for about 85 percent of its traffic.
Unfettered online access to the Chronicle's premium site costs $12 per month. In an unscientific poll hosted on SF Appeal, the vast majority of respondents said they wouldn't switch over to the paid format.
A recent study by the Pew Research Center found that nearly one-third of the country's 1,400 daily newspaper have some kind of digital pay plan in place.
But as the Chronicle makes big changes to its business model, its high-profile reporters and columnists are sending a very different message via social media. On Monday, a number of the paper's 275 Pacific Media Workers Guild members took to Facebook and Twitter in a virtual protest decrying the Hearst Corporation's push to have workers contribute more towards their own health care benefits.
Changing their Twitter avatars to red, many Chronicle staffers went on a social media strike on Monday, refusing to tweet in promotion of their own stories and instead speaking out against their parent company:
In addition to tweeting about the issue, an online petition demanding "fair health care for Chronicle workers" began to circulate.
Guild spokesperson Kat Anderson explained that employees are currently working under a health plan that, due to the industry-wide rising cost of health care, will likely run out of money in the next ten to 18 months.
"Hearst is an extremely wealthy private company," reporter and bargaining committee member Matthai Kuruvila told SF Weekly, "and they're talking about profit-sharing with management at the same time that they're trying to cut our health care."
A Hearst spokesperson declined to comment about ongoing labor negotiations.
Anderson said there's a walkout of the Chronicle's newsroom scheduled for Wednesday afternoon at 3 p.m.
Related
Popular in the Community