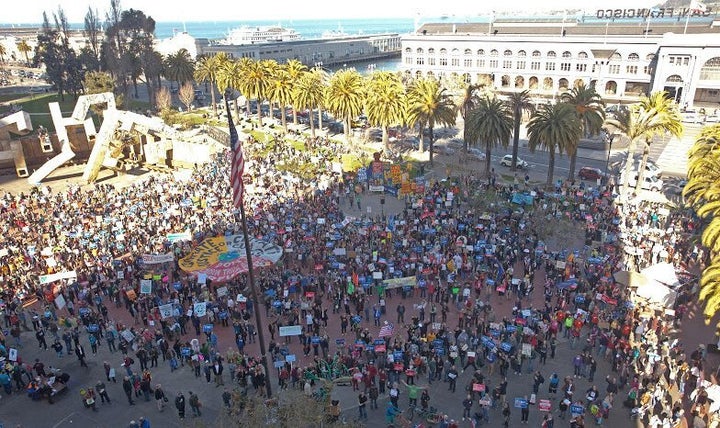 SAN FRANCISCO -- Thousands of environmental activists flooded San Francisco's One Market Plaza Sunday as part of a national day of action that organizers have dubbed the largest climate rally in history.
Toting signs that read "Stop Tar Sands" and "Climate Action: It's Our Obligation," protesters spoke out against construction of the Keystone XL oil pipeline, a $7 billion project that would transport oil from Canada through the United States and down to the Gulf of Mexico. Similar events drew wide turnout in Los Angeles, Chicago, Denver and Seattle, and more than 40,000 participants swarmed the National Mall in Washington, D.C.
"Climate disruption is a problem that most kids my age are very concerned about," 17-year-old Shadi Barhoumi said to the crowd, which mostly consisted of Bay Area residents. "It's no longer about what will happen to future generations; these threats are staring my generation in the face right now."
The 2,000-mile Keystone XL would be the longest oil pipeline outside Russia and China, and proponents claim that it would create jobs and strengthen U.S. energy independence. But opponents argue that the pipeline's construction would devastate natural resources, with the potential to contaminate the environment along its route and release excess carbon dioxide into the atmosphere.
"If we're not careful, if the pipeline bursts and contaminates our land and our water, there's no amount of money that can make up for it," Eleanor Fairchild, who owns a ranch in Texas and attended the D.C. rally, told The Huffington Post.
During his inaugural address and State of the Union speech, President Obama made specific pledges to address climate change. Because the Keystone project crosses an international border, it requires his approval, and activists say that allowing its construction would directly contradict his promise to move forward on environmental issues.
"This movement's been building a long time," Bill McKibben, founder of 350.org, said to the crowd in Washington. "One of the things that's built it is everybody's desire to give the president the support he needs to block this Keystone pipeline."
Environmentalists point to a number of victories during Obama's first term, including more stringent fuel efficiency standards for vehicles and investments in clean energy technologies. Attendees at Sunday's protests agreed that the president's rejection of Keystone would further demonstrate his commitment to fighting climate change.
"I think he has his heart in the right place on climate change, but I think he's going to have to show tremendous backbone to make any progress on this issue," Oakland-based lawyer Karen Kramer told the San Francisco Chronicle. "I hope for everyone's sake he can find the backbone."
Local leaders have also pledged their support to overthrow Keystone and invest in environmental opportunities. "We need immediate federal action to stop the Keystone XL tar sands pipeline," said San Francisco Supervisor John Avalos during a speech on Sunday. "But our work doesn't stop there. Our local community has to do its part, that's why I'm proud to have introduced a resolution that urges San Francisco to divest retirement funds from fossil fuels."
Earlier this week, a number of high-profile environmental activists, including McKibben, Sierra Club President Michael Brune, Robert F. Kennedy, Jr. and actress Daryl Hannah were arrested outside the White House for demanding immediate action from the president on climate change.
Rally participants said they "felt energized by the demonstration," according to event organizers, who said they will be watching Obama's Keystone decision carefully and plan to take further action if necessary.
Calling all HuffPost superfans!
Sign up for membership to become a founding member and help shape HuffPost's next chapter
BEFORE YOU GO
PHOTO GALLERY
What Climate Change Just Might Ruin