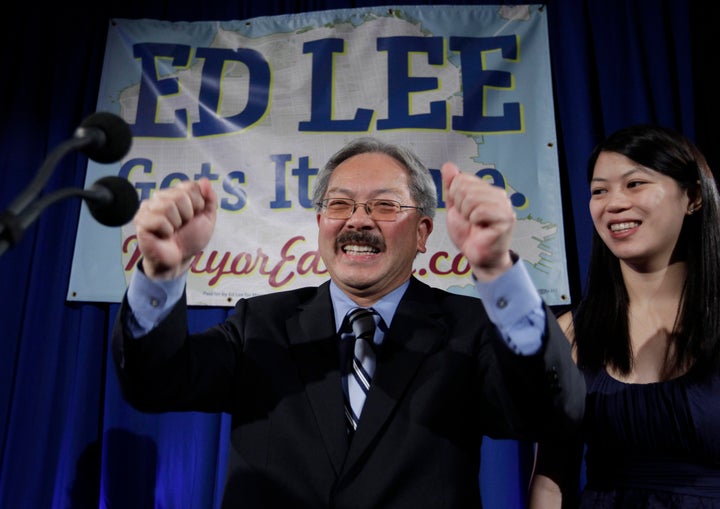 At the conclusion of ranked-choice voting, it looks like Ed Lee will be able to take the "Interim" out of his title and become San Francisco's first Asian American mayor, beating Supervisor John Avalos by a wide margin.
George Gascon will hold onto his position as District Attorney and Ross Mirkarimi will become San Francisco's next Sheriff.
At the end of Tuesday night, totals were released showing first-place votes, while second and third place votes only came into play during Wednesday's analysis. However, in none of the three races did the ranked-choice algorithm's redistribution of votes alter the standings from last night in any significant way.
At the end of the first round of voting, Lee had a 16-point lead over Avalos and, when the final results were released Wednesday afternoon, Lee came in with 61 percent of the vote to Avalos's 39 percent.
Much of Lee's lead came from absentee ballots, which heavily favored the interim mayor. Avalos actually mustered more first place votes on Election Day than did Lee; however, the Lee campaign threw its considerable organizational muscle behind creating an overwhelming early voting turnout--by some estimates 80 percent of Chinatown voters, a group heavily favoring Lee, voted absentee--and that proved too high a hurdle for Avalos to surmount.
In the District Attorney's race, the current D.A., former-San Francisco Police Chief George Gascon, took a commanding lead last night over challengers David Onek, Sharmin Bock and Bill Fazio. While still not enough to make it over the top on the first try, the death penalty-supporting, ex-Republican was the largest single recipient of first-place votes in any San Francisco race this election cycle.
The contest to replace long-time San Francisco Sheriff Michael Hennessey, on the other hand, ended last night significantly tighter--Supervisor Ross Mirkarimi had a ten-point lead over competitors Chris Cunnie and Paul Miyomoto. Mirkarimi's lead came largely from his high level of Election Day walk-in support as opposed to the absentee ballots that overwhelmingly favored Mirkarimi's more law-and-order opponents. He was able to hold onto that lead though today's successive rounds of ranked-choice voting.
Turnout numbers for the election were shockingly low. Even though Lee was, by far, the biggest vote-getter in the mayoral race, only eight percent of the total population of San Francisco named him as their first, second or third choice.
While the ink on most ballots has barely dried, local lawmakers are already calling to end the city's experiment with ranked-choice voting.
On Tuesday, Supervisors Sean Elsbernd and Mark Farrell introduced a motion to get rid of a system they view as fundamentally flawed. "Massive numbers of San Franciscans continue to be confused about our voting process in the city," Farrell told the San Francisco Chronicle on Tuesday.
Elsbernd and Farrell hope to put their measure before city voters next June.
As the vast majority of San Franciscans don't know (because only about 31 percent of them actually cast ballots in Tuesday's election), the ranked-choice system allows each voter to select their top three picks for each office. If no candidate gets 51 percent of the vote, the last-place candidate is eliminated and their votes are redistributed to their next highest choice until someone hits the magic number needed for victory.
Avalos called introducing the measure on Election Day a "cheap publicity stunt" and asked City Attorney Dennis Herrera, who finished just below Avalos in the final election results, to look into drafting other legislative options for amending ranked-choice voting instead of eliminating it outright.
Herrera himself has gone on the record with his opposition to ranked-choice voting. The San Francisco Bay Guardian noted that he once said, "I don't like ranked choice voting and I never have, but I defended it all the way to the 9th Circuit [Court of Appeals in his role at City Attorney], but I think it's bad policy."
Ironically, just as Avalos defends ranked-choice voting, he would have been the major beneficiary under the old system, where the top two vote-getters enter into a runoff if no individual candidate wins an outright majority. Lee entered the race with around a 30 percent level of support, which more or less stayed constant all the way though to Election Day; in a runoff, there's a chance an "anybody but Lee" sentiment would have prevailed, handing Avalos the keys to Room 200.
However, that's assuming all other factors in the race remained constant, factors that created the perfect storm for an unprecedented number of high-profile candidates to throw their hats into the ring. The combination of ranked-choice voting, public campaign financing, the bottleneck of political talent created by the city having been governed by two popular, two-term mayors in a row and what initially seemed to be the lack of an incumbent in the race created the ideal conditions for a lot of qualified people, most of whom had impressive public service resumes backing them up, to all compete for a single position.
Calling all HuffPost superfans!
Sign up for membership to become a founding member and help shape HuffPost's next chapter