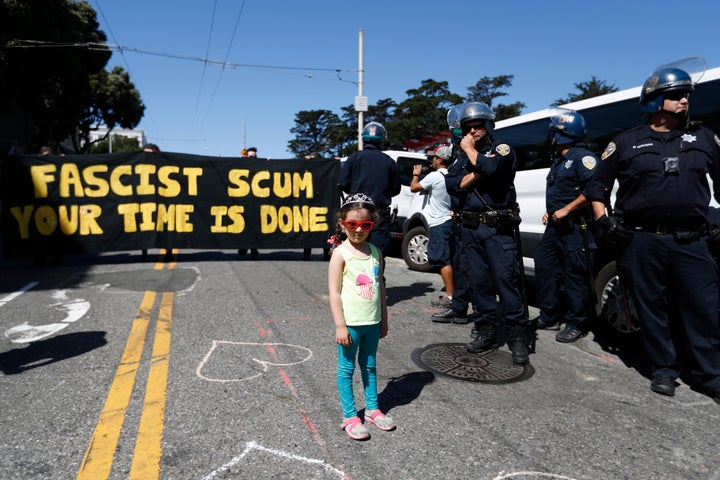 A controversial "Freedom Rally" planned near the Golden Gate Bridge in San Francisco was canceled and replaced by a procession of dancing and merriment on Saturday.
The city had prepared for a street battle between the so-called "alt-right" and counterprotesters, but instead it got MC Hammer leading the public in song outside City Hall:
Hundreds of people were seen marching through the streets of San Francisco, decrying the white supremacists and other extremists that too many of these rallies have attracted this year.
"No extremists will be allowed in," the event's Facebook page reads. "No Nazis, Communist, KKK, Antifa, white supremacists ... This is an opportunity for moderate Americans to come in with opposing views. We will not allow the extremists to tear apart this country."
But there's a reason why the city and its mayor, Ed Lee, attempted to block permits for the rally; why House Minority Leader Nancy Pelosi (D-Calif.) called it a "white supremacist rally at Crissy Field"; and why counterprotests were planned in opposition throughout the city: These rallies just keep attracting white supremacists, weapons and violence.
The Freedom Rally's main organizer, Joey Gibson, is no stranger to how this works. The far-right icon has acknowledged that his rallies ― including one held in Portland, Oregon, in June ― attract white nationalists and other far-right extremists, many of whom bring along makeshift weaponry and spew forth hate speech. But Gibson has repeatedly claimed he's not one of them.
"I'm brown, so I'm definitely not a white supremacist, definitely not a white nationalist, definitely not a Nazi because I want limited government, Hitler was all about big government," he told KOIN shortly after the violence in Charlottesville.
And though Gibson claimed this rally was set up to "spread a message of love," you needed only to look at the planned keynote speakers to see an entirely different picture. One of them, Kyle "Based Stickman" Chapman, is an unquestionably violent far-right "celebrity" who has spent nearly a decade behind bars on three felony convictions. He earned his "Stickman" moniker after beating a protester with a stick at a violent pro-Trump rally in Berkeley.
That said, police had San Francisco handled. Police Chief Bill Scott said "violence isn't going to be tolerated" and promised a large police presence. Streets around Crissy Field were expected to be on lockdown, and the park service announced a ban on items regularly seen at these rallies: guns and weapons, helmets and shields, balloons, selfie sticks and pepper spray among them.
After the event was canceled, Gibson and Chapman gave their press conference from inside the darkened home, complaining that they weren't given a fair chance.
"Everywhere we go, the police, the city, they wanna shut it down," Gibson said.
In the afternoon, crowds gathered at Ocean Beach in the shape of a heart and sang even more:
Popular in the Community