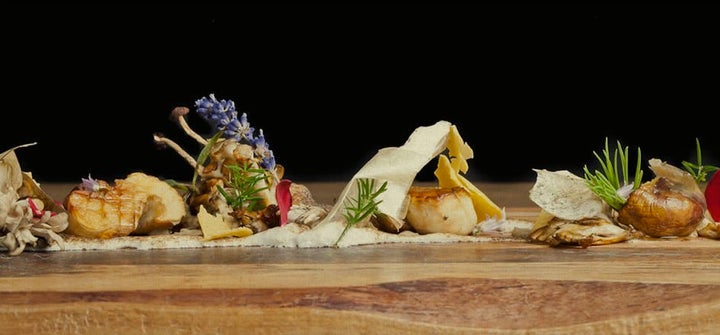 SAN FRANCISCO -- In 2005, a frustrated chef, Oakland's Daniel Patterson, wrote an article for The New York Times. The piece was a risky, exasperated critique of his hometown Bay Area dining scene entitled "To The Moon, Alice?"
Patterson described a conversation with his friend, Chef Eric Lau, about Lau's reluctance to move to San Francisco. "I like San Francisco and all, but I don't know. It's just so sure of what's good; so self-righteous, yet so conservative about food. It's the tyranny of California cuisine that gets to me," said Lau.
"You mean the tyranny of Chez Panisse?" Patterson asked, referencing Alice Waters' Berkeley-based restaurant.
Lau laughed, saying, "Yes, that's what I meant, I just didn't want to say it. Although don't get me wrong: I love Chez Panisse."
And as Patterson wisely pointed out in his piece, "therein lies the problem. We all love Chez Panisse -- maybe too much. Chez Panisse, the progenitor of what we have come to call 'California cuisine,' has become not just one voice, but the only voice."
Dining has often been met with smugness in this city -- a knowing smile that innovation is futile, that we have already achieved perfection. Ever since Chez Panisse turned the food industry upside down in the 1970s, the Bay Area dining scene has force-fed us its staple: simple, rustic and relentlessly casual cuisine. And we have gobbled it up.
Case in point: When Patterson interviewed Zuni Cafe chef and owner Judy Rogers about the Bay Area's lack of innovation, she put up her hands and answered, "All I care about is making delicious food."
Rogers' words may still ring true for those of us born and raised on the provincial palate -- bury us in roasted chicken and ragu and at least we'll die happy. But as Patterson suggested, perhaps this sleepy contentment has kept us from something greater.
Well, Mr. Patterson, we have some good news for you. In the past two years, something has changed in San Francisco.
As restaurants like Benu, Atelier Crenn and Saison -- new eateries where the food is anything but simple, rustic or casual -- begin to attract national attention, arguments like Patterson's are not so easily dismissed with an indifferent shrug.
Today's young, talented chefs in San Francisco are clearing their throats with the gentle reminder that Chez Panisse opened four decades ago. The only other industry that can boast such a staggering record of immobility is space exploration, and NASA has officially closed that avenue for further development.
"We have to evolve at some point," Chef Dominique Crenn, the namesake behind San Francisco's Atelier Crenn, told The Huffington Post about the local dining scene. "For a long time, San Francisco was a great place for food, but the dining was a bit provincial."
"Provincial is not a bad word for me," she continued. "It's just another way of cooking. But that total dominance made it hard for a chef to have a voice and get out of the box."
For Crenn, "out of the box" means breaking free of the confinements of socially-accepted cooking with dishes like her "Walk in the Forest" -- a visual feast of toasted pine meringue, chickpeas and pumpernickel, dehydrated mushrooms and foraged flowers with edible "pollen" and "soil." Another forest-inspired dish shows up on her dessert menu in the form of Douglas fir ice cream popsicles, complete with fresh fir branches and smoking dry ice.
Smoke and mirrors aside, Crenn and her colleagues are well aware of the caveat to such creativity: Their food still has to taste good. But as Benu chef and owner Corey Lee argues, it doesn't need to be simple to taste good.
"Local, sustainable, artisanal: It's redundant to mention those things on a menu," Lee told HuffPost. "In California, if you are at a good restaurant, you can assume that the ingredients will be good and that they'll be cooking seasonally. That simplicity, it's a beautiful way of eating and cooking. But as a chef, it's not the most gratifying. At some point you have to ask yourself if we are talking about food as nourishment or food that is emotional and impactful."
The national spotlight has recently shined on Lee's innovative plates at Benu. Even famed New York Chef David Chang -- yes, the figs-on-a-plate, San Francisco-hater David Chang -- called the restaurant "the best in America."
But here in San Francisco, where $200 dinners are served on clothless tables alongside $14 cocktails in mason jars, the risk of fine dining is palpable. Despite the Michelin Stars and East Coast applause, one critic trumps all others: the public.
And the public isn't exactly breaking down the doors at Benu and Atelier Crenn -- yet. More than one local critic has called Crenn's food "perplexing," and the San Francisco Chronicle's Michael Bauer refused to give Benu four stars. When asked to describe the experience of opening the upscale 25 Lusk in casual San Francisco last year, Chef Matthew Dolan replied, "Terrifying. Absolutely terrifying."
"As with everything in life, you leave the box and you get a little slap in the face," said Crenn when asked the same question. "But for me to do what I want to do, I can't do what the public wants me to do. This is not the conversation I want to start with the customer."
These chefs have seen San Francisco fail at fine dining before. Crenn recalled one of San Francisco's first experiments with avant garde food, the now-closed restaurant Winterland. "We were very inspired as chefs," said Crenn about its 2005 opening. "But the public wasn't ready."
A quick perusal of the restaurant's Yelp page serves as evidence of this claim ("the menu is too bold and eccentric"), and Winterland closed two short years later.
"I remember when I got the call about the Michelin Stars," said Lee. "The call came late -- the morning after it was supposed to -- and I assumed we hadn't been starred at all."
When his phone finally rang, Lee discovered he had been awarded not one but two shining stars. Atelier Crenn also received a star, and Manresa, Saison and Coi each earned two.
"It was an emotional day on so many levels," said Crenn about the award. "San Francisco was finally ready."
So does this evolution mark the end of Chez Panisse and its flock? Hardly. "That's the beauty of dining," said Lee. "You can have it all -- the casual, the rustic, the avant garde, the fine dining. The variety is what's so enjoyable."
For Lee and chefs like him, our new food movement isn't about becoming the new voice, it's about becoming one of many.
As a city, we don't have to give up our roasted chicken and ragu. But perhaps we're finally ready for our next course.
REAL LIFE. REAL NEWS. REAL VOICES.
Help us tell more of the stories that matter from voices that too often remain unheard.