Because the productions showcased in each year's San Francisco Fringe Festival are chosen on a lottery (rather than a juried) basis, each season is bound to contain a few surprises. Perhaps the biggest one so far this year has been the quality of music.
There's a great deal of musical theater on display this year, including Alaska Leavin': The Musical, Antipodes, Journey of Light: A Glo-Opera, Weightless, and the Kingdom of Not performing The Wounded Stag and other Cloven-Footed Tales of Enchantment. And those are the attractions I couldn't even squeeze onto my calendar.
As someone who is less oriented toward rock 'n roll, I chose some Fringe musicals that featured "older" styles of music. After all, how often does one get the opportunity to watch someone belt out show tunes while accompanying herself on a hula hoop?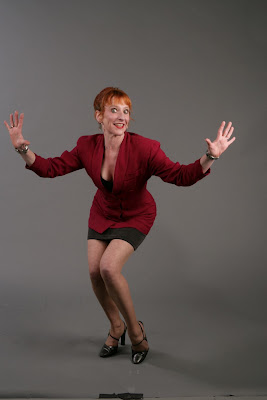 Mary Knoll stars in To Be Merry
Our Lady of the Hula Hoop turned out to be Mary Knoll, one of the forces behind The People's Theatre (a small troupe based in San Francisco). Her one-woman show entitled To Be Merry maintains a firm grip on Auntie Mame's philosophy that "life is a banquet and most poor sons of bitches are starving to death."
Whether describing how her father taught her how to project her voice or how her gay brother dealt with his AIDS diagnosis, Knoll presents herself as the singing, dancing, and hooping version of the Energizer Bunny. Not only is her enthusiasm infectious, it makes no difference if her pitch wavers while singing. She's determined to keep her audience entertained for better for worse, in tales of sickness as of health. Here's a sample of her work:
The recent world premiere of Laura Schellhardt's drama, Upright Grand, down at TheatreWorks in Palo Alto did a beautiful job of showing how a piano can become a beloved member of a family. A recent video in The New York Times about old pianos are being carted off to the junkyard drew anguished sighs from many readers.
Anyone who has attended a concert or master class at the San Francisco Conservatory of Music is acutely aware of the huge number of young Asians hoping to embark on professional music careers. Amy Chua's controversial bestseller, Battle Hymn of the Tiger Mother, shone a spotlight on the type of mother who runs her home like a drill sergeant.
Much of the stereotypical tiger mother's criticism and punishments are driven by a fierce desire for her children to have better opportunities in life than what she experienced in her youth. The insistence that her child must outshine all others (whether in sports, music, dance, medicine, or financial success) is backed by the best of intentions.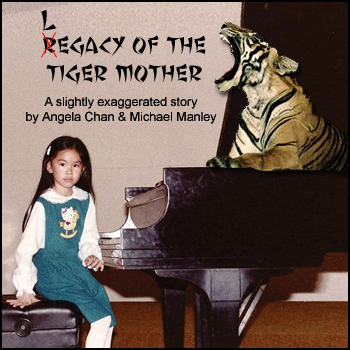 Poster art for Legacy of the Tiger Mother
As everyone knows, the road to hell is paved with good intentions. Legacy of the Tiger Mother is an intriguing one-act musical by Angela Chan and Michael Manley that isn't afraid to grab a tiger mother by the tail and whirl her around in the air. Its promotional material states:
"Got Mommy Issues? Join us on a musical journey with Lily, a first generation Chinese immigrant, and her daughter Mei as they endure the trials and tribulations of old school parenting in a new country. Like many Chinese, Mei and her mom Lily consider the piano the gateway to success, pushing their children to the limit, striving for perfection at every opportunity. But at Mei's daughter Kim's piano recital, Mei clashes with Lily over how much is too much parenting. Mei must decide for herself what is the perfect balance of mixing the old with the new and still meet her mother's approval. East meets West in this funny, irreverent, and moving story about a mother, a daughter, a piano, and tough love, Asian style."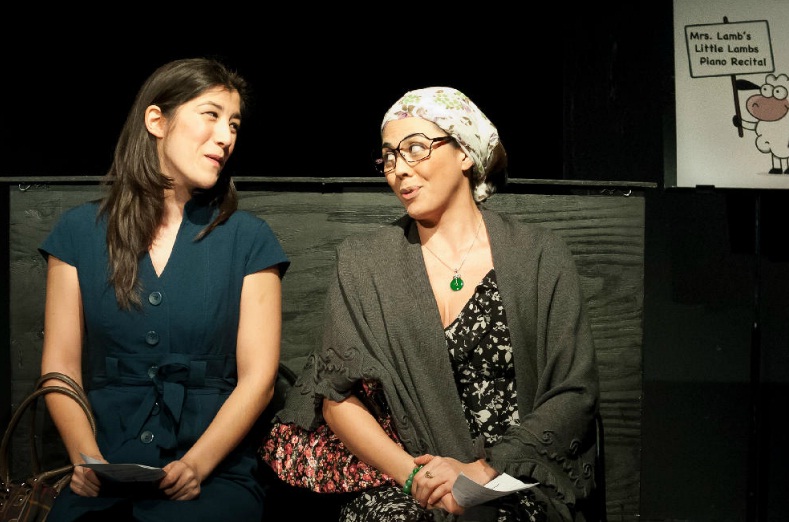 Lynn Craig and Satomi Hofmann in Legacy of the Tiger Mother
Directed by Lysander Abadia,with Angela Chan performing on an electronic piano, Legacy of the Tiger Mother runs the gamut from the Suzuki method of piano exercises to the Moonlight Sonata. In the following clip, Celeste Lero and Christine De Chavez rehearse the hilarious "Lazy White Children" number for the Las Vegas production of Legacy of the Tiger Mother.
It's a rare treat to hear a classically-trained pianist performing at a fringe festival. Chan and Manley have done a spectacular job of showcasing the unyielding quirks of a mother for whom first prize is never a sufficient achievement for her daughter if the piano competition is also awarding a grand prize. After all, what about her daughter's rivals? What about keeping face?
Although Legacy of the Tiger Mother doesn't hold back on depictions of maternal guilt tripping (or the failure to tell a child that she is loved), it doesn't shy away from Asian-specific cultural nuances while cross-referencing the confusion engendered in an older generation's attempts to cope with a severe clash of cultures.
As performed by Satomi Hofmann (Lily) and Lynn Craig (Mei) with Angela Chan at the piano, Legacy of the Tiger Mother proved to be a genuine crowd pleaser. Some laughs were coated with the pain of recognition, but as the old Levy's rye bread marketing campaign advised "You don't have to be Jewish..."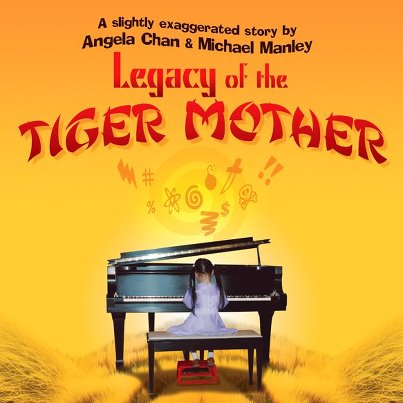 Poster art for Legacy of the Tiger Mother
While Legacy of the Tiger Mother has a solid future at fringe festivals around the world, I have a hunch it would do equally well on the performing arts calendars of music conservatories. The fact that Chan (who has a solid background in musical theatre) recently premiered Summer Camp: The Musical in Las Vegas offers audiences solid assurance that this won't be her only creative triumph.
Popular in the Community