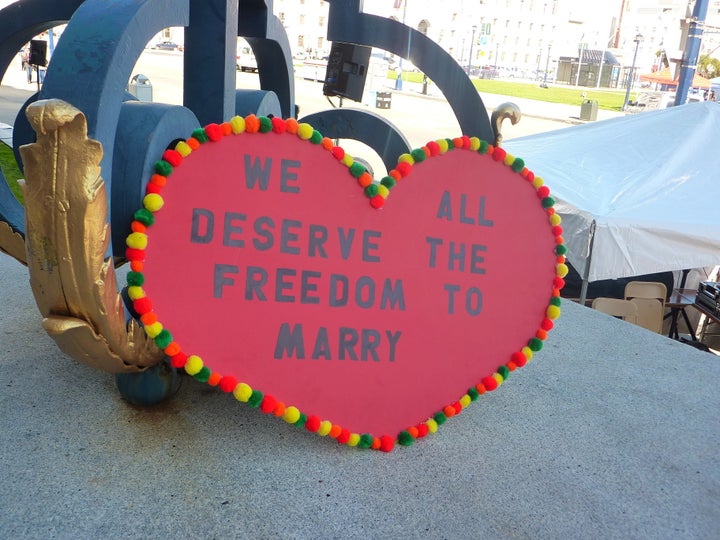 While couples decked out white dresses and tuxedos descended upon City Hall for Valentine's Day nuptials, a parade of LGBT advocates crowded the clerk's office, fighting for the right to someday celebrate their own.
Religious leaders, gay rights activist and same-sex couples gathered at City Hall in honor of "Freedom to Marry Month." Protestors celebrated Valentine's Day by asking city officials to issue marriage licenses to same-sex couples.
The Valentine's Day protest has taken place annually since 1999. It falls under "Freedom to Marry Month," a nation-wide campaign to end federal marriage discrimination. Last year, eight individuals were detained after staging a peaceful protest. This year, 13 couples were detained and released without charges.
Across the country, same-sex couples in states such as Washington D.C. and Florida also took part in the protests, waiting at City Hall to request marriage licenses.
Though gay marriage is undoubtedly a national issue, Supervisor David Campos reminded the crowd of San Francisco's responsibility to lead the way.
Last month, Campos introduced legislation asking voters to rename the San Francisco International Airport after Harvey Milk. The change would make the city's airport the first in the country to bare the name of an openly LGBT official.
"The reaction we get from some circles is 'it's too much too fast, do we really want to shake this up?' The reality is that the struggle for civil rights begins with people who are not afraid to shake things up," Campos told the protestors. "It's important that San Francisco leads the way, that we push that envelop because sometimes that envelop needs to be pushed."
For many couples in attendance, obtaining a marriage license is a struggle more than four years in the making since Proposition 8 was introduced. However, for 15-year-old Tayler Capta and 13-year-old Hayley Ashton, same sex marriage is an issue they hope to never to deal with.
"I'm here because I'm gay and one day i want to be able to get legally married to a girl I'm in love with," Capta told The Huffington Post. "A lot of people had school today, but i think this is more important than a math lesson."
Following the speeches, Pastor Rebecca Harrison of the Presbyterian Church led a line of same-sex couples through City Hall the marriage license desk. Couples chanted: "we deserve full equality! Right here, right now!"
The protest caused delays for heterosexual couples hoping to obtain marriage licenses on Valentine's Day. Fourty-two-year-old Raymond Zamudio and his 31-year-old fiancé Nina Sariaslani were happy to wait.
"[Getting a license] is validating," Zamudio told the HuffPost. "I don't mind waiting at all and giving them the opportunity to voice their opinion, not only as a resident of San Francisco but for the world.
With just a few weeks left before the Supreme Court hears a landmark lawsuit related to Proposition 8, organizers and attendees were optimistic that this year's event could be the last of its kind.
"We hope the United States Supreme Court will rule in favor of the freedom to marry and that this will be the last year that we will have to deal with this," John Lewis, legal director of Marriage Equality USA, told The Huffington Post. "The message is that every single human being deserves the freedom to marry the person they love and that no person loves better than another human."
Related
Before You Go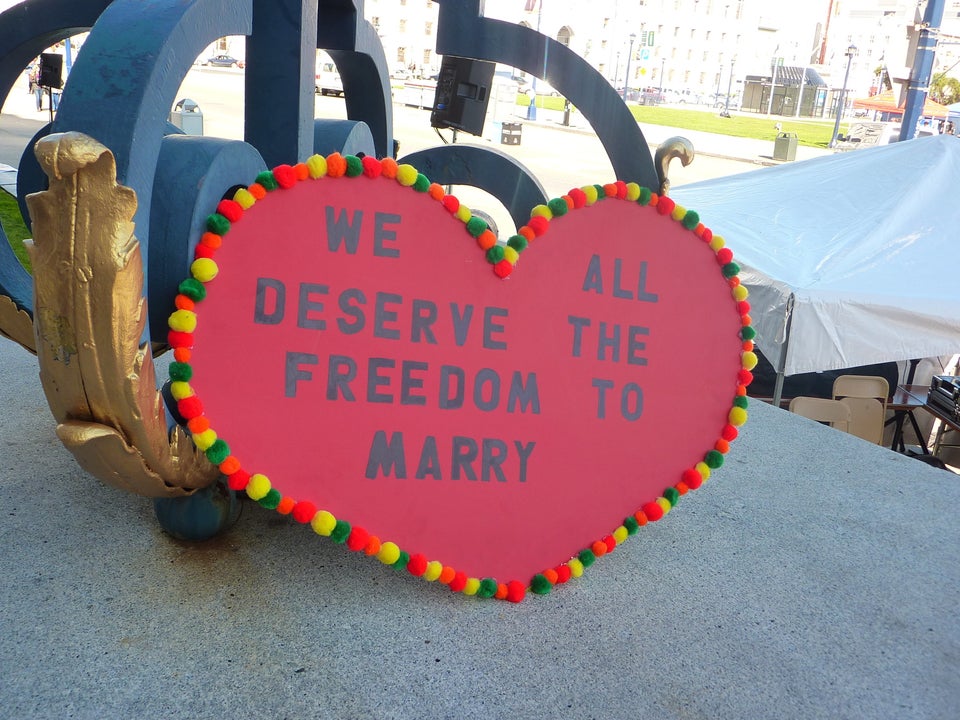 LGBT Advocates Fight For Same-Sex Marriage On Valentine's Day
Popular in the Community