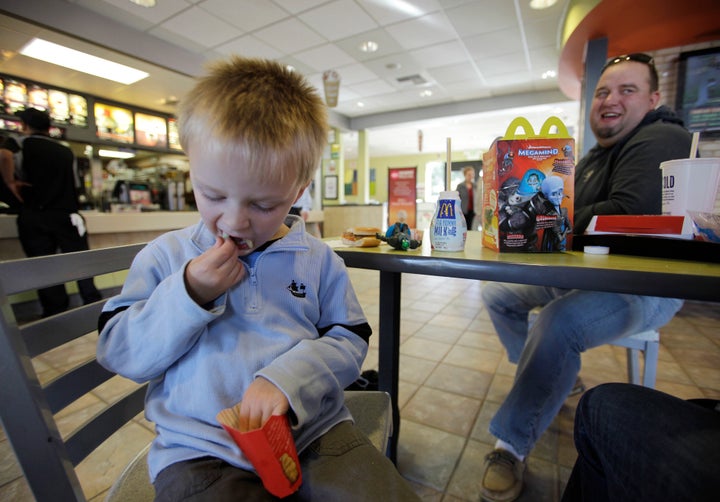 On Thursday, San Francisco's controversial Healthy Food Incentive Ordinance takes effect, banning toy giveaways with children's meals at fast-food restaurants unless the meal meets San Francisco's strict nutritional standards. And McDonald's has already figured out a way to sidestep the ban almost entirely.
The ban targets Happy Meal-style toys, claiming that the inclusion of an incentive item unfairly targets marketing at children who are unable to make healthy decisions for themselves. Though it was slammed by critics who claimed the ban enforced "nanny state" politics, the ordinance was easily passed by the Board of Supervisors in an 8-3 vote. Supervisor Eric Mar, who has a young daughter, introduced the ban, arguing that the "pester power" of a young child seduced by the toys can be enough to persuade parents to buy the unhealthy meals.
But instead of changing the content of Happy Meals or eliminating the toys, McDonald's is complying by charging a meager ten cents for the addition of a toy -- with the proceeds benefitting the Ronald McDonald House Charity. Well played.
And if Mar's "pester power" is enough to drag parents to McDonald's in the first place, there is little doubt it will be enough to make them cough up an extra dime.
"Instead of doing the right thing, McDonald's is avoiding limiting its marketing to kids or improving the nutritional quality of their unhealthy food by selling toys "separately" for an additional ten cents -- while still requiring purchase of a Happy Meal to get the toy," said Sara Deon, the Value [the] Meal Campaign Director at Corporate Accountability International, to The Huffington Post. "Though McDonald's has taken this cynical approach to sidestep the new policy, the law has already had a tremendous impact."
While advocates of the ordinance are disheartened by the announcement, supporters insist that San Francisco is still taking a large step in the right direction.
"This law is an important achievement not only for the health of San Francisco's children, but for children nationwide," said Mar. "We are ensuring that parents and children have real choices when they eat out -- especially in communities saturated with McDonald's-style junk food."
Related
Popular in the Community