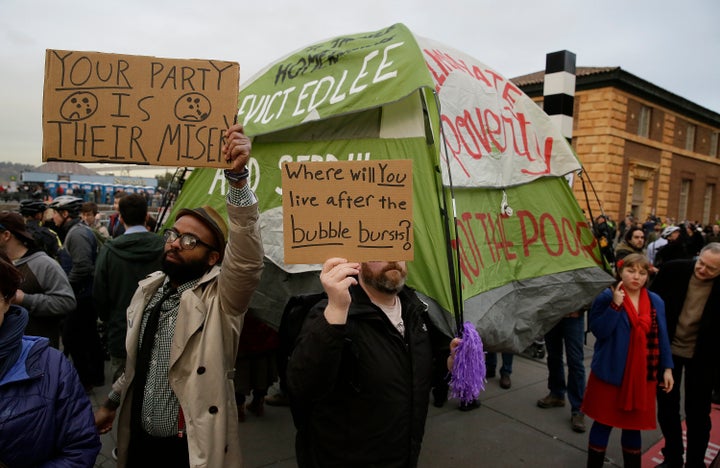 Hundreds of San Francisco residents swarmed streets on Wednesday night to protest the city's treatment of homeless residents around its hosting of Super Bowl 50 celebrations.
The protests were an outgrowth of Mayor Ed Lee's August proclamation that the city's homeless would have to leave the area hosting Super Bowl City, the pop-up "fan village" that blocked off portions of downtown, even though the actual game will be played at Levi's Stadium, 45 miles away in Santa Clara. And in the days and weeks leading up to the Super Bowl, word swept through San Francisco that the city's police have indeed been relocating homeless residents.
"The Super Bowl ended up being this lightning rod for people who were seeing all this money being thrown around and then people suffering on the streets ... and getting really frustrated with that," said Jennifer Friedenbach, the executive director of the San Francisco-based Coalition on Homelessness, which helped organize a protest march on Wednesday. "That was what the protests came out of."
San Francisco Mayor Ed Lee has disputed claims that police are pushing the homeless out, countering that they have provided "alternatives" after opening additional shelter spaces. But while homeless advocates say there is no definitive proof the city is sweeping the streets to remove unwanted residents, there is enough anecdotal evidence to at least make homeless people feel they are being targeted.
"We're hearing over and over again that they feel like the police presence has increased and that they're being told to move," Friedenbach said. "It's frequently being mentioned to folks that it's because of the Super Bowl that they need to move. … From homeless people's perspective, they feel like they are being displaced because of the Super Bowl."
The protests, which involved homeless San Franciscans, advocacy group leaders and residents who oppose the city's handling of the issue, are in part an outgrowth of the circumstances around the Super Bowl, and the fact that it will cost San Francisco taxpayers nearly $5 million in city funds.
"From homeless people's perspective, they feel like they are being displaced because of the Super Bowl.""
Lawmakers and advocates including Friedenbach say the money spent celebrating the NFL could be better used to fight homelessness, especially as rapidly rising housing prices put an increasing number of San Franciscans in precarious financial situations. There are 8,000 homeless households waiting for space in public housing to open up and just one shelter bed for every six of the city's homeless residents, according to the Coalition. The latest survey of the city's homeless, meanwhile, found that the number of homeless people increased by 3.8 percent in 2014, and that the amount of elderly and sick people without homes has grown, too. There are also more than 1,400 young adults aged 18 to 24 living on the city's streets.
The money San Francisco is spending on Super Bowl City could cover a year of housing subsidies for 500 homeless people, Friedenbach said, or go toward subsidies to keep those at risk of becoming homeless -- particularly low-income senior citizens -- from losing their homes. It would be enough to fund two additional "navigation centers," a pilot program that the city has used to help the homeless, she said.
Unlike Santa Clara, San Francisco city leaders did not secure a contract with the Super Bowl host committee to ensure the costs of providing extra law enforcement and other public services would be reimbursed, so it is paying the bills for a celebration of a private company -- in this case, the NFL -- whose own annual revenues outpace the city's budget. To lawmakers like Jane Kim, who sits on San Francisco's board of supervisors, that's a poor reflection of the city's priorities.
"We're seeing an economic divide that is unprecedented in this city," Kim said. "A lot of folks feel like if you're not super wealthy, you can't afford to live in San Francisco. And they expect that we should be using taxpayer dollars to solve these important issues...not to provide a party for some of the wealthiest people in the world."
"The NFL should pay for their own party," she added.
Super Bowl backers, including Lee, say the celebration will bring enough revenues to cover San Francisco's costs, but Kim and many residents are skeptical -- especially after the city emerged as a financial loser from hosting the America's Cup sailing tournament in 2014 and because other recent Super Bowl hosts have finished in the red.
But the problems around homelessness go beyond the short-term impact of temporary relocations and immediate cost-benefit analyses. It's irrelevant if there are "special sweeps" to remove the homeless from certain parts of the city for the Super Bowl, Friedenbach said, because it's clear that the normal criminalization of homelessness in San Francisco has persisted around the event -- and will continue once the celebration is over.
"What we know is that homeless people are heavily criminalized in San Francisco," Friedenbach said. "They have been before the Super Bowl, and they will continue to be criminalized after the Super Bowl unless something serious changes."
San Francisco has more anti-homelessness laws than any other California city, Friedenbach said, and it issued more than 11,000 citations to homeless residents merely for resting in public spaces last year, according to the Coalition.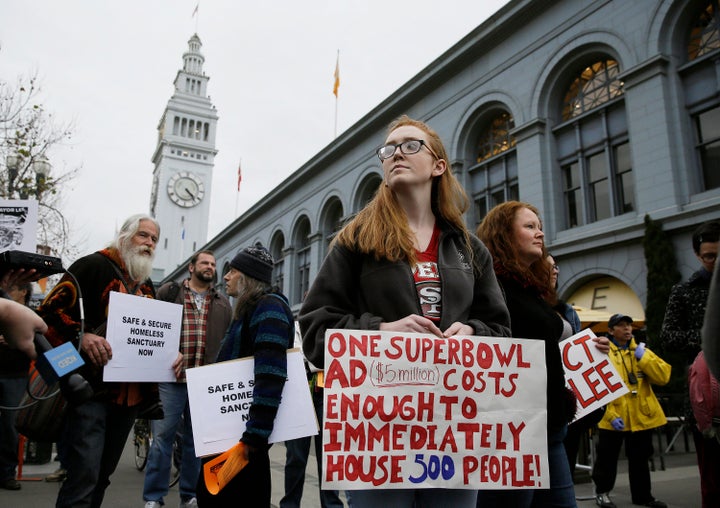 Three-quarters of respondents to a Coalition homelessness survey last year said that law enforcement officers had approached them, while 70 percent said police had forced them to leave a public space. More than half said officers had searched them in the past year. And the number of citations issued for homelessness is on the rise: the city's park service issued six times as many citations for homelessness in 2014 as they did in 2011, and police citations increased three times from 2011 to 2013, according to the Coalition's data. The targeting also disproportionately affected minority and transgender people, the survey found.
Other protests, organized and otherwise, have emerged across the city as well. San Franciscans have repeatedly toppled the gold-plated "50" statues that were placed around the city to commemorate the Super Bowl's golden anniversary, and thousands of Uber drivers, upset with fare cuts that they say have left many of them earning less than the minimum wage, have threatened to "shut down" local highways on Super Bowl Sunday.
Other cities have weathered protests during Super Bowl week before. But none of the concerns around the Super Bowl have resonated quite like homelessness. The Coalition has received an outpouring of support and offers to help in the past week, Friedenbach said, while city residents have stepped up in their own ways too: some have donated tents to homeless residents, while others volunteered to help the Coalition to help it set up a web site, NotSoSuperSF.org, to draw attention to their cause.
These problems are not unique to San Francisco, particularly in the context of prioritizing public spending on NFL teams and venues over addressing homelessness. A formerly homeless man in St. Louis, for instance, filed a lawsuit against the city in 2014 as it tried to devote hundreds of millions of dollars to a new stadium for the St. Louis Rams (who eventually moved to Los Angeles), arguing that the city should put the funds toward homelessness initiatives instead.
"I hear it over and over again from our residents, they want us to spend our dollars on affordability, on homelessness, on mental health services ... not on a party for the rich.""
But the issues have received more attention in San Francisco, perhaps because it "has really been at the forefront of the criminalization that's happening against homeless people," Friedenbach said.
"And it's supposed to be such a liberal city, so there's a juxtaposition there that is really interesting to a lot of people," she said.
There are signs that public officials have taken notice. Friedenbach said she and the Coalition are scheduled to meet with Lee on Tuesday to discuss ways to improve the city's treatment of the homeless. They are also backing laws in the state legislature that would change the enforcement of anti-homelessness laws
"If they had the political will to create a sustained revenue source for addressing homelessness in San Francisco, they could do it," Friedenbach said.
Kim, meanwhile, is pushing for a new city-wide ordinance that aims to ensure there isn't a repeat of Super Bowl City, where San Francisco hands over millions of city funds without a close examination of what it is getting in return. When it comes to the Super Bowl, it is likely too late to renegotiate the city's deal to get the NFL or Host Committee to reimburse San Francisco's costs. But Kim and others argue it should be cause to re-examine how the city approaches future events.
"The debate that we're having right now," she said, "is, what is the appropriate way to invest taxpayer dollars back in the city? I hear it over and over again from our residents, they want us to spend our dollars on affordability, on homelessness, on mental health services...not on a party for the rich."
"Let's acknowledge that it's wrong, and let's try to fix it," Kim said. "And if we can't do it for this event, certainly for the future."
Related