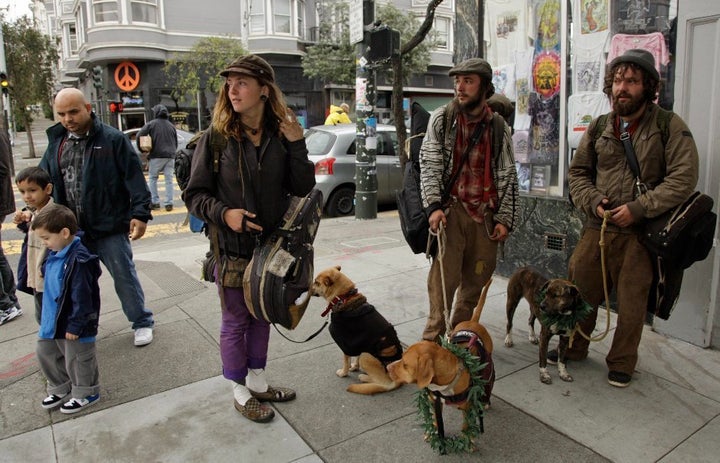 A national homeless advocacy organization says San Francisco continues to make criminals out its homeless population. The National Law Center on Homelessness & Poverty reported recently that the city and several other communities across the country penalize homeless people for behaviors related to their lack of housing.
The Washington, D.C.-based group studied 234 U.S. jurisdictions, finding that San Francisco places prohibitions on 10 of 14 behaviors. Another local advocacy group recently graded San Francisco with a "D" for its policing efforts.
The report, released in November, listed some of the most often cited prohibitions: sitting and lying on sidewalks, loitering, camping, sleeping, bathing and begging for money in public places.
In response to the law center's report, a representative of the city-run court that specializes in diverting homeless people who are cite for so-called quality-of-life violations said the city is providing alternatives to punishment.
But not all organizations who work with homeless populations say the city's efforts are sufficient. The San Francisco-based Coalition on Homelessness said the city is getting lower marks than two years ago in using law enforcement on its unhoused San Franciscans.
"San Francisco would have scored a 'C' prior to the most recent mayoral administration," the coalition said in a statement, but today would be graded "D" for criminalizing more everyday acts than any other West Coast community. The group also chided the city for reducing homeless services, including the elimination of 59 shelter beds in the last year.
In 2009, the law center also put San Francisco on its top ten "meanest" cities for taking punitive measures on poor and homeless people. Los Angeles and Berkeley were the other two cities in California to join the list.
The law center said enforcing and jailing people for quality of life offenses is a costly diversion from providing homeless services. It estimated that cities spent an average of $87 per day on incarceration costs. As the Public Press reported earlier this year, the Sheriff's Department's estimates the costs of keeping someone in San Francisco County Jail at $130 per day. Jail time is the next step for people who are repeatedly cited and who are unable to pay fines up to $500.
"It is unconscionable to punish homeless people for their misfortune, but it's also irrational fiscal policy, as this report illustrates," said Maria Foscarinis, the law center's director.
The most recent law affecting homeless people is the "sit-lie" ordinance, which prohibits people from sitting or lying on the sidewalk from 7 a.m. to 11 p.m, unless the person patronizes a business or has a medical necessity. It was spearheaded by then-mayor Gavin Newsom and approved by 54 percent of city voters in 2010.
From the time Ed Lee succeeded Newsom in January, through the end of September (the latest date for which figures are available), police issued 198 citations for violations of the ordinance. The Park Station district, which includes the Haight-Ashbury neighborhood, leads with 77 citations.
But San Francisco offers a diversion program through the Community Justice Center, said coordinator Tomiquia Moss. "They have a systemized way of being that prevents them from accessing these services," she said. People who are cited are given the opportunity to enter social service or treatment programs instead of going to jail or paying fines.
But since the establishment of the center, the city has also cut funding to programs serving the homeless, such as the Ozanam Detox Center, Caduceus Outreach Services and the 150 Otis St. resource center. That has compounded the effects of the eliminated shelter beds.
Included in the law center's report is a grading tool that explains its evaluation of each city. San Francisco "is doing a bad job of supporting its homeless population," the report said. "A detailed plan should be made that will develop more supportive resources for homeless individuals and move away from criminalization policies."
Click here for more from the San Francisco Public Press.
REAL LIFE. REAL NEWS. REAL VOICES.
Help us tell more of the stories that matter from voices that too often remain unheard.