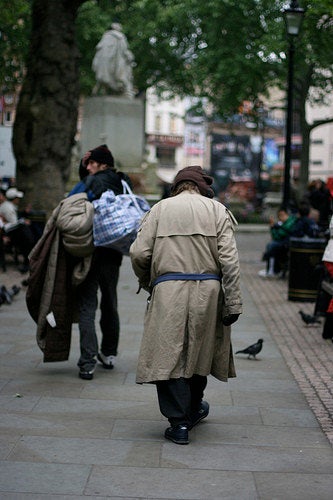 There are many challenges to meet if we are to ensure San Francisco's bright future: creating jobs, improving MUNI, balancing the City budget and reforming the pension system will be top priorities for the next Mayor.
Unfortunately, extreme members of the Board of Supervisors want to revisit fights of the past. Five of them now want to turn back the clock by dismantling Care Not Cash, San Francisco's landmark policy that has delivered real results for thousands of formerly homeless San Franciscans.
Mayor Gavin Newsom made addressing homelessness a priority unlike any Mayor before him, and I was proud to support his efforts. A survey of San Francisco's homeless population conducted early this year counted 6,455 homeless people. While the number has stayed roughly the same year over year, the percentage of them considered chronically homeless dropped from 62% in 2009 to just 33% today.
Prior to Care Not Cash, 2,334 homeless people received a General Assistance check each check day. Just 95 had moved into permanent housing; 145 single-room occupancy hotel (SRO) slots were available. In May 2011, just 360 homeless people received a check each check day. An impressive 3,540 people moved into permanent housing and 1,296 SRO rooms are available. Over the last seven years, between 4 and 84 homeless people each month have been enrolled in housing referral programs, often while staying at an emergency shelter. Care Not Cash has worked as intended -- moving the chronically homeless off our streets and into permanent housing.
In short, the supervisors' proposal would end emergency shelter as a service for Care Not Cash recipients -- making it harder to move people off the streets and into housing. This legislation was thrust on November's ballot without as much as a single public hearing. A former staff member of the Coalition on Homelessness wrote it while now working as a legislative aide at City Hall -- a clear conflict of interest. Not one City department head was consulted, and as a result, unintended consequences abound.
The purpose of Care Not Cash is to replace cash assistance to homeless individuals with proven services, including permanent housing, mental health and substance abuse counseling, and emergency shelter. Since waiting lists for permanent housing are sometimes long, interested Care Not Cash participants are guaranteed shelter slots. This measure would require the City to return to the days of providing cash assistance -- hundreds of dollars each month that often go to buying drugs and alcohol rather than to lifesaving services.
For veterans and people with disabilities, federal cash aid adds to the equation. This federal cash aid is about double what General Assistance provides -- or $800 a month. When the extreme supervisors say that Care Not Cash participants crowd out these individuals, they neglect to point out that Care Not Cash participants are the poorest homeless people in our City. Human Services director Trent Rhorer has offered a proposal where homeless people with greater assets contribute for their shelter and/or housing. This may work, but could not be fully explored because the supervisors rushed to throw this measure on the ballot.
I share the outrage at the conditions we sometimes find in shelters. In some of the most egregious cases, a top bunk was reserved for someone who couldn't physically reach it. It is true that some shelters can be overcrowded, unsafe or poorly run. That's why I voted with the Coalition on Homelessness to establish a Shelter Monitoring Committee, and why I participated in oversight hearings at the Board of Supervisors. Sadly, this ballot measure will not improve our City's shelter system. To the contrary, it takes funding away that pays for the very staff and services needed to make shelters safer and more responsive.
While I am focused on San Francisco's future, I believe it is crucial we safeguard Mayor Newsom's legacy of tackling chronic homelessness. I urge San Franciscans concerned about homelessness and quality of life to reject this misguided measure in November.

Calling all HuffPost superfans!
Sign up for membership to become a founding member and help shape HuffPost's next chapter