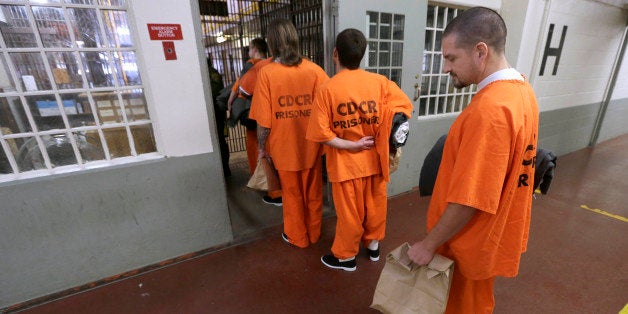 More than 100 inmates in San Francisco's jail are now in possession of computer tablets as part of a two-year pilot program allowing them to study using the same technology as students' outside the system, shedding light on the digital divide so many inmates experience when they re-enter the job force.
The tablets were provided last week by Five Keys Charter School, a high school diploma program started by the San Francisco's Sheriff's Department in 2003 that has since spread to Los Angeles. Participating inmates will have the tablets for most of the day, NBC Bay Area reported, but they can be deactivated at any time and will only allow access to four secure websites, including a law library and education program.
"Tablets are next logical step," Wendy Still, San Francisco's chief adult probation officer, told The Huffington Post. "So much of our lives is digital learning."
The $275,000 pilot program is funded by the California Wellness Foundation, the city's Adult Probation Department and Five Keys Charter School, the San Francisco Chronicle reported. The money goes toward tablets, digitizing the existing curriculum and teacher training. That spending, Still said, is a win for inmates and everyone whose tax dollars fund it.
"If we do not make this investment in tablets and tech in rehab programs, then [inmates] are going to continue committing crimes, which is very costly to the taxpayer," Still said.
"This is really cutting edge,'' San Francisco Sheriff Ross Mirkarimi told a group of sheriff's deputies and charter school teachers during a tablet training, according to NBC Bay Area. "Historically, there's been resistance, if not prohibitions, on allowing technology into the living quarters of inmates.''
Internet access is mostly banned in federal prisons, but San Francisco's pilot program is an opportunity to study how making technology part of local jail inmates' daily lives could be scaled for use in prisons, where inmates usually are serving much longer sentences. Some prisoners have no understanding of what the Internet even is -- a major hurdle to finding jobs and services upon reentering society, Mia Bird, a Public Policy Institute of California research fellow, told HuffPost.
"We've been struggling with jail systems being behind and stagnant in their adoption of technology. It keeps accelerating outside the system, and there's an increasing gap," Bird said. " … The idea is move toward trying to recognize what a leap it is to come out of custody and try to bridge that gap as much as possible."
REAL LIFE. REAL NEWS. REAL VOICES.
Help us tell more of the stories that matter from voices that too often remain unheard.
BEFORE YOU GO
PHOTO GALLERY
People Killed By The War On Drugs