SAN FRANCISCO ― An emotionally charged San Francisco Board of Supervisors meeting on Tuesday night ended with the naming of the city's third, albeit interim, mayor in six weeks and set the stage for a chaotic election for a permanent leader in June.
By a contentious 6-3 vote, the board elected Supervisor Mark Farrell to serve as interim mayor for the next five months, following Mayor Ed Lee's sudden death in December. The decision came after a 5-4 vote not to name board President London Breed, who had also been serving as acting mayor since Lee's death, to the interim role. (Neither Farrell nor Breed voted.)
The optics of Tuesday's decision were not good: Breed, who grew up in public housing in the city district she now represents, was serving as San Francisco's first black female mayor. Farrell is a white male venture capitalist who represented one of the wealthiest enclaves in the city until Tuesday's vote.
The progressive supervisors who led the charge against Breed, who is considered a moderate in left-leaning San Francisco, argued that naming her to the interim slot would give her an unfair advantage in the upcoming election and that the city needed a "caretaker mayor" who wasn't gunning for the permanent job.
"The power of incumbency provides such an unfair advantage that I believe we must take this election out of the hands of the Board of Supervisors and allow San Franciscans to choose the next Mayor on a level playing field," Supervisor Sandra Lee Fewer said in a statement after the vote.
Supervisor Aaron Peskin raised the issue that if Breed served as both mayor and president of the board, she would be the sole person in charge of filling several other vacant city government jobs.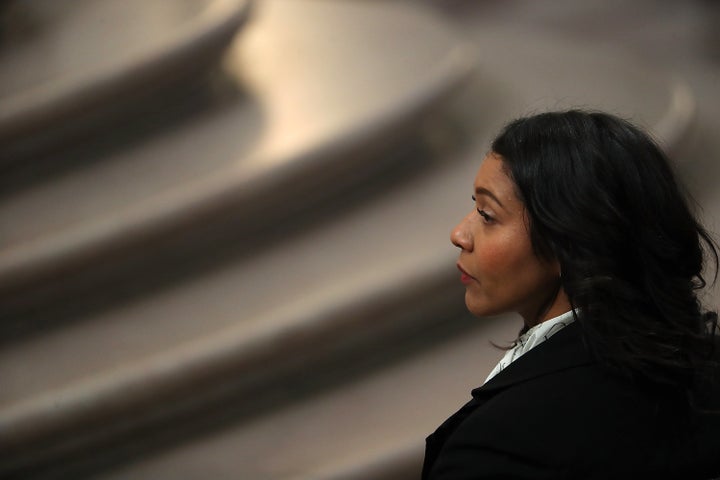 They had good reason to think Breed might easily win the election from the mayor's office. Lee, too, first served as interim mayor in 2011 when Mayor Gavin Newsom left mid-term to serve as California's lieutenant governor. Although he had been the city's less public-facing chief administrative officer until then and he promised not to run for mayor later that year, Lee campaigned and won.
Lee had aspirations of revitalizing the city's most blighted areas. But critics said he gave too many financial breaks to Bay Area tech companies whose early 2000s' influx of high-paid workers helped drive up housing prices and displace the city's diverse residents.
With that housing crisis still in full swing, they said, the stakes were too high to give any candidate the advantage of the interim mayor role without challenging that person on affordability issues.
"I haven't endorsed because I've yet to hear any of the mayoral candidates answer the questions that matter to the people of my district," Supervisor Hillary Ronen, who voted for Farrell, said during the meeting. "How are you going to make housing affordable again? Where are the economic opportunities outside of the tech industry? How are you going to help keep teachers stable in our public schools? What are you going to do to solve the homeless crisis?"
Giving one candidate the boost of the mayoral post would be an "unethical silencing of the voters of San Francisco," Ronen said.
But members of San Francisco's black community, many of whom filled City Hall on Tuesday night to speak in support of Breed, said they've already been silenced for a long time.
"For the first time, I've seen somebody ... that actually looks like me and actually has my experience" sitting in the mayor's office, said Angelique Mahan, a black native San Franciscan, during the public comment period.
Another black advocate for Breed, who did not give her name while speaking, suggested that the decision to replace Breed with Farrell was tinged with prejudice.
"Send a message to the world and to the national administration that we here in San Francisco will not allow racism and sexism to rear its ugly head, that although African-Americans make up less than 13 percent of the city population, although the school system is failing our African American children here in San Francisco ... and although African-Americans have been disproportionately displaced in this city, we deserve a leader like London," she said.
Several people noted that the board had not removed Lee as incumbent mayor when he announced he was running for the permanent position.
Speaking to reporters after the vote, Breed declined to address the concerns of many of her supporters that racism played a role in her loss.
"I don't want to dwell on that particular element because it has sadly brought out the worst in some people," she said. "And so what I am trying to do as a leader in this city is bring out the best in people."
The tense evening had at least one legislator second-guessing her vote. After an initial 7-2 count in favor of Farrell, Supervisor Katy Tang switched her vote to Breed.
Farrell must now name a replacement for his supervisor slot. Breed will face off against seven other mayoral candidates on June 5, including fellow supervisor Jane Kim and former supervisor and ex-state senator Mark Leno.
Popular in the Community