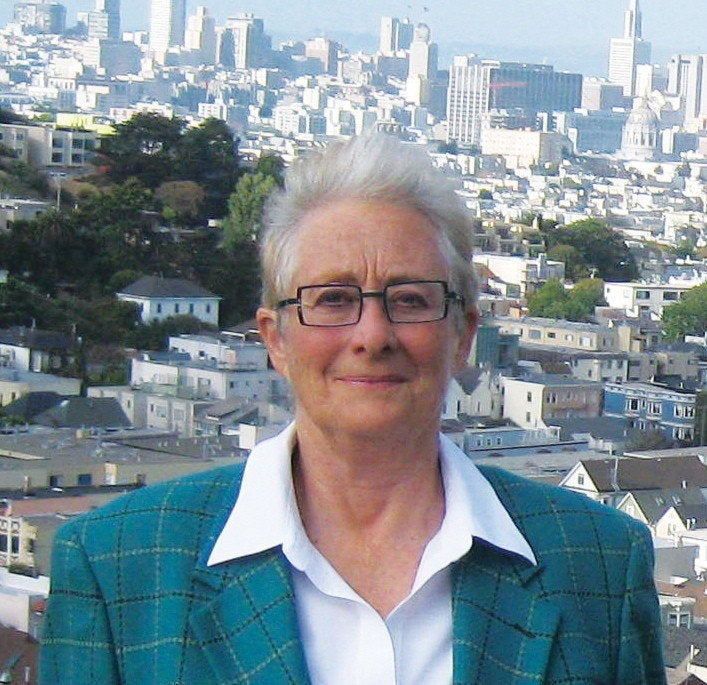 Current Gig: Playwright, director and actress
Why should we vote for you?
You should vote for me because I'm a Green, and I represent a vision that this city -- and our whole country -- desperately needs. In this time of reactionary ranters and passive progressives, the politics of the U.S. are being pulled rapidly to the right. The Democratic Party has been incapable of confronting the idiocies of the Tea Party and the frightening rhetoric of the religious right. We need a stronger voice on the left, and the Green Party is that voice for sanity, for significant reform, and for standing up to the corporations and the wealthy, who have been dominating political dialog.
San Francisco has been a political bellwether on so many issues -- civil rights, peace, gay rights. If we elected a Green mayor, it would have an enormous effect on the political culture of this country. It would open up political discourse on the left. It would give progressives great energy and hope. I have seen how my presence as a candidate in many mayoral forums has had a significant impact on other candidates, and caused them to adopt some of my ideas and drawn them to a more progressive point of view. This is because my ideas (for example, I have called for the creation of a municipal bank and for a moratorium on market rate housing) make SENSE. But SOMEBODY has to put them out there. And that somebody has been me, because I'm a Green.
Since San Francisco cannot separate its destiny from the rest of the country, the best choice for San Francisco is a Green mayor. That election will be a step toward pulling the United States back from the brink of the chaos being caused now by right-wing fanaticism.
List a few of your most significant endorsements. Which one do you feel best exemplifies the reasons why you are running for mayor?
My most significant endorsement is by Don Bechler, who is the founder and director of Single Payer Now, formerly Health Care for All. He has been working doggedly for nationalized health insurance for a many years. He has never endorsed anyone before. But he believes I can truly make a difference so he's decided to put his name on the line.
I am also very honored that Phyllis Lyon, the great pioneer of gay rights, has endorsed me, because of my history as the one of first lesbian playwrights and my body of work exploring the lives of lesbians and the political issues that affect them.
Father River Sims is another important endorsement. He is a priest who works with homeless youth in the Tenderloin. Twice a week, he serves a hot meal to 150 people in an alley in the neighborhood. He was drawn to my campaign when he read that I believe housing is a right, not a privilege. Such a simple, obvious idea, but one that has not been articulated by other candidates. I'm honored to have inspired the enthusiasm of someone who is really in the trenches working with the most vulnerable people. Last Sunday I helped him make 700 sandwiches for the Tenderloin Health Fair.
What's your favorite place in San Francisco?

The Camera Obscura, below the Cliff House. It's an invention by Leonardo da Vinci that is essentially a periscope that reflects the view outside onto a concave disk. Housed in a tiny dark building, it turns that spectacular view of ocean, sky and rocks into a kind of hypnotic magic as the periscope slowly revolves. It only works when it's sunny. The city was going to destroy it at one point, but a group of men who live in the Richmond District organized to save it and run it themselves. More recently, when the Cliff House was rebuilt, the Camera Obscura was going to be moved somewhere else with a much less spectacular view. Again, public protest saved the Camera Obscura. It's a wonderful relic of the quirky vision of San Franciscans. I always bring visitors there.
What is the single biggest issue facing San Francisco right now?
The single biggest issue is decent, eviction-proof housing for people who are not wealthy.
Over the past year, Muni's on-time percentage dropped for the first time in five years, largely due to budget-related service cutbacks. As mayor, what would you to do make Muni better?

Obviously Muni needs more money. Anti-tax and anti-government sentiments -- converted into laws through measures like Propositions 13, 218, and 26 and executive acts such as Governor Schwarzenegger's elimination of the State Transit Assistance fund -- are killing public transportation systems across the country. We need to start a movement to reverse that trend, and what better place to start it than in San Francisco? I want to be at the head of that movement -- and invite the mayors of other municipalities to join me in a fight to put something on the state ballot that will allow residents of municipalities to vote to exempt themselves from these basic-service killing measures. In the meantime, as soon as Governor Brown signs the vehicle license fee legislation now on his desk, we can put a local VLF on the ballot. That will raise some money for Muni -- but not enough to turn into the world class transportation system that I think it should be or that it will need to be as the price of a gallon of gasoline continues to rise.

The other key element in slowing Muni down is congestion. In 1990, there were around 300,000 vehicles registered in San Francisco. Now there are over 450,000 vehicles registered here. Every privately-owned vehicle adds to traffic and slows down Muni.

Collectively, we have to agree to tax ourselves to make sure that Muni has the money to add more vehicles and hire more drivers, and collectively, we must -- if we are going to save the planet -- start the process of giving up our personal cars and moving to public transportation, our feet, bicycles, cabs, and shared or rental vehicles.
What do you think of Prop. E, which would allow the Board to amend or repeal laws passed by voters?

I am opposed to this measure. Think of it: would the people of District 8 have voted for Supervisor Scott Wiener (or any of the other supervisors who agreed to let this measure go to the ballot) if they knew that they wanted to reverse measures passed by the voters at the ballot? I think not.
There was a time, when supervisors were elected at-large, that Tom Ammiano was the ONLY progressive voice on the Board. But the voters were more in agreement with Ammiano than the other 10. So he put measures on the ballot and they passed -- including district elections. If Prop E were in force then, I have no doubt that the Board would have repealed everything that Ammiano put on the ballot.
(Note: San Franciscans routinely vote against the statewide anti-tax measures that I mentioned above -- and for this reason I think something should be on the statewide ballot to allow municipalities to exempt themselves.)
As rents in San Francisco continue to rise, there are fears that SF is becoming a luxury bedroom community for Silicon Valley, with working-class families being pushed out of the market. Would counteracting this transition be a priory in your administration?

Absolutely. One of the main planks of my platform is placing a moratorium on the permitting of market-rate housing developments. I would fight to preserve all rent-control housing -- renovating rather than demolishing it, as is the plan with Park Merced. I would also put a freeze on condo conversions.

How well do you think BART has handled the recent string of protests. If SFPD were faced with a similar situation, which parts of what BART leadership and the BART police depart has done would you use a model for what you would do and which parts would you avoid?

One, BART never should have taken steps to block cell phone service, but once that was done, BART should have been forthcoming about the process used to make that decision. It has been obvious since the Oscar Grant shooting that there is inadequate training and oversight of the BART police. I understand that Assemblyman Tom Ammiano has been working on this issue -- but it is also my understanding that there is disagreement about the shape of that oversight. I would need to be briefed by members of the BART Board of Directors and the BART police in order to make the best decision about the right model for the SFPD.

Again, however, we do not adequately care for people with mental health and substance abuse issues in San Francisco -- and that problem needs to be fixed through the creation of progressive taxation measures in order to fund the creation of programs to do that so no more Charles Hills are gunned down by the BART police -- or any other police.

Oscar Grant was a young man out for New Years Eve, and the fact that he was shot and killed is a clear sign that there needed to be better officer training and more oversight.
Describe Gavin Newsom in two words.
Mayor Photo-Op

Describe Willie Brown in three words.
Emperor of San Francisco (place names always count as one word)
Describe Chris Daly in four words.
Rude rude rude saint

REAL LIFE. REAL NEWS. REAL VOICES.
Help us tell more of the stories that matter from voices that too often remain unheard.