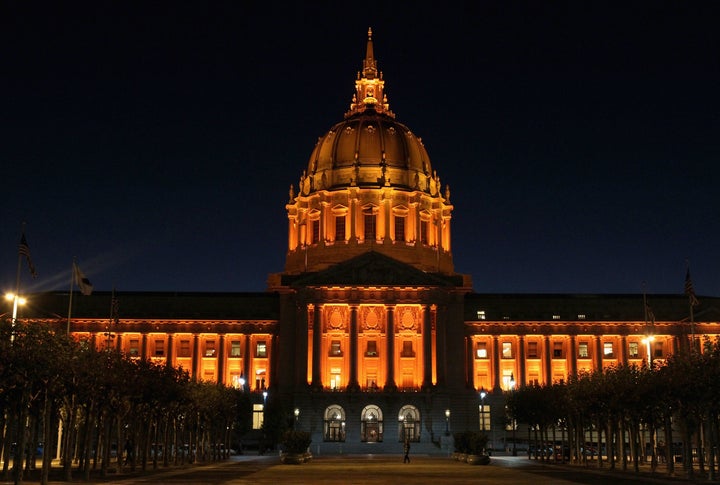 While the tone of Thursday evening's mayoral debate hosted by the San Francisco Young Democrats at the African American Art & Culture Complex was considerably more cordial than Monday's air horn-filled affair, the same topic loomed over everything—Mayor Ed Lee's decision to run for a full term.
However, it wasn't this way from the start.
Mayor Lee was nearly an hour late arriving because he was busy announcing House Minority Leader Nancy Pelosi at a charity benefit for breast cancer. "If you boo for that," noted moderator Melissa Griffin, "you're going to hell."
Present at the debate were Supervisor John Avalos, venture capitalist Joanna Rees, City Assessor Phil Ting, City Attorney Dennis Herrera, Supervisor David Chiu, Supervisor Michela Alioto-Pier, Supervisor Bevan Dufty, State Senator Leeland Yee and Mayor Ed Lee.
Notably absent was Supervisor Tony Hall, who was also conspicuously excluded from the previous mayoral debate.
Before Lee got to the debate, the mood in the room seemed significantly lighter than after he snuck onstage near the end of the first round. The proceedings began with Griffin giving each candidate cards reading "yes" and "no" to quickly answer a series of questions. When she asked where the candidates stood on a shark fin soup ban, Yee (who famously opposed the largely popular ban) jokingly waved his card back and forth obscuring his answer to roar of laughter from the crowd.
This was emblematic of the jovial mood in the room early on in the debate. Despite the participants onstage being locked in a bitter, no holds barred electoral grudge match to the death, everyone seemed to be friendly with each other. With the exception of political neophyte Rees, all of the candidates had been working with each other in government for years and that camaraderie shone through.
Or the "ranked choice voting" system more or less kept everyone on their best behavior for fear of losing those crucial second and third place votes.
Or Griffin's clubby snark was effective at livening up a traditionally staid event.
No matter the cause, all of that changed when Lee entered, and his presence instantly sucked all the air out of the room.
As soon as Lee stepped onstage, Griffin turned her attention to the Mayor, asking him to defend his decision to run for a full term. "When I was appointed in January, I had no intention of running for a full term; I was focused on running the city," Lee replied. "I changed my mind seven months in because I saw how City Hall was working. I saw a change in tone towards civility between City Hall and the Board of Supervisors, which I had never seen before...I was proud of what we had done and that's why I changed my mind."
Lee's response did little to change the mood.
When asked about the unforgivable sins a politician could commit, Herrera said in a statement clearly aimed at Lee, "when you don't live up to your word, I don't think there's anything more corrosive to the public's trust."
"I think there are many San Franciscans that are disappointed in Ed Lee's decision to run," agreed Chiu, who compared a meeting he had earlier that day with Mayor Lee (the first time the two had met since Lee's formal entrance into the race) to awkwardly chatting with an ex-girlfriend.
"Don't date where you work," quipped Dufty, who went on to encourage Lee to utilize public financing instead of opting out as he has announced he will do. "Having a lot of money flowing into [this election] will not be good for San Francisco."
Gradually, the debate steered itself away from focusing entirely on Lee and onto a hodgepodge of specific issues:
Ting attacked online retailer Amazon for throwing a fit about having to pay sales tax for their online transactions.
Everyone agreed they would keep Greg Suhr on as Police Chief, to which Mayor Lee responded, "Thank you."
Lee doesn't think that decriminalizing prostitution will stop human trafficking and thus doesn't feel comfortable supporting it.
Avalos wants to put the contract for collecting garbage out to bid and end Recology's monopoly on trash collection in the city.
Ting repeatedly harped on not funding sports stadiums with public funds; however, he said he would do what he could to keep the 49ers in San Francisco.
Alioto-Pier said if she were mayor and somehow magically granted2 billion dollars, she would sink 100 percent of it into the public school system.
Rees, who mentioned she is a Professor of Leadership at Santa Clara University, took every opportunity to turn the focus of the debate towards education.
Yee claimed not to know why former Mayor Willie Brown and controversial Chinatown power broker Rose Pak openly detest him. "I think I'm a pretty likable guy," he laughed. He said that, if elected mayor, his goal would be to increase Muni ridership by 100,000 people per year by 2020 and attacked former SFMTA chief Nat Ford's nearly400,000 golden parachute.
In his closing statement, Dufty went off on a passionate, if a bit rambling, oration about the unacceptable level of violence in the city that easily drew the heartiest cheers of the night.
In a nod to the night's overall tone of civility, none of the candidates were willing to answer a question about who among them was least qualified to be mayor.
REAL LIFE. REAL NEWS. REAL VOICES.
Help us tell more of the stories that matter from voices that too often remain unheard.