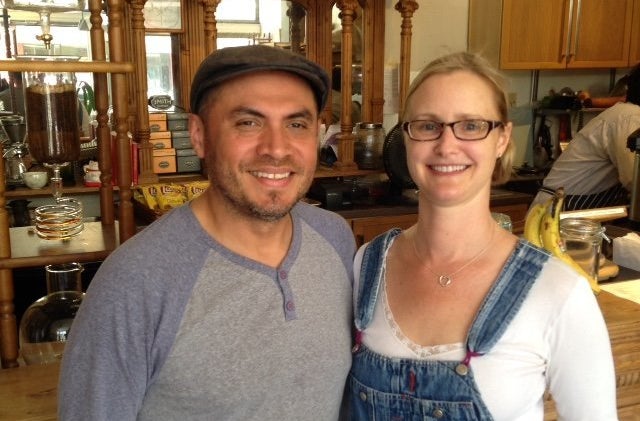 SAN FRANCISCO -- If the opponents of a $15 minimum wage were going to devise a hypothetical small business to illustrate their arguments, they'd probably come up with something like Cafe UB. The petite San Francisco coffeehouse is exactly the kind of locally owned, low-margin neighborhood business that critics say a $15 minimum wage would hurt the most.
But Cafe UB is doing just fine amid San Francisco's ongoing transition to $15. In fact, its owners embrace the change -- and not just for the typical political reasons. They say it is good for business.
"We are in support of it, because we need our employees, and our employees need to live here," said manager Nicole Martin earlier this month. "It is expensive to live in San Francisco."
Cafe UB -- the name is meant to suggest that the eatery is whatever "you" want it to "be" -- is a popular spot in San Francisco's tony Castro neighborhood. On sunny days, customers gather on the patio for homemade scones and empanadas. Inside, the air is thick with the aroma of locally roasted coffee, which some people get chilled with one of the cafe's elegant Kyoto cold-brew towers.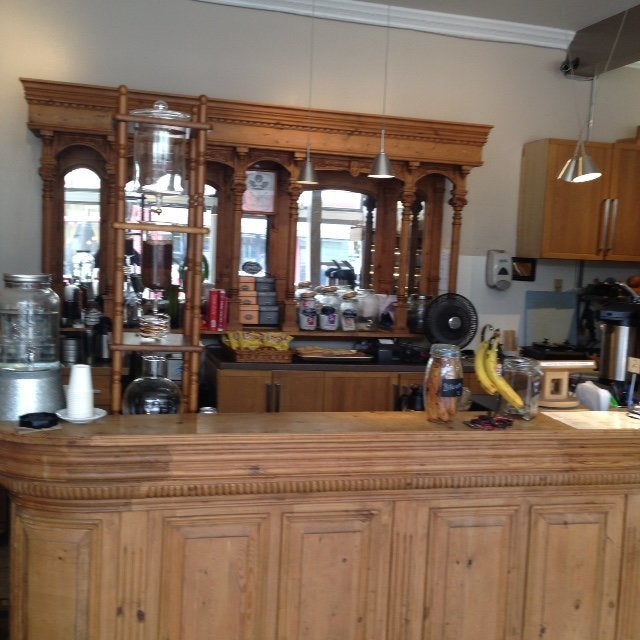 Customers often praise the individual attention they receive from "Al and Nicole" -- that is, Al Simball, the cafe's owner, and Martin, his girlfriend.
But as is often the case with a small business, the cafe's charm is the product of hard work that yields relatively thin profit margins. Martin told The Huffington Post that when Simball bought the cafe (then known as "Urban Bakery") in 2013, he was putting in 80-hour weeks and employing just three people -- sometimes fewer. Since then, the cafe has grown enough that Simball is now able to employ six people, reducing his weekly workload to 60 hours.
Martin said that Simball has always tried to pay employees as much as he can. When he first bought the business, minimum wage in the city was $10.55, but Simball set pay at $11 an hour -- not including tips.
"In general, as a new business we continue to juggle resources to make it all work and be a good employer," Martin said.
San Francisco's latest minimum wage hike is happening in stages, with the wage floor climbing a bit higher every year. It's scheduled to reach $15 on July 1, 2018, and rise with inflation thereafter. The current minimum wage of $12.25 has been in effect since May 1.
Cafe UB pays its staff the minimum $12.25, but Martin estimates that workers already make more than $15 an hour with tips. She did not say whether the cafe had already been planning to raise its wages before voters overwhelmingly approved the citywide wage increase in November.
Regardless, Martin says they wholeheartedly support the new $15 minimum mandate in light of San Francisco's high cost of living.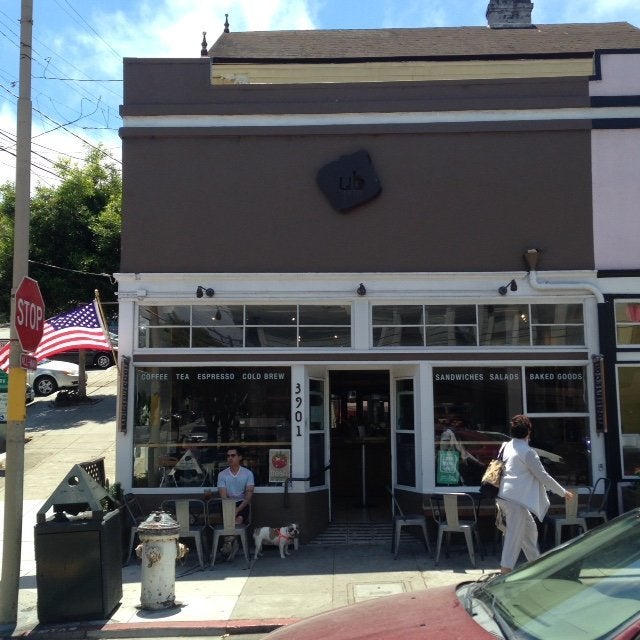 So rather than urge customers to vote against the minimum wage increase, or to repeal the measure once it passed -- a not-uncommon practice, even in liberal cities like Washington, D.C. -- Martin and Simball simply asked their patrons to support modest price increases as a way of offsetting the additional labor costs.
"We had a little sign out front, and we just said: 'In support of the minimum wage increase, we will be adjusting our prices,' and thanking them for their business -- you know, pretty simple," Martin recalled. "It was well-received. I can't say that our customers got upset about it."
The price increases ranged from 25 cents on a cup of coffee to slightly more for food items, Martin estimated. "We shifted some things around, like maybe removed a side and offered a sandwich for a little bit more," she said.
On the whole, Martin sees the higher wages across the city as benefiting Cafe UB. In fact, it's actually helping them to hire workers. San Francisco's cost of living is so high, she said, that "you don't get flooded for applications" for a low-paying position like "barista."
Cafe UB's relatively smooth transition thus far has dovetailed with the predictions of liberal-leaning economists that San Francisco's minimum wage increase would not lead to job losses or hour reductions. "Previous economic research, including research on San Francisco's 2003 minimum wage ordinance, has found little to no measurable effect on employment or hours from minimum wage policies," noted an August 2014 policy paper released by the Institute for Research on Labor and Employment at the University of California, Berkeley.
That paper went on to predict that the higher minimum wage would prompt businesses to increase their prices modestly -- but that they would see much of the cost offset by the benefits of higher worker retention and improved performance.
Of course, not all of San Francisco's small businesses have been as fortunate as Cafe UB. Borderlands, an iconic sci-fi bookstore and cafe in the Mission neighborhood, nearly closed its doors earlier this year due to the wage hike. Compared to cafes, bookstores have a harder time passing on new expenses to customers through price increases, since in most cases, the publisher's recommended price is already there on a book's cover.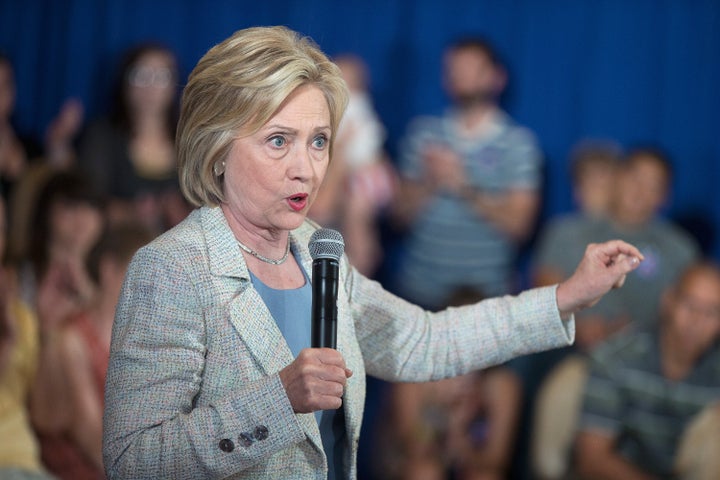 Conservative policy analysts have seized on the struggles of Borderlands, and other San Francisco bookshops like Comix Experience, as evidence that raising the minimum wage can have unintended consequences that even liberals will appreciate. They note the irony of beloved urban institutions like independent bookstores teetering under the weight of minimum wage hikes championed by their liberal customers.
For now, though, these complaints have done little to dull the momentum of a nationwide drive for a $15 minimum wage -- a rate nearly double the current national minimum of $7.25, which advocates say is grossly inadequate. The fast-food worker campaign "Fight for $15," which is backed by organized labor, scored a victory last week when a wage board convened by New York Gov. Andrew Cuomo (D) recommended a $15 minimum wage for the state's fast-food workers. Cuomo is expected to approve the change.
The $15 minimum wage has become a prominent issue in the 2016 Democratic presidential primary, with every major candidate speaking to it in some way. Former Secretary of State Hillary Clinton refused to endorse a nationwide $15 minimum wage in a July 16 interview with Buzzfeed, saying that "what you can do in L.A. or in New York may not work in other places."
Yet even in San Francisco, the $15 minimum wage increase did not enjoy unanimous support. The San Francisco Chamber of Commerce opposed the change, arguing last year that the attempt to pass it by ballot initiative "[flew] in the face of collaboration and partnership."
But Martin said that no group had actively solicited Cafe UB's help in campaigning against the increase.
"You know, I don't recall that really," she said. "I don't recall being asked to oppose it. You know, I felt like there was just a lot of support in general. It's kind of like, we know it needed to happen. And they just had to figure out a way to make it work."
Popular in the Community