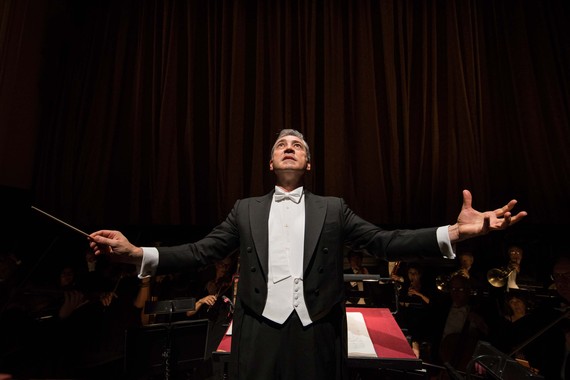 San Franciscans like to play a bit fast and loose with history - so nobody questioned the period accuracy of French poodles welcoming patrons to the opera ball. Why would you? They were beautifully groomed, as were their observers. So what if the gamines in Marie Antoinette wigs and grand Ali Rahimi gowns represented the "opposition" of the evening's opera, Andrea Chenier, a poet executed for supposed royal loyalties in the French Revolution? The patrons were here to support the Opera education and outreach, and eat cake, as it were, not to quibble about an opera set in France but sung in Italian. So "La Revolution et L'Amour" happily coexisted as the theme of the evening, and the poodles charmed throughout a chilly cocktail hour amidst the boxwood hedges. Once inside J. Riccardo Benavides' sumptuous dinner pavilion, 700 guests warmed up with McCall's Continental menu of Dungeness Crab salad with taragon gelee, Short rib pot-au-feu with potato horseradish puree, and Profiteroles au chocolat, accompanied by Roederer Estate Brut, Ram's Gate Chardonnay, and J. Lohr Cabernet. Flowers, candles, filigree walls and chandeliers illuminated the gilded Great Dane sculptures in the entryway and tables set with an agreeable arrangement of banquettes and chivari chairs, each heavily laden with china and crystal that would have been happily housed at Versailles. The effect was just right for the grand gowns that made their entrance that evening, one more voluminous than the next. Last season's slylph has been replaced with a more substantial presence, with many dresses revealing a bit of decolletage set off by voluminous skirts, often floral prints in vibrant colors. The gentlemen obliged with trim tuxes and a few stalwarts in white tie and tails, always appreciated for the most formal event of the Fall Season.
Once dinner was a fait accompli, the long slow procession to the seats began - much more festive than that in the opera, where poor Andrea Chenier marched to his conclusion preoccupied with poetry and rather than revolution. As is an Opening Night tradition, the boxes were richly rung in wreaths of carnation tricolore, a reminder of the fraternite and liberte, if not egalite, of the French Republic. Board Chair John Gunn and President Keith Geeslin thanked patrons, welcomed new Executive Director Matthew Shivlock to his first season, and recognized Music Director Nicola Luisotti, who expertly conducted the orchestra that evening. After a rousing Star Spangled Banner where many in the audience adeptly hit the high notes, the stage spectacle began. Umberto Giordano's "Andrea Chenier" unravelled as the audience observed his slow singing slide to the gallows, in the company of a superb soprano and two score of supernumeraries. With only one intermission to see and circulate, patrons were up and out of their seats in short order at halftime, and then eager to make an appearance at the Post-Performance Celebration back in the party Pavilion. Instead of brioche, McCalls laid on a savory and sweet repast of small bites for all, and a full festive feast for the cast, who had truly sung for their supper. The dancing and dining and a bit more drinking went on until the wee hours, when the most revolutionary war between love and sleep was waged by poets and lovers of all kinds, and the Opera Ball went the way of the monarchy.
The Ball was elegantly co-chaired by Sandra Farris and Patricia Sprincin, supported by Opera Guild Auxiliary President Charlot Malin and a seasoned Committee of Opera lovers, including Carol Benz, Shannon Cronan, Elisa Stephens, Judith Renard, Maryam Muduroglu, Chandra Friese, Arlene Inch, Linda Elliott Zider, Phoebe Cowles, Marily Cabak, Elizabeth Birka-White, Mary Poland, France Szeto, Natalia Urritia-Hernandez, and many other capables. Honorary Chairs of the event were stalwart supporters John and Cynthia Fry Gunn, and Diane B. Wilsey; the latter also sponsored the Opening Weekend, which included a free performance in Golden Gate Park. Benefactors Great, Grand, and Gold included Denise Littlefield Sobel, Franklin and Catherine Johnson, Stephen Revetria, S. Shariq Yosufzai and Brian E. James, Anne Popkin, Leslie and George Hume, Helen and John Meyer, Barbro and Bernard Osher, Andrew Martin Weber, Paula and Bandel Carano, Ann and Gordon Getty, Marissa Mayer and Zachary Bogue, Marcia and John Goldman, Pamala and Ted Deikel, Lena Gikkas, Alan Morrell and Mike Genoshe, Rose Rosenberg, Roselyne Swig, Jennifer and Steven Walske, Nicki and Joe Parisi, Michael and Holly Cuggino, Bill and Bridget Coughran, and Joachim and Nancy Hellman Bechtle.
Amongst those celebrating with liberte: Nancy and Paul Pelosi, (she fresh off the plane from General Lafayette's haunt,) Carol and Dixon Doll, Ann and Daniel Girard, Karen Caldwell, Barbara Brown in superb Andrew Gn, Asim and Isha Abdullah, Dorothy and C. Bradford Jeffries, Karen Kubin, Suzy Kellems Dominik, Dr. Alan Malouf with his guests, Rick and Kathy Hilton, Teresa and Mark Medearis, Jane Mudge, Louise and Paul Renne, Patricia Kelly in a custom Ali Rahimi created for the occasion, Komal Shah in showstopping Monique Lhullier with Gaurav Garg, Kai Peng Tan, Dianne and Tad Taube, Dr. Carolyn Chang, Afsaneh Akhtari, David and Karin Chamberlain, Carolyn Chandler, Cathy MacNaughton, Cynthia Schreuder Kalev and Ovadia Kalev, Steve and Choongja Kahng, John Rosin, Raj Singh and Renata Anderson, Frederic H. Smith, Florence Bryan, Jack Calhoun and Trent Norris, Christine Suppes in delicate couture McQueen, Justin Fichelson, Glenn McCoy and Michael Manning, Russell Stanaland, Randall Laroche and David Laudon, Rosalina Lydster, whose lovely choker adorned Deepa Pakianathan, Navid Armstrong, Gary Garabedian, Ena and Mark Cratsenberg, Elie Abi-Jaoude, Ronald Holloway and Doug Hammerich, Jessica Jacob, Jorge Jaramillo, Diana Kissil and John Cullison, Ave Seltsam, Clara Shayevich in Vasily Vein, Nazan Orr, Nancy Nebeker, John and Helen Meyer, Francoise and Andrew Skurman, and many lovers of the mellifluous fraternite and sororite of our vaunted San Francisco Opera.
REAL LIFE. REAL NEWS. REAL VOICES.
Help us tell more of the stories that matter from voices that too often remain unheard.