The Opening Night Gala this past Friday night at San Francisco Opera was nothing short of a fiery blast. And given the overflow of opulent scarlet couture among the throng of Fashionistas, it was a hellzapoppin' frolic from here to Kingdom Come.
Arrigo Boito's Mephistopheles is a perfect vehicle to head SF Opera's 2013/14 Season. Designed by Robert Carsen, the production was last seen in 1994 and holds up fantastically well. It is a shiny reminder of why blue skies and fluffy clouds stand for Heaven and red lights on rippling red fabric says the Prince of Darkness is standing nearby. Conducted by Nicola Luisotti and as re-created by director Laurie Feldman, this three-and-a-half hour date with the Devil is packed with opportunity for its principal singers and multi-varied choral ensemble. Grammy Award winning bass, Ildar Abdrazakov is stunning in the title role. The voice is bright and burly - and so is Mr. Abdrazakov. He is charismatic, dramatically clever and (with red tails in the sunset) the ultimate tempter and tease. Beloved soprano Patricia Racette returns in the dual roles of the innocent Margherita and Elena (Helen of Troy). While running the gamut between tragic victim and aloof beauty queen, Racette is spending her otherwise free time putting the finishing touches on the title role in Tobias Picker's Dolores Claiborne opening next week. Tenor Ramón Vargas, who won our hearts in 2008 as Nemorino (L'Elisir d'Amore) and as Werther in 2010, just kept getting more vibrant as the evening went on. As the inquiring Faust, cad though the character may be, Ramón Vargas is Heaven-sent.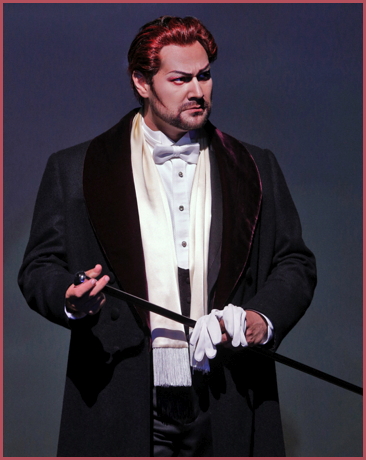 Ildar Abdrazakov. Photo, Cory Weaver
The original version of Boito's Mephistopheles premiered in 1868 and was torched by the local critics. Its final edition was completed in 1876 and every now and then -- depending on the existence and availability of an appealing bass, such as Samuel Ramey -- the opera will enjoy a flurry of attention. Coming in last of the three major operas to flesh-out the Goethe legend, the work has never made it to the list of Top 100 operas in standard repertoire. But neither has Berlioz's La damnation de Faust of 1846. Gounod's Faust (1867), which Boito considered trivial, remains evergreen and continuously present, usually sitting within the Top 40. At the Metropolitan, Gounod's Faust is among the company's Top 10 moneymakers. Recounting the wager between God and the Devil for the soul of Faust -- and how that plays out through any of the three versions, along with the collateral damage to surrounding characters -- will always want a substantial budget and a great deal of theatrical flair. Perhaps none of the operas retain whatever religious impact they may have had from long-long ago. But what remains vibrant and worthwhile in Boito's work are the solo moments for the Devil, Margherita, and Faust.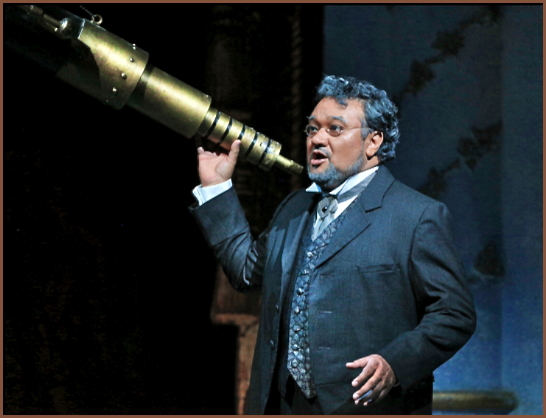 Ramón Vargas (Faust). Photo, Cory Weaver
In Act One, scene two comes a brief but utterly exquisite aria for the tenor voice, "Dai campi, dai prati" (From the fields, from the meadows). It is Easter Sunday, the aging Faust is in his element. He sings of his love of nature, of his need for calm reflection and quiet study of the sacred word. The aria is a simple inside look at the character, a means by which we learn of Faust's good will prior to his teaming up with the Evil One. In these brief phrases and gentle dynamics we gain greater insight into the Devil's influence over Faust and deeper sympathy for the lovely and naive girl he will seduce and ruin. At 53, Ramón Vargas is one of the finest tenors of our time.
"Son lo spirito che nega sempre", otherwise known as "the whistle aria" is an unnerving portrait in black. Faust is not terrified by the sudden intrusion of what appears to be a friar in a dark habit. He asks the stranger to identify himself. "I am the Spirit that eternally denies everything," he answers. Once Faust realizes that he is in the presence of the Ancient Demon, he becomes intrigued and wants to engage him intellectually. Mephistopheles responds that his style of mockery, his irritating laughter, everything he does is intended to agitate the Creator. "I devour, I tempt, I roar, I hiss: 'No!' I whistle, I whistle!" He then places his fingers in his mouth and begins a pattern of high-pitched whistles, the piercing noise of his ruinous intentions. Ildar Abdrazakov's rendition was brazen and eerily seductive. The aged philosopher is more easily enticed than we knew. Abdrazakov has already appeared as the Devil in Gounod's Faust and Berlioz's La damnation de Faust. It appears the right guy with the right stuff is once again at hand. Arrigo Boito is back on the boards.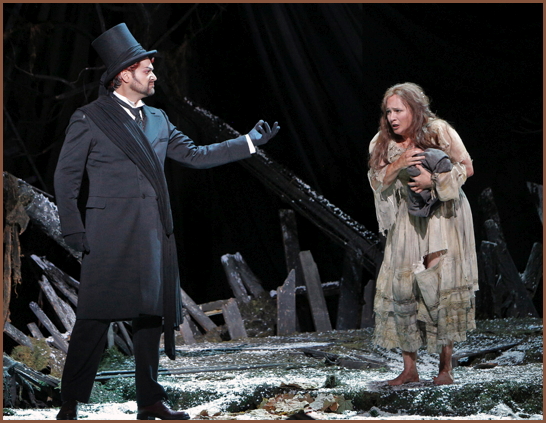 Ildar Abrdazakov and Patricia Racette. Photo, Cory Weaver
Margherita's Act III aria, "L'altra notte in fondo al mare" (Last night they cast my child into the sea) is worth the entire investment of time and energy. The melody is hauntingly beautiful and virtually exclusive from anything else in the score. Margherita has been imprisoned and awaits her execution. She unknowingly poisoned her mother in order to rendezvous with Faust. He abandons her after the brief encounter and is unaware that it has produced a child. Margherita drowns the baby and is condemned to death. As madness sets in, she ponders the depth of her sins. But in a moment of relief, she dreams that her soul is like a bird that suddenly flies above the trees and away from the dismal scene. She cries, "Ah! Pietà di me!" In this moment, Patricia Racette commands the stage with an authority that is reminiscent of Tebaldi and Callas in the role. Racette suspends time and transports the witness to rare heights of lyrical enchantment.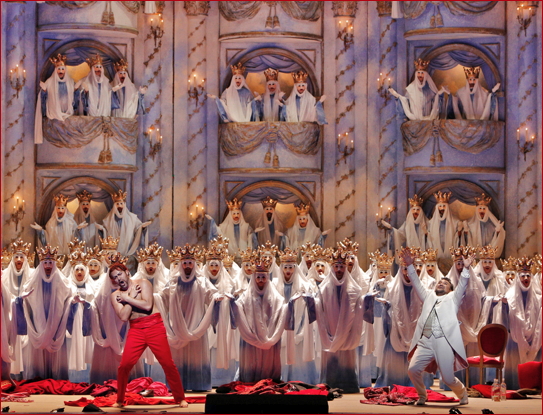 Ildar Abdrazakov, Ramón Vargas and SFOpera Chorus. Photo, Cory Weaver
Finally, the soul of San Francisco Opera is located in its magnificent Chorus under the impeccable direction of Ian Robertson. The ensemble once again demonstrates fantastic levels of excellence as they swing from angelic heights to orgiastic depths. The triumphant final scene takes place in what appears to be a celestial theater. Robert Carsen's design of stacked boxed seats (facing the audience) supports an ascending rank of angels who proclaim the power of God and announce the redemption of Faust who, in the nick of time, has declined the Devil's offer of more carnal pleasure and, instead, brandishes his bible as a shield of Truth. Mephistopheles disappears in a shower of Heavenly glitter. Foiled again! He'll just have to find himself another Faust, right?
Calling all HuffPost superfans!
Sign up for membership to become a founding member and help shape HuffPost's next chapter