 The 2012 San Francisco Opera Season opened this past Friday night with Giuseppi Verdi's Rigoletto. In the title role was Serbian baritone Željko Lučić and making their SF Opera debuts were Polish soprano Aleksandra Kurzak as "Gilda" and Serbian tenor Francesco Demuro as "The Duke of Mantua." This Saturday night, September 15th, it's Opera at the Ballpark, featuring the same cast in the Company's annual and admission-free simulcast at AT&T Park. Conducted by Nicola Luisotti and directed by Harry Silverstein, the live performance at the War Memorial Opera House will be captured by multiple cameras and viewed on one of the best Mitsubishi Electric Diamond Vision scoreboards in the nation. The production debuted in 1997 and for the 2006 revival it was simulcast across the street in Civic Center. A gathering of 14,000 fans viewed the opera on an elevated screen and marveled at the amazing sound quality of the curvilinear speakers. Since then, these annual free broadcasts have proven to be one of the most effective innovations by SF Opera's General Director David Gockley.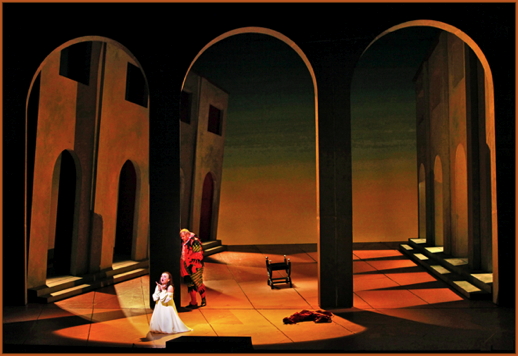 RIGOLETTO. Set Design by Michael Yeargan
Photo, Cory Weaver
The Company's first simulcast at AT&T Park occurred in 2007 with a sumptuous production of Samson and Delilah. In 2010 Verdi's Aïda drew a record attendance of 32,000. SF Opera's equally popular admission-free event, Opera in the Park, happened this past Sunday in Golden Gate Park. The featured principals of Rigoletto, along with other artists from the coming season, joined conductor Nicola Luisotti and the SF Opera Orchestra in a series of arias, duets and ensembles. Among the selections from Rigoletto was the famous Quartet, "Bella figlia dell'amore," performed by Željko Lučić, Aleksandra Kurzak, Francesco Demuro and mezzo-soprano Kendall Gladen (as "Maddalena"). Given the crowd's roaring approval, San Francisco Opera's Rigoletto looks to be the hottest ticket in town.
Verdi's Rigoletto premiered in Venice in 1851 and had its first performance with San Francisco Opera in 1923. Its continuous box office appeal is due primarily to the glorious arias composed for its three principal characters. Though challenged by an impossible plot and the inherent difficulties that go with its staging, the opera nevertheless thrives as a virtual showcase for the great artists of the world. Historically, the title role of "Rigoletto" comes to most dramatic baritones toward the middle of their careers. It takes time and opportunity to build the required vocal chops to sing the role -- especially in as large a house as the War Memorial. Željko Lučić, like his predecessors Robert Merrill and Leonard Warren who also thrived in the part, share other roles in common - coming through the ranks with such operas as Pagliacci, Lucia, Carmen and other Verdi operas including La Traviata, Il Trovatore, and Aïda. Željko Lučić has 23 Verdi roles in his repertoire, including two he has performed with SF Opera prior to this season -- "Germont" in La Traviata (2004) and "Don Carlo" in La Forza del Destino (2005). Lučić's opening night performance was strong and consistent throughout. His Act I aria, "Pari Siamo" (We are equally skilled) captured the frustration and bitterness of the deformed court jester who will eventually engage an assassin for hire ("Sparafucile") to avenge the ravishing of his daughter by the Duke of Mantua. Lučić was in full throttle for the challenging aria of Act II, "Cortigiani, vil razza dannata" (Courtiers, you vile and damnable race). His anger and contempt was furious and his climactic High F-sharps formidable and secure. Lučić will recreate the role this November at La Scala. Rigoletto is likely to follow Lučić around for a very long time.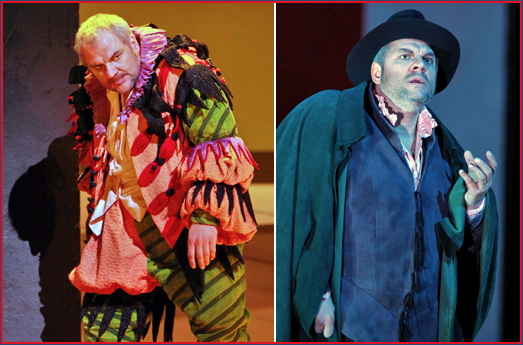 ŽELJKO LUČIĆ (as Rigoletto). Photos, Cory Weaver
Aleksandra Kurzak is ultimately lovely as Rigoletto's naive daughter, "Gilda." The girl is devoted to her father, but is unaware of the nature of his day job and doesn't even know his name. Ripe for the plucking, Gilda's only outings have been to the local church where she has exchanged glances with the licentious Duke of Mantua. She is totally clueless as to his true identity, political power, enormous ego, and lack of morality. She prefers to fancy him as an impoverished student and is not only thrilled when her maid sneaks him into the house, but is anxious to surrender her virtue asap. Thwarted by her father's return, the lecherous Duke makes a not-so-quick getaway as Gilda engages him in the prolonged duet, "Addio, addio." Left alone (and just prior to her silent abduction by a veritable crowd of vengeance-seeking courtiers), Gilda is happy to take a time-out to feel the rush of infatuation and the lingering sensations of her first erotic encounter. Her aria, "Caro nome" is that daydream. "My desire will fly to you on the wings of thought," she sings, "and my last breath will be yours, my beloved." Many a coloratura soprano has long-sustained the role of "Gilda" in her repertoire. Internationally acclaimed, Aleksandra Kurzak has performed the role at the Met, La Scala, in Parma, Hamburg, Helsinki, and Toulouse. Her recent recording, Gioia, includes eleven sensational arias, "Caro nome" among them. Aleksandra's opening night rendition was relaxed, crystal clear, and simply flawless.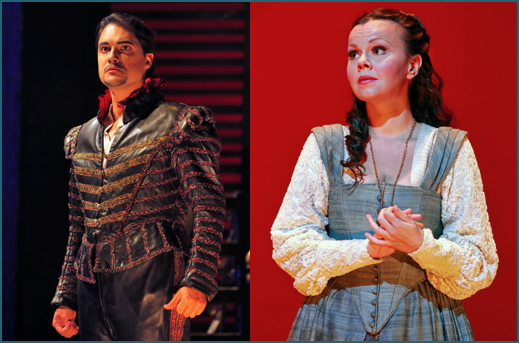 FRANCESCO DEMURO (The Duke of Mantua) - ALEKSANDRA KURZAK (Gilda).
Photos, Cory Weaver
Tenor Francesco Demuro makes an impressive debut at San Francisco Opera in the role of "The Duke of Mantua" -- a completely unsympathetic character, the Bad Boy of sexual conquests, the cad you love to hate. "Let those who wish to be faithful keep their fidelity alive," he declares in the Act I, Scene I aria, "Questa o quella per me pari sono" (This girl or that girl are just the same to me). Demuro's beautiful and ringing lyric tenor has the passion behind it for this prize Verdi role. By Act III, Demuro was on fire for the familiar "La donna è mobile, qual piùma al vento" (Woman is fickle, like a feather in the wind). This summer he will return to the Company as "Ferrando" in Mozart's Così fan tutte.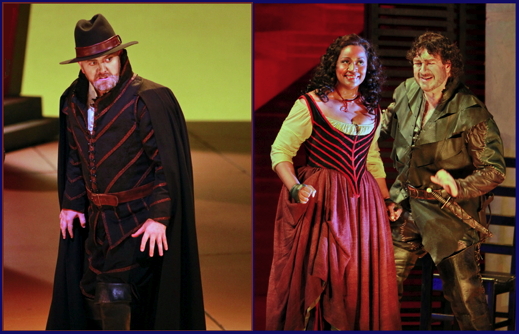 ROBERT POMAKOV - KENDALL GLADEN - ANDREA SILVESTRELLI
Photos, Cory Weaver
Rigoletto continues at San Francisco Opera through Sunday, September 30th. The production has been double cast and includes baritone Marco Vratogna, soprano Albina Shagimuratova, and tenor Arturo Chacón-Cruz. Continuing in both casts are fine performances by Robert Pomakov (Monterone), Kendall Gladen (Maddalena) and Andrea Silvestrelli (Sparafucile).
Calling all HuffPost superfans!
Sign up for membership to become a founding member and help shape HuffPost's next chapter