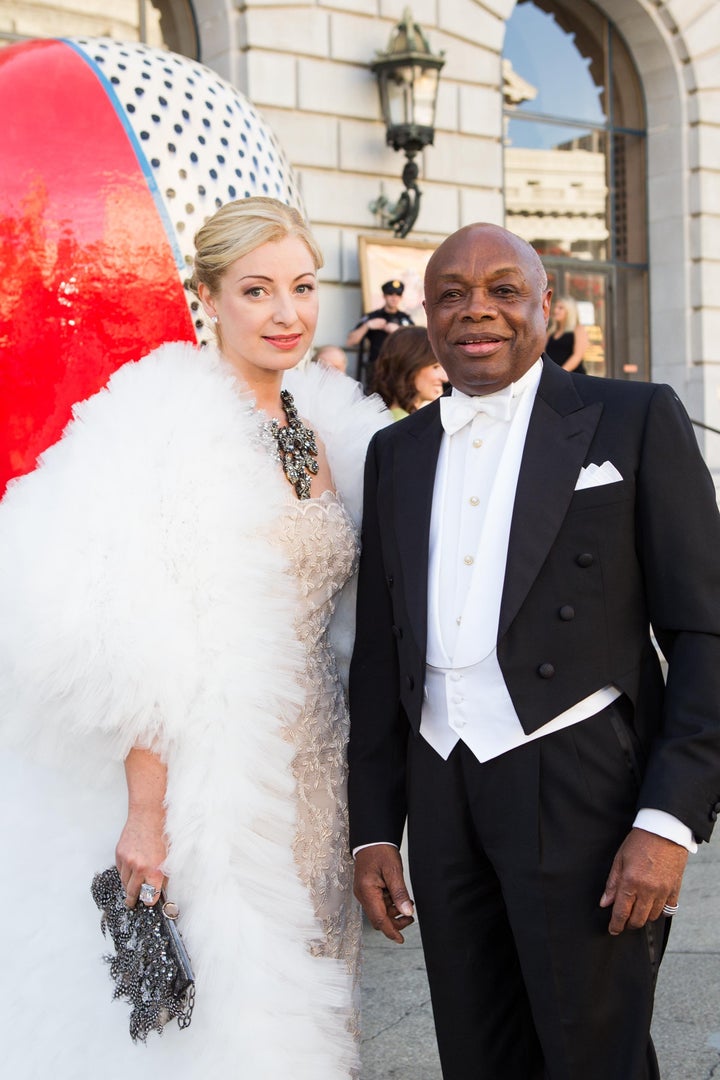 Those clanking noises you heard on Friday afternoon were the heavy doors of safes swinging open, rousing their treasures in velvet boxes from summer's long hibernation. Parures of diamonds, sapphires, rubies, and pearls awoke to alight upon throats and wrists and lobes which had been readied to receive them. Skin had been scrubbed, hair had been heightened, gowns had been gathered in eager anticipation of their arrival. They were preparing for a glistening night on our glamorous town, where they would cast a luminous glow amongst the luminaries assembled for the Opera Ball. Even after ninety years, the thrill of opera's Opening Night was palpable.
Promptly at five o'clock, guests arrived at the Opera House to greet their fellows and flashbulbs with enthusiasm. An endless row of town cars disgorged dashing men in white tie and black, most of them fated to be foils to the winsome and sometimes watchful women. A dress display worthy of any Hollywood premiere ensued, each arrival anticipated and appreciated as they carefully navigated the stairs hidden under a wide red carpet. Black and billowy was largely banished in favor of fitted silhouettes which flaunted and flattered their figures. Color was everywhere: coral, cobalt, gold, navy were the chosen colors, and many reveled in red. Recently released from their dark enclosures, the jewels appeared in abundance.
Paula Carano's elegant emerald ring set off her kelly green column. Toni Wolfson's remarkable vintage Seaman Schepps necklace, row upon row of ruby, emerald and jade beads held with a jeweled elephant clasp, made a bold statement. Maria Manetti Shrem's symphony of sapphire and diamonds set off the blue beauty of her Capucci gown. Barbara Brown 'found' her bold Bulgari sapphire and diamond hoops in her jewelry box, and then found a gorgeous midnight sequin sheath to go with them. Denise Hale breezily bore her wing of feather brooches on her shoulder. Chandra Frieze ravished in Jaipur diamonds with wondrous ruby drops. Carol Doll looked lovely in her looping collar of crystallized carbon. Charlot Malin's ice-blue Armani set off her eyes and the diamonds dangling down her lobes.
And Dede Wilsey, whose generosity sponsored the entire weekend of operatic wonder, wore her devastating diamonds to dramatic effect. Everywhere there was sparkle: delicate family heirlooms, newly minted millionaires' marvels, intricate Indian intaglio. A few were frankly faux, and more than a few were furtively so. This was the occasion for opulence, and many occasioned the opportunity.
As patrons processed along a violet carpet to Robert Fountain's tented purple pavilion, they were greeted by equally rara avis – dancers festooned in feathers, impersonating preening birds, setting the stage for supper. Inside the tent, shades of lilac and lavender were set off with hints of cream and silver. White plumed peacocks (inanimate, alas) perched atop waterfalls of phaelaenopsis orchids, while a jazz band played swing standards. McCall's catering phalanx marched through their paces with precision. Event Co-Chairs Cathy MacNaughton and Diane Rubin joined Guild President Ann Girard in acknowledging donors, and celebrating the volunteer organization's commitment to provide educational programs to schools throughout the Bay Area.
A supper of vegetable lasagna, beet and pear salad, veal with morels, and a trio of temptations ensued. General Director David Gockley, privately predicting "a smash hit," encouraged everyone to eat quickly, as the curtain was being held for this cast of thousands, and the Rigoletto must go on. The evening was flying by on peacock's wings. Once assembled in the house, the acknowledgements began. And then the overture. And then the sublime season of opera began to work its melodious magic.
And who was there? All eyes were on Nancy Pelosi, fresh from her southern shindig, as svelte as a schoolgirl in her sky-blue swish of a gown enjoying an all-too-rare evening with husband Paul. Familiar faces were everywhere: Carey Perloff and Nick Giles, Joanna Rees, Louise Renne, Donna Sachet, Lily Samii. Francoise and Andrew Skurman were celebrating the publication of his latest monograph. There was Patricia and Charles Sprincin, Karen Sutherland, Dianne and Tad Taube, Beth Townsend, Alexis and Todd Traina, she in ravishing Nina Ricci.
The ever-elegant Charlotte Schultz appeared on the arm of equally elegant George Shultz, properly attired in top hat and tails. Brenda Zarate, Samantha Duvall, Vera Carpeneti, Delia Ehrlich, Claude and Katie Jarman, Adrianna Pope Sullivan and Bobby Sullivan, Elizabeth Carr, dapper Randy Laroche and David Loudon, Jack Calhoun and Trent Norris, David Blanton and Marian Cope, Stephen and Deborah Rocha, Lino Cortina, Rich Young, Ken McNeely and Inder Dhillon all appeared in their spiffiest suits. The guys were harboring a few gems on their own: handsome Matthew Kimball led the cufflink comparison, encouraging his fellow fellows to reveal what was hiding on their wrist.
Alan Malouf escorted Rick and Kathy Hilton to his box seats. Riley Johndonnell played Pierrot with a leather jester collar, while Mark Rhoades looked on. Pitch and Cathie Johnson, Linda Kemper, Maggie Koenig, Marybeth La Motte, Betsy Linder in shoulder-duster danglers, Amber Marie Bently in lacquered linen Chado, and Jorge Maumer all appeared and revered. Boaz Mazor served as dashing escort to Dede Wilsey, while Ken and Dorothy Paige, Leon and Sallie Huntting, Nancy and Joachim Bechtle, Darren and Nancy Bechtel, Joni Binder Shwarts, Athena and Timothy Blackburn surveyed the scene.
Also seen: Mayor Ed Lee and his wife Anita, Larissa Archer, Priscilla Geeslin, Fred Levin and Nancy Livingston, Donald and Laura DuBain, Denise Sobel, Petra and Ragnar Vorsteher, George and Leslie Hume, and even a swift sighting of beloved Jeannik Littlefield.
Families came to the fore: Ann Girard brought husband Dan Girard and daughter Virginia Girard to celebrate, while Diane Rubin invited Shaina Rubin with Aaron Angerami, and Dustin, Amy, and Leonard Eber. Willie Brown, for once, was less decorative than Sonya Molodetskaya, swathed in a cumulus of white tulle. Karen Caldwell floated in French blue chiffon. Stephanie Ejabat was cunning in a cat-camouflage of leopard. Ken Fulk looked regal in white corduroy. Fati Farmanfarmaian, Karen Kubin and Gary Garabedian Daniel Diaz, Albert Joerger and Susan Tamagni, Mai Shiver and Charles Githler, Kelley O'Brien and Robert Johnson, Cynthia and John Gunn, Robert Gerard and Phoebe Cowles, James Schneider and Barbara Brookins-Schneider, Jeanne Lawrence, Wilkes Bashford, James Krohn, Nancy Kukacka, Clara Shayevich in Oscar, Nion McEvoy and Leslie Berriman all made merry, despite the inevitable ending of the opera.
(Spoiler alert: she dies.) The curtain fell. Couples negotiated whether to hurry along home or extend into the after party. The evening was late, and there would only be one Opera opening this year. But there would certainly be more opera. As the head usher of the box seats picked up a few stray program books, he let out an aria-worthy sigh. "One down, seventy more to go."
PHOTO GALLERY
San Francisco Opera Opening Gala
Calling all HuffPost superfans!
Sign up for membership to become a founding member and help shape HuffPost's next chapter