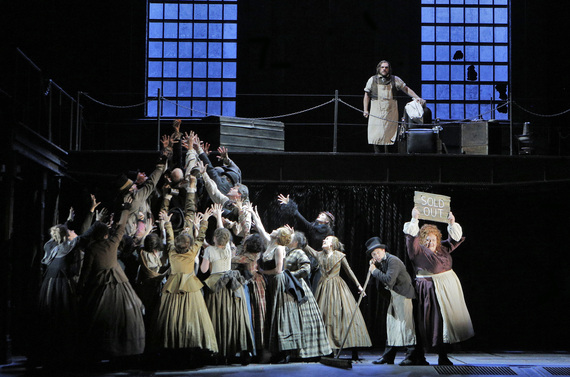 Last year, San Francisco Opera opened its fall season with Bellini's Norma, starring Sondra Radvanovsky, followed by Carlyle Floyd's Susannah, with Patricia Racette; the previous summer saw a terrific production of Show Boat, by Jerome Kern and Oscar Hammerstein II, with a well-cast mix of opera and Broadway stars. So: Italian bel canto from 1831, an American opera from 1955, preceded by a famed 1927 musical that some opera aficionados thought a dismal selection, no matter how well done. Some felt it was a tacky means of enticing into the opera house people who had never been to an opera and would not be coming back. Others, of course, gave SFO props for varying the programming and co-producing such a splendid show.
This season, SFO made an even gutsier choice: to present Berlioz's rarely staged five-hour epic The Trojans, from 1863, during the summer, and to follow its fall season-opener, Verdi's Luisa Miller, with another co-production (with Houston Grand Opera) of a Broadway musical: Stephen Sondheim's Sweeney Todd, which won eight Tony Awards in 1979. For this, applaud David Gockley, in his final season as general director of SFO, who must have heard many more people than I did (in the next row, during intermission) saying they'd rather be watching Carmen again. Really?
(Actually, there's no reason to choose: There'll be 11 opportunities to view a new production of Carmen, set in post-Franco Spain, next May and June.)
Sweeney Todd: The Demon Barber of Fleet Street may be an even less palatable choice for these folks than either Show Boat or Porgy and Bess, from 2009. Based on a short play inspired by a serialized tale in a Victorian "penny dreadful," it's the tale of a vengeful barber who dispatches his enemies with his straight razor, then disposes of his victims in the oven of his landlady, Mrs. Lovett, whose meat pies soon become the sensation of London. It's comic and dark and grisly; at the curtain call, half the leading singers taking bows had fake blood on their costumes.
It's all grand Grand Guignol, a term that translates as "big puppet" but has come to refer to over-the-top horror and gore. It's no surprise, though, that in his lyrics and dialogue, Sondheim uses the form to convey a coherent view, if a nightmare vision, of humanity, well beyond the empty Grand Guignol-type theatrics in lurid movie shockers such as What Ever Happened to Baby Jane? As noted in the New York Times recently, "The words 'intellectual' and 'Broadway musical' were seldom mentioned in the same breath until the era of Stephen Sondheim."
When Sweeney returns to London fifteen years after being wrongfully condemned and deported, losing his beautiful wife (and baby daughter) to the despicable judge who coveted her, he's with a young sailor, who sings that "there's no place like London!"
"You are young," Sweeney tells him. "Life has been kind to you. You will learn."
There's a hole in the world like a great black pit
and the vermin of the world inhabit it
and its morals aren't worth what a pig could spit
and it goes by the name of London.
At the top of the hole sit the privileged few
Making mock of the vermin in the lower zoo
turning beauty to filth and greed....
Toward the end of the first act, Sweeney enlarges his murderous ambitions:
No, we all deserve to die
Even you, Mrs. Lovett, even I.
Because the lives of the wicked should be made brief
For the rest of us death will be a relief....
So there's music for mind and ear here, as one would expect from Sondheim. Many consider Sweeney Todd his masterpiece. The songs certainly suit operatic voices, although not every opera singer could move so nimbly from ballad to music-hall bawdiness and back again. Baritone Brian Mulligan is a ferocious Sweeney Todd, gripping in his arc from tender regret and despair into madness, and you'll likely never find a better Mrs. Lovett than renowned mezzo-soprano Stephanie Blythe. She is as hilarious in the deliciously clever black-comic duet "A Little Priest," in which the barber and the pie maker muse on the use of various professions ("but ev'rybody goes down well with beer!") as she is moving in (most of) "Not While I'm Around," the ballad she sings with Tobias, the homeless boy she has taken in.
Neither of these consummate pros -- or most of the others, trained to project across huge auditoriums without amplification -- needs the aid of a microphone, and yet, as with Show Boat and Porgy and Bess, the production uses "subtle sound enhancement" that, in this case, was not all that subtle. The warmth and lushness of these beautiful voices, especially the women's, were lost. The men, such as tenor Matthew Grills as Tobias, bass-baritone Wayne Tigges as the awful judge and Elliot Madore as Anthony Hope, the sailor who falls in love with Sweeney's daughter, Johanna, fared a little better, in my opinion, than soprano Heidi Stober (Johanna) or even Stephanie Blythe. The voices were not what you left the building talking about.
Then again, the opening-night glitches seem to have been resolved. And we didn't miss a word, though we do have supertitles for that. Maybe next time -- and let's hope there'll be a next time soon for this great production -- the opera will skip the mikes altogether. Meantime, try to see this Sweeney Todd if you can. It's a real treat.
Sept. 23, 26 and 29, War Memorial Opera House, 301 Van Ness Ave., S.F., 415.864.3330, sfopera.com.
Calling all HuffPost superfans!
Sign up for membership to become a founding member and help shape HuffPost's next chapter