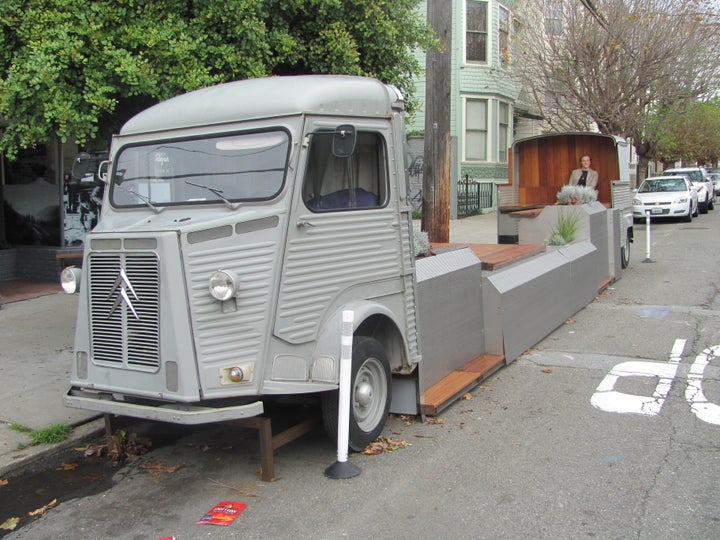 Parklets--the tiny parks that take over city parking spots--have quickly become a cherished part of the San Francisco landscape. The one on Divisadero gives cyclists a place to stop for coffee. The Noe parklet is a popular spot for families on walks. And one couple even exchanged vows in a parklet in the Mission.
But San Francisco's newest project may be the most interesting--and controversial--parklet yet.
Rapha Cycle Club, a bicycle company and coffee shop devoted to all things cycling, recently unveiled its new parklet at the corner of Filbert and Fillmore streets in the Marina. The cycling club commissioned Rebar Art & Design Studio, the group that created the very first parklet, to design the space.
Indeed, the parklet looks more like an art installation: it's made of a deconstructed vintage Ciroen H-Van. The front and back of the van act as bookends with park benches and succulents inhabiting the space between.
The design is a refreshing departure from the standard parklet layout, but according to the Chronicle, it's not without its critics. More importantly, it was installed before a permit was finalized--a move that was reportedly an oversight, but one that could easily put the parklet in jeopardy.
Passers-by enjoy the nook, which includes a raised carriage-like seating area. But the neighborhood supervisor [Mark Farrell] doesn't like the design, and the fact that the parklet was installed without a permit puts its future in doubt.

All of which confounds the manager of the parklet's sponsor, who is trying to figure out how to salvage a $40,000 investment without alienating the local powers-that-be.
Farrell told the Chronicle that he would have preferred something "a little more neutral." Several neighbors echoed Farrell's complaint in the Chronicle story, some calling it "tacky" and "odd."
Since the controversy, a Save the Parklet facebook page has started with dozens of supporters so far. The organizers explained the parklet's plight on the page:
The parklet has received much support from the immediate community--local businesses, residents, and passersby. However, the permitting of the project has been contested, due to an objection to the parklet by someone in the district. The parklet has met all of the city requirements needed for the permit. We are asking our friends and neighbors to express their support to help keep the parklet on the ground.
What do you think of Rapha's new parklet? Check it out in the pictures below, courtesy of Rebar Art & Design Studio, and let us know in the comments.
PHOTO GALLERY
Rapha Parklet
PHOTO GALLERY
San Francisco Parklets
Calling all HuffPost superfans!
Sign up for membership to become a founding member and help shape HuffPost's next chapter