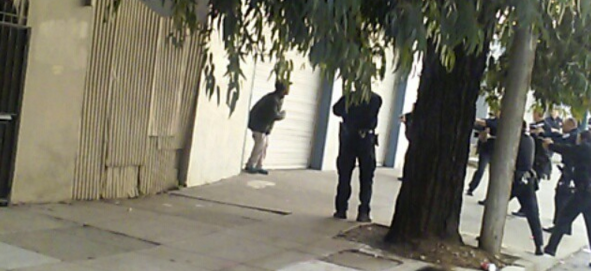 San Francisco police said they shot a man to death Wednesday after he stabbed another person and advanced on an officer with a knife.
A shocking video captured by bystanders and posted to Instagram shows the man stumbling against a wall. The San Francisco Examiner reports officers initially tried to subdue him with beanbags and other non-lethal weapons.
A woman seen in the video can be heard yelling for someone, presumably the man, to "drop it." It's unclear if she was referring to a knife, which can't be seen in the short clip. About 10 seconds into the video, the man takes a few steps away from the wall, the picture blurs and several gunshots can be heard.
The video below contains graphic content.
Police Chief Greg Shur told The San Francisco Examiner the victim matched the description of a suspect who had stabbed another person in the shoulder with a kitchen knife about 45 minutes earlier. Shur noted that other video recovered from the scene by police clearly shows the man with a knife in his hand.
A police spokeswoman said the video "doesn't show the whole story" and the department planned to release a statement later.
Related
Popular in the Community