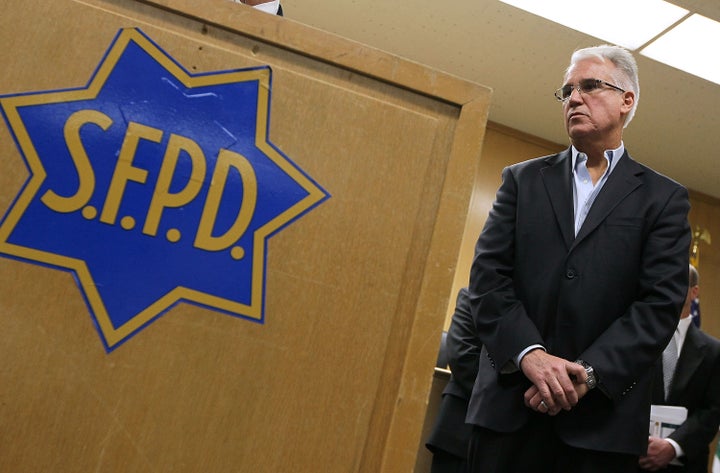 The San Francisco District Attorney's Office announced a policy on Jan. 11 that is supposed to protect the city's sex workers from being arrested for prostitution if they report being victim to or witnessing violent crime.
But the San Francisco Police Department continues to employ an officer accused of statutorily raping then-17-year-old sex worker Celeste Guap in 2015. (The age of consent in California is 18.) More than two dozen police officers in the San Francisco Bay Area allegedly had sex with Guap starting when she was 14 years old; so far, seven have faced charges for sex offenses and other crimes.
Guap came forward in the summer of 2016, saying she had sex and shared cocaine with Officer Rodger Ponce De Leon, 42. According to her phone records, their interactions began when she was 17. But a year and a half later, Ponce De Leon is still under Internal Affairs investigation and is still employed by SFPD, according to Michael Andraychak, a spokesman for the department.
Ponce De Leon works in a position in which he has no contact with the public, Andraychak said. But the city is still paying him. The Examiner reported in 2016 that the officer was moved from Northern Station to the SFPD Operation Center, and Andraychak said he is currently still employed as a parole officer. (The SFPD lists the starting salary for its police officers as $83,018, but the department would not comment on Ponce De Leon's current salary. According to Transparent California, he made $133,968.69 total in 2016.)
Although a 2011 study found that sex workers are "18 times more likely to be murdered than women who do not engage in prostitution" and are also more likely to be raped as well, violence against sex workers is often overlooked as a result of the contentious and often dangerous relationship between police and sex workers.
San Francisco will no longer prosecute sex workers if they come forward to SFPD as victims or witnesses of "sexual assault, human trafficking, stalking, robbery, assault, kidnapping, threats, blackmail, extortion, burglary or other violent crime," District Attorney (and former San Francisco police chief) George Gascón announced earlier this month.
Some members of the sex worker community lauded the policy and welcomed the opportunity to build trust between the two communities. Briq House, communications director for Sex Workers Outreach Project-USA, told HuffPost that it was "a wonderful step in the right direction."
A former San Francisco-based SWOP-USA Board member, Maggie Mayhem, told HuffPost the policy is a welcome change, but criminalization of sex work remains an issue when it comes to keeping sex workers safe. Overall, she said, "it is a promising sign that the SFPD and DA are continuing to learn more about the important issue of sex worker rights and safety and taking more progressive steps to address it." 
The DA's policy announcement also said SFPD will collaborate with local sex worker organizations to implement a training program for its police members.
Neither Guap nor the DA's office responded to requests for comment.
REAL LIFE. REAL NEWS. REAL VOICES.
Help us tell more of the stories that matter from voices that too often remain unheard.