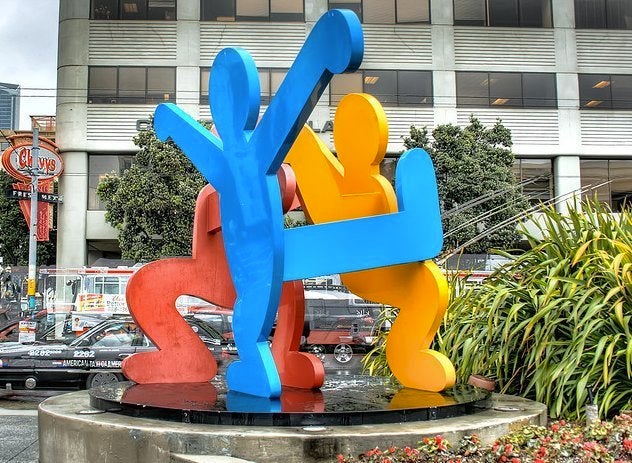 If there's one thing San Francisco loves, it's large-scale public art projects.
From Cupid's partly-submerged bow and arrow perched at the edge of the Embarcadero to legendary landscape architect Lawrence Halprin's iconic fountain at U.N. Plaza, the city is dotted with visionary sculptures and installations. Many of these pieces were funded by a law mandating downtown developers of projects over 25,000 square feet spend at least one percent of construction costs on public art that can be viewed, for free, by anyone.
There's now legislation slated to go before the city's Board of Supervisors greatly expanding both the program's scope and impact.
The bill, introduced by Board of Supervisors President David Chiu, would require the one percent fee be applied to all large-scale development projects both Downtown and in SoMa, and also create a public art trust fund that developers could donate to in lieu of having to commission the art themselves.
"With this proposal, we are building on the success of the downtown public art fee and expanding its scope to enhance the arts in our densest neighborhood," Chiu told the San Francisco Examiner when he first proposed the bill in July. "We are also supporting local artists and arts organizations, who often struggle to create art in San Francisco in a challenging economic era."
Chiu, who pushed a similar idea on the campaign trail during his ultimately unsuccessful mayoral run, initially hoped to have the bill expand the fee to all new developments over 75,000 across the entire city. But he changed his tune after receiving some pushback both from local real estate developers and from City Hall, instead restricting the expansion exclusively to the tech hub located South of Market while shrinking the threshold to 25,000 square feet.
"I would have been fine to the one percent fee and apply it citywide," said Chiu during Monday afternoon's meeting of the Land Use Committee, "but I heard from a lot of folks around the city who said that it applying it everywhere would have disincentivized a lot of affordable housing from being built."
In addition to shrinking the area for the fee, Chiu also amended his proposed bill to only apply to new commercial developments in the expanded zone--leaving residential developments in SoMa unencumbered.
The trust fund, which developers could apply their mandated one percent fee to instead of commissioning the art themselves, would be overseen by the San Francisco Arts Commission and be applied toward not only creating the type of installations that traditionally come to mind when one thinks of "public art," but also commissioning outdoor performance pieces and giving money toward capital improvements at nearby arts organizations.
There was some talk last year about individual buildings losing final say to the Arts Commission in selecting the art that would be required on their premises, but those fears were scuttled by Chiu, who insisted at Monday's meeting that the Arts Commission would play no role in the selection process.
Jill Manton, director of policy and planning at the Arts Commission, told The Huffington Post that most residential buildings don't have big, publically accessible spaces to put public art, so the trust fund would be an easy way for them to fulfill their one percent requirement.
"It could really help a lot of arts organizations," said Manton.
While Manton noted that some people have expressed concern that developers opting to donate to the trust fund could prove a rarity because most would likely spend every possible cent directly increasing the value of their own buildings, she hopes that developers' potential association with a successful art project would pay for itself in good publicity.
The motion is going to be re-considered by the Land Use & Economic Development Commission at next week's meeting. If approved, it would then move to a vote before the full Board of Supervisors.
Take a look at some of our favorite pieces of public art around town below:
PHOTO GALLERY
SF's Best Public Art
REAL LIFE. REAL NEWS. REAL VOICES.
Help us tell more of the stories that matter from voices that too often remain unheard.