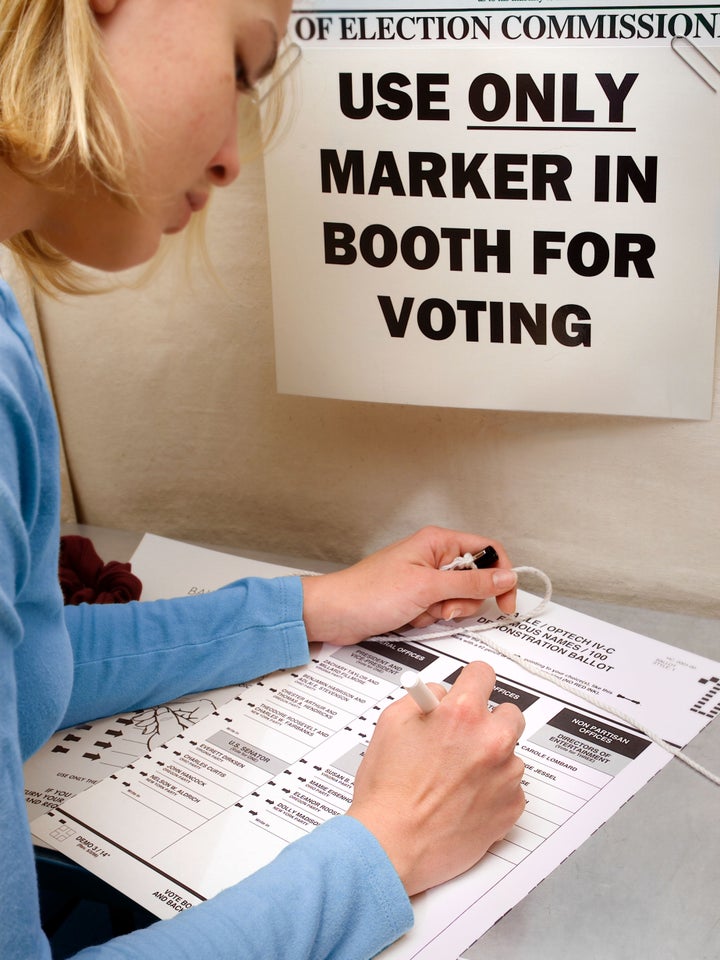 Ranked-choice voting was the cure for what ails American politics, boosters said.
Now in use in four California cities, this new voting system was supposed to increase voter turnout, stanch the flow of special interest money and encourage high-minded, positive campaigns.
But it didn't play out that way in the biggest ranked-choice election yet - the 2011 San Francisco mayoral race.
Turnout was down, the worst in a competitive race in about 35 years, as the San Francisco Chronicle noted.
Independent soft money committees, financed by big corporations and labor unions, spent heavily, ducking the city's tough donation limits.
And in the campaign itself, challengers pounded away at acting Mayor Ed Lee. They accused him of promoting voter fraud in Chinatown, lying when he promised not to run and serving as a stooge for former Mayor Willie Brown.
Lee denied wrongdoing and got elected anyway.
Now critics are zeroing in on the ranked-choice system, hoping to repeal it before another city election rolls around. The proposal is being fronted by city Supervisors Sean Elsbernd and Mark Farrell, who calls the system a "failed experiment." They hope to put the issue to voters next year.
Opponents have a good shot, said Charles Marsteller, former head of Common Cause in San Francisco.
"Regardless of its merits, ranked-choice voting will probably be repealed," he said in an interview. Ordinary voters struggle with the system because "it's complicated," he said. And politicians and political professionals quickly grew to dislike it because its results were so unpredictable.
"It's hard to estimate outcomes with ranked-choice voting," Marsteller said. "You don't know if the polls are right. The political consultants don't like it."
San Francisco was the first city in California to enact the system, which gives voters three weighted choices for each office on the ballot. Assuming no candidate wins 50 percent of first-choice votes, a computerized "instant runoff" is held, and a victor is selected.
The local Green Party pushed the system in 2003. Boosters thought the new system would empower voters, elevate the tone of the city's notoriously negative politics and check the influence of big money. It also would address complaints about the old system of electing mayors, in which a general election in November was followed by a December runoff if nobody got a majority the first time around.
The runoffs cost the city a lot of money, and sometimes turnout was dismal. Left-of-center candidates were certain they were disadvantaged, because runoff voters tended to be older, whiter and more conservative.
So the city began using ranked-choice voting, and Oakland, Berkeley and San Leandro later followed suit.
But from the start, there were complaints. Voters found the ballot cumbersome and confusing. At one point, even Gavin Newsom, then the mayor and now lieutenant governor, said he didn't understand how the system worked. Some critics said it burdened voters whose native language wasn't English.
David Lee, executive director of the Chinese American Voters Education Committee, was particularly harsh, likening ranked-choice voting to the Chinese Exclusion Act, the 19th-century law that banned Chinese immigration into the U.S.
And so, even before the votes were counted this time around, proponents were mounting a defense.
The day before the election, Rob Richie, executive director of FairVote, a nonprofit that promotes the system, distributed an e-mail arguing that ranked-choice voting was responsible for increasing the number of racial minorities on the Board of Supervisors from four to eight. He claimed the new system had made the city's electorate more interested in politics.
"San Francisco voters also have grown more engaged in these RCV elections," he wrote, using an acronym for the system. That's because "far fewer voters now skip city races," he wrote.
Richie also distributed an opinion article by former Supervisor Matt Gonzalez, who argued that the ranked-choice system had promoted "old-fashioned door-to-door politics and coalition building" in the city.
Critics saw only record-low turnout and a barrage of hit-piece political ads, as Lee's 10 main challengers tried to get some traction in the campaign.
In an e-mail, critic Tony Santos, former San Leandro mayor, cited "the negative campaigning going on in the SF Mayor's race" as proof that ranked-choice voting was oversold.
There was "a good deal of negative campaigning involving Mayor Ed Lee," he wrote. "Recall, Fairvote states (ranked-choice voting) reduces negative campaigning.
"Tell that to Mayor Lee and his supporters."
Oddly, politics in Oakland may build momentum for repealing ranked-choice voting in San Francisco.
In the Oakland mayor's race last year, the ranked-choice system allowed City Councilmember Jean Quan to overtake better-financed front-runner Don Perata. Ranked-choice advocates proclaimed a triumph of grassroots politics.
A year and multiple missteps later, Quan has a 73 percent disapproval rating over her handling of the Occupy Oakland protests, an Oakland Metropolitan Chamber of Commerce poll shows.
San Francisco Examiner columnist Melissa Griffin cited Quan's "reign of error" in Oakland as one more reason for getting rid of ranked-choice voting in San Francisco.
Lance Williams is an investigative reporter for California Watch, a project of the non-profit Center for Investigative Reporting. Find more California Watch stories here.
Related
Popular in the Community